There's another new reason to fire up RaceRoom Racing Experience, as the latest RaceRoom update makes the Lada Vesta TCR car free to all players with a choice of two liveries.
And if you're still associating Lada with cars from the 1970s and 1980s, it's worth mentioning the Lada Vesta took four race victories and a pole position between 2015 and 2017, with drivers including Gabriele Tarquini, Nick Catsburg and Yann Ehrlacher.
The free RaceRoom Lada Vesta is the TCR version found in the TC Cup class (alongside the Hyundai I30 N TCR), not the WTCC version from previous years. So it's a 350hp 2 litre turbo, front-wheel drive, and with a sequential gearbox.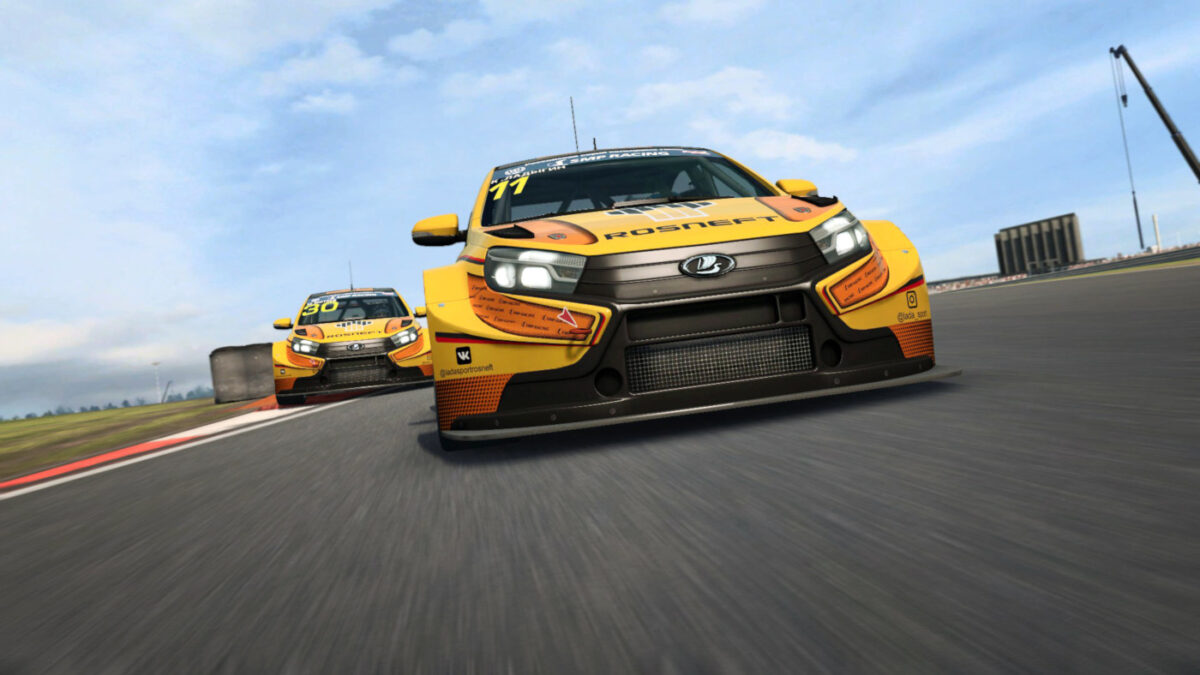 But that's not all Sector3 Studios have rolled out for the free-to-play racing sim. There are lots of new sound samples and improvements, including brake whine being affected by the temperature of the brake discs. And richer backfire sounds, which always makes me happy.
RaceRoom Update 0.9.0.985 Patch Notes:
Update details:
Download size = 5.7 GB
Client version = 0.9.0.985
Client BuildID = 5460372
Dedi version = 66.0.1183
Dedi BuildID = 5460720
Changelist:
Lada Vesta is now free to play with 2 liveries, playable against WTCR car classes.
Prepared content for upcoming DTM 2020 competitions
Sounds – Cockpit cameras now feature backfire samples specific to the interior of the car, bringing extra life and vibrance.
Sounds – New lot of samples for backfires and made their patterns richer. Amount of backfire is car dependant and much more diverse than before.
Sounds – Brake disk whine samples volume is now affected by the brake disk temperature. New recordings of brake whines for GT cars.
Sounds – New fuel pumps samples
Sounds – New gravel sound samples.
Sounds – Porsche 911 GT3 Cup – New sound recordings
Drag Reduction System and Push to Pass are now split in two unique control bindings
Added a key binding for FFB Multiplier, allowing to adjust this setting from inside the car.
Moved some old HUD overlays to the butterHUD system (Traction Control, Brake Bias)
Disabled the in-game screenshot capture system, as it caused conflicts with and was inferior in quality to Steam's own screenshot capturing. Visit your Steam client settings menu to bind a key and select a folder for your screenshots.
Changed so the graphics_options.xml located in your Documents folder now contains variable names, making it easier to edit some settings through notepad.
Dedicated server – Scheduler – Improvements to handling of different time zones between browser and host machine
AI – Porsche 911 GT3 Cup + Sprint – Tweaks to improve their handling of slow turns
AI – DEKRA Lausitzring – Fixed AI braking later than the pit lane entrance gate.
AI – Dubai – Fixed some broken waypoint that was causing AI's to stop driving
AI – Nordschleife – Calmed down some AI's around the Adenauer forest.
Art – DEKRA Lausitzring – Fixed the sudden disappearance of certain track objects while sitting in the gravel in turns 8 and 10.
Art – Sachsenring – Updates to bring it to 2020 visuals.
Art – Spa-Francorchamps – Updates to bring it to 2020 visuals
Renamed Mazda Laguna Seca into Weathertech Raceway Laguna Seca.
As the latest RaceRoom update makes the Lada Vesta TCR free to everyone, it's the second content release from Sector3 Studios in August, following the release of the Motorland Aragon paid track DLC, and should be followed soon by the arrival of the DTM 2020 cars. So it seems like there's a bit of momentum building behind the sim, which is great to see.
To get the game , simply look for Raceroom Racing Experience to download for free for the PC, via Steam. Some additional content can be found via Steam, but it's all available through the official game store.
You can keep up with all the latest RaceRoom news, updates and eSports articles, here. And check everything available for free and via paid DLC with our RaceRoom car list, and RaceRoom track list.