Last updated on February 9th, 2021 at 08:19 pm
There's a new Wreckfest Winter Fest tournament and update available now from BugBear Entertainment as snow falls on every circuit in the racing and destruction derby game.
In addition to snow, there's also a new Snowball Run event which allows you to toss and destroy other vehicles with the balls rolling down the tracks. And the new tournament reward car is the Starbeast SS.
The tracks look great covered in snow, particularly the city-based ones. And the new Snowball Run event should bring even more chaos to competing for the tournament points to unlock new cars and cosmetics.
But there's also a game update which brings some more serious fixes, including making sure DualShock and DualSense controllers will now work for PC gamers playing Wreckfest, tweaks to various cars, and audio improvements.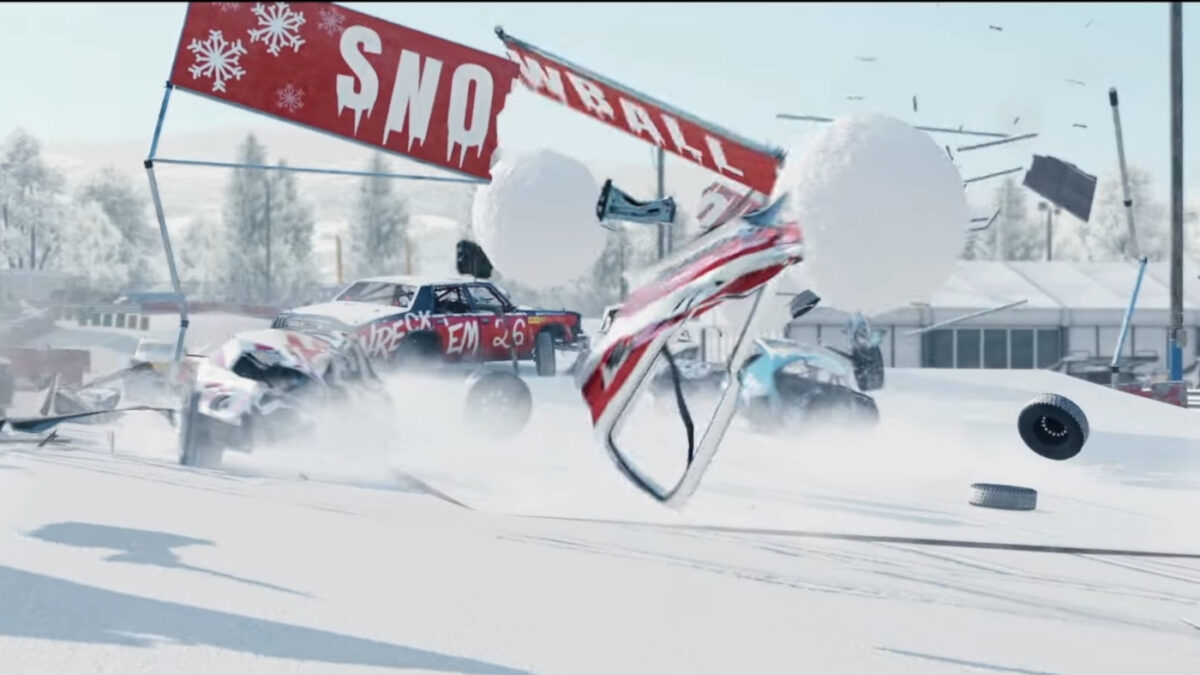 Wreckest January 2021 Update Notes:
Game version
PC:1.269477
PS4: 1.90
XB1: 1.9.0.0
TOURNAMENT
New tournament season: Winter Fest.
New free tournament reward car: Starbeast SS.
The DLC promotional screen is only shown once per session for each respective DLC.
SYSTEM
(PC) Fixed an issue which caused DualShock and DualSense controllers to not function correctly.
(XB1) Online features now work correctly after disconnecting the controller before the initial interactive screen.
(PS4) Game no longer freezes after signing out of PlayStation™Network while in a multiplayer lobby.
GAMEPLAY
Improved Speedie handling and engine to make it more competitive.
Small special vehicles no longer take excessive damage even from small shunts.
Rammer and Roadcutter AI Player setups are now more appropriate for their respective classes.
The rear spoiler of the Nexus RS "BB Racing" bundle is now parented correctly to the trunk lid.
Exhausts no longer get distorted after deforming.
Roof decorations no longer deform wildly.
Fixed Boomer RS taillight cover glitch.
AUDIO
Rebel Rat engine audio now plays correctly.
Fixed an issue with Stellar where clicks in sound would occur when idling in neutral gear.
Cockpit view audio now includes more low and mid range frequencies.
Audience sound effects are no longer played during loading screens.
In the settings, the "Interface Sound Effects" now changes volume of UI sounds independent from the "Effects" volume.
In the settings, the "Ambiance" volume control now affects all track-side sound sources.
You can buy Wreckfest digitally on Steam for the PC, on the Microsoft Store for Xbox One and the PlayStation Store for PS4. Or via Game or Amazon.
Keep up with all the latest Wreckfest news, updates and content, right here. And you can see all the vehicles officially available in the game, from motorised toilets to trucks, with our Wreckfest Car List.