With the new big update from Reiza Studios due out at the end of February, Automobilista 2 Hotfix V1.1.1.1 has been released to make some more improvements and fixes live before then.
It includes switching the track base grip and range to the levels from before the last update, and minor changes to the default differental and suspension adjustments for all cars, which means it's recommended you reset your setups before tuning and racing.
And along with slightly increasing the effect of drafting, there are also a range of AI improvements to enjoy.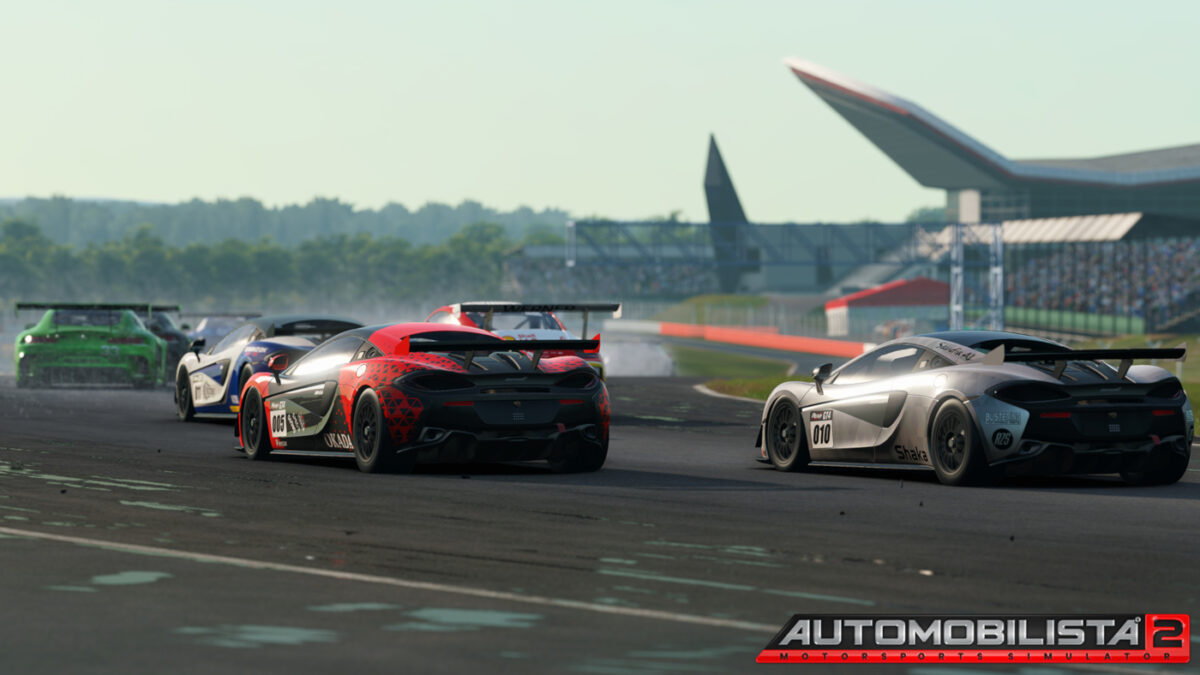 Automobilista 2 Hotfix V1.1.1.1 Changelog:
GENERAL
Reverted track base grip & range to pre v1.1.1.0 values (corrects Time Trial grip levels being slightly lower in the last release)
Track rubber state is now reset if session starts wet
Fixed race length being overwritten by active session length when sending MP Lobby data
Removed redundant / pre-release folders for livery overries
Fixed AI being limited to host´s car class in servers with high player:ai ratios.
UI & HUD
Fixed incorrect drive axle data on session on loading screen
Minor German localization adjustments
PHYSICS & FFB
Various minor default differential & suspension adjustments for all cars (setup reset recommended)
Slightly raised brake cooling rates
Reduced slick water dissipation further reduces slick efficiency on a wet track)
Increased drafting air scale (slightly increases drafting effects for all cars)
Raised F-Reiza FFB max force scale
AI
Fixed bug causing AI to be excessively slow in first session of a race weekend
Further fine tuning of aggression scalars per car
Further AI performance callibration passes
Further AI rain performance callibration with both wet & slicks
Reduced ARC Camaro AI CoG height to minimise chances of it rolling over high curbs
Added corner-specific AI performance adjustments: +10% exit of T8 @ Adelaide Modern; +5% exit of second last & last corners @ Spielberg GP; +10% Exit of Stowe @ Silverstone 91 +10% Entry of Luffield1 @Silverstone 91 +10% Exit of chicane @ Silvestone 75; -10% Exit of Luffield @ Silverstone Modern; +10% Exit of Oak Tree hairpin & exit of final corner at VIR Full / Grand +10% Radillon & -5% Exit of Stavelot @ Spa
AUDIO
Fixed missing gearbox grinding sound for some manual cars that were missing it
TRACKS
Nurburgring: Minor art & functionality pass
Imola: Minor art & functionality pass; revised AI paths & trackside cameras
Goiania: Updated AI paths
Spa-Francorchamps: Added DRS boards at detection & activation points
More drones moves/removed at various tracks
VEHICLES
F-Vintage Gen 1&2: Added dirt / scratch map
Brabham BT26: Added dirt / scratch map; fixed rear wing livery overlap
Puma GTE: Added 3 new liveries
Ginetta G40 Cup: Updated liveries #10 #20
ARC Camaro: adjusted driver position, edited the cockpit to have more room for the driver feet, detached cockpit gear shifter
Automobilista 2 is available on Steam for the PC, along with the Ultimate Edition, the Season Pass bundle and the Spa, Silverstone, Nurburgring and Hockenheim DLC track packs
You can keep up with all the latest Automobilista 2 news, updates and DLC here. Or check out everything available already with our Automobilista 2 car list and Automobilista 2 track list.