It's with great pleasure that I introduce the 2021 VW Jetta Cup Team ORD official unveiling. The original idea was that I'd try getting back into orgnaised league sim racing by running around the back of the field with a couple of logos on my paintjob. But that's grown a fair bit now.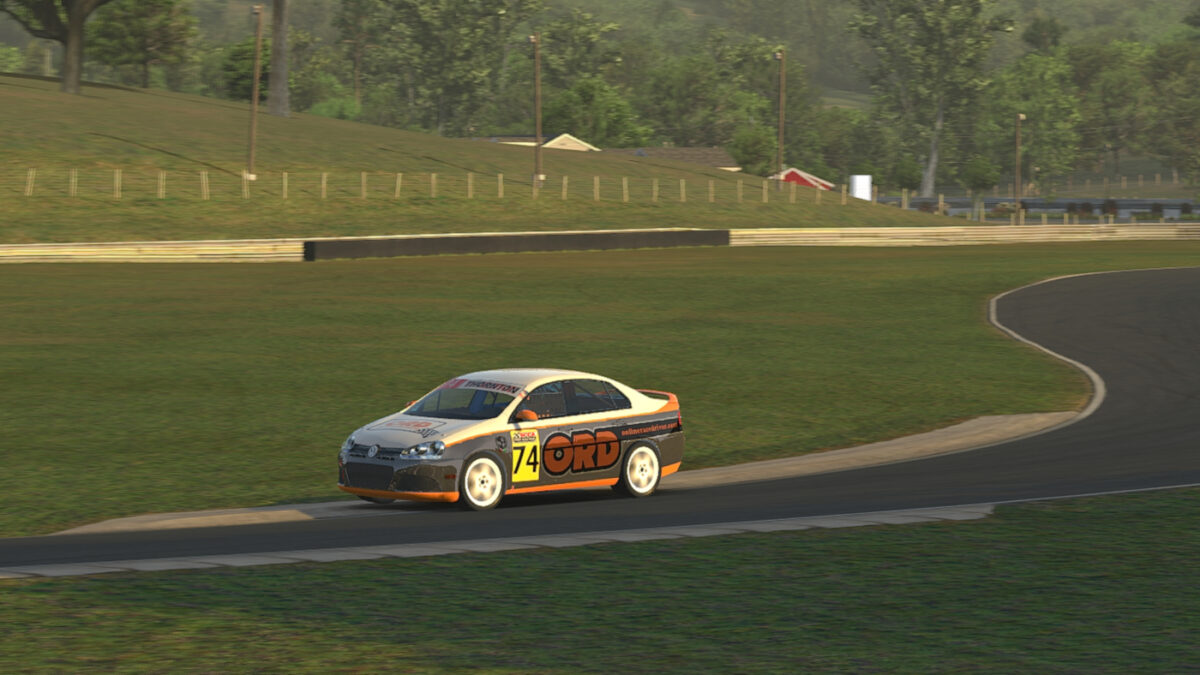 The first thing to mention is the amazing team livery created by Lee Walker, who volunteered his services through the iRacing forum. And has gone far beyond and above what we could have hoped for. It looks brilliant, and wouldn't be out of place on any race grid.
If you'd like to run the livery yourself, it's available without driver names on Trading Paints, and I'd definitely recommend checking out his designs for other cars, including the MX-5, Audi RS3, and plenty of overall liveries.
But it would have been a shame if the paint scheme was only seen at the back of the field, or if I have a racing incident. So it's great news that not only have two drivers foolishly joined Team ORD, but they're also quick enough to be competing at the fast end of the action. And having a talented duo able to do well means that I can relax and concentrate on not messing up, which is a relief.
The 2021 VW Jetta Cup Team ORD Driver Line-Up
Chris Smith: #83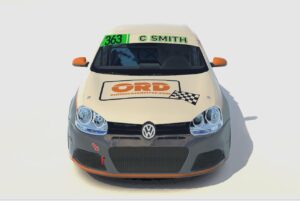 In his 30s from Manchester, Chris is dipping into his first proper league and team event after getting back into sim racing around 12 months ago. But he's already up to speed thanks to experience with GTR and LFS back in the day, and despite having to balance his practice time with work and his 3-year-old son.
And if you want to run a Chris Smith replica livery, it's available on Trading Paints, here.
Ryan Smith: #66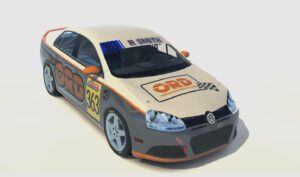 Every professional racing team likes to have a young talent in their line-up. And for Team ORD, that's provided by young teenager Ryan Smith from South Wales. With years of experience from karting since the age of 4, and plans to drive in Junior Rallycross and Autograss, his sim racing experience comes from GT Sport and iRacing.
So he's both our youngest racer, and ironically also our most experienced. And despite being no relation to the other agent Smith, they're already working well in practice for the season. You can grab the official R Smith replica livery, here.
Dan Thornton: #74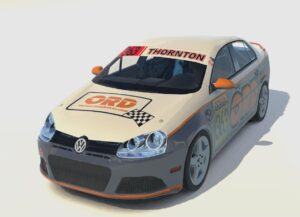 The oldest, and slowest, member of the team, I'm returning to league racing after a break of around five years. The previous exploits of Team ORD were mainly in Forza Motorsport for a long time. So this series has been a great way to get back into team racing, and also get more hands-on experience of what's changed over the recent years of growth in eSports.
As for me, I'm in my *cough* 40s now, and have spent a fair bit of time racing the Jetta in the Sim Lab PCC series over the last 12 months or so. And from pre-season test sessions, I'm already the Team ORD driver most likely to be seen sliding backwards into a tyre wall. If you want to use my livery before I cover it in dents and scratches, it's available here.
So that's the team revealed, but how can you watch us in action?
How to watch the 2021 VW Jetta Cup:
The series is organised by The Racing Line, and will run for 12 weeks mirroring the Sim Lab PCC schedule. Races take place on Monday evenings, with the broadcasts starting at 8.30pm.
You can watch live on The Racing Line's Twitch or Youtube channels, or catch up with previous rounds. Each event includes a 15 minute sprint race, a short break and interviews with some of the drivers, and a 25 minute feature race.
The Racing Line 2021 VW Jetta Cup Season 1 Schedule is as follows:
March 15th: Charlotte Motor Speedway Road 08
March 22nd: Lime Rock Park West Bend Chicane
March 29th: Watkins Glen International Classic Boot
April 5th: Road Atlanta Full
April 12th: Okayama International Circuit Full
April 19th: Nordschleife Industriefahrten
April 26th: Oran Park Raceway Grand Prix
May 3rd: Road America Full
May 10th: Silverstone National 08
May 17th: Laguna Seca
May 24th: Watkins Glen International Cup
May 31st: Summit Point Raceway Full
The final thanks has to go to Mr Racing Line himself, Jack Johns, who is a fast Jetta driver himself, and who has built up a great and welcoming one-make series in a very short space of time. As well as providing some entertaining commentaries throughout the pre-season events, and putting together ever-more professional broadcasts and interviews (as well as still demonstrating his skills, with some very useful Jetta track guide videos on his channel).
With the first round happening today, it'll be interesting to see how we do, and all support is appreciated (even if we can't watch live chats while racing, I know I tend to watch the broadcasts back later to see whether any of my mishaps have been caught on screen, and to watch the fastest drivers to see what tips I can pick up).
And it should be hugely competitive, with very close times for most of the field. I tipped the Pulsus eSports team as pre-season favourites, but as the line-ups have been revealed, it's clear that each of the main teams has drivers capable of podiums and wins across the season, and there are plenty of independent drivers capable of causing an upset.