Two reasons to revist the latest off-road motorcycling game from Milestone, with a new Supercross 4 Esports Series and Historical Cup DLC both announced.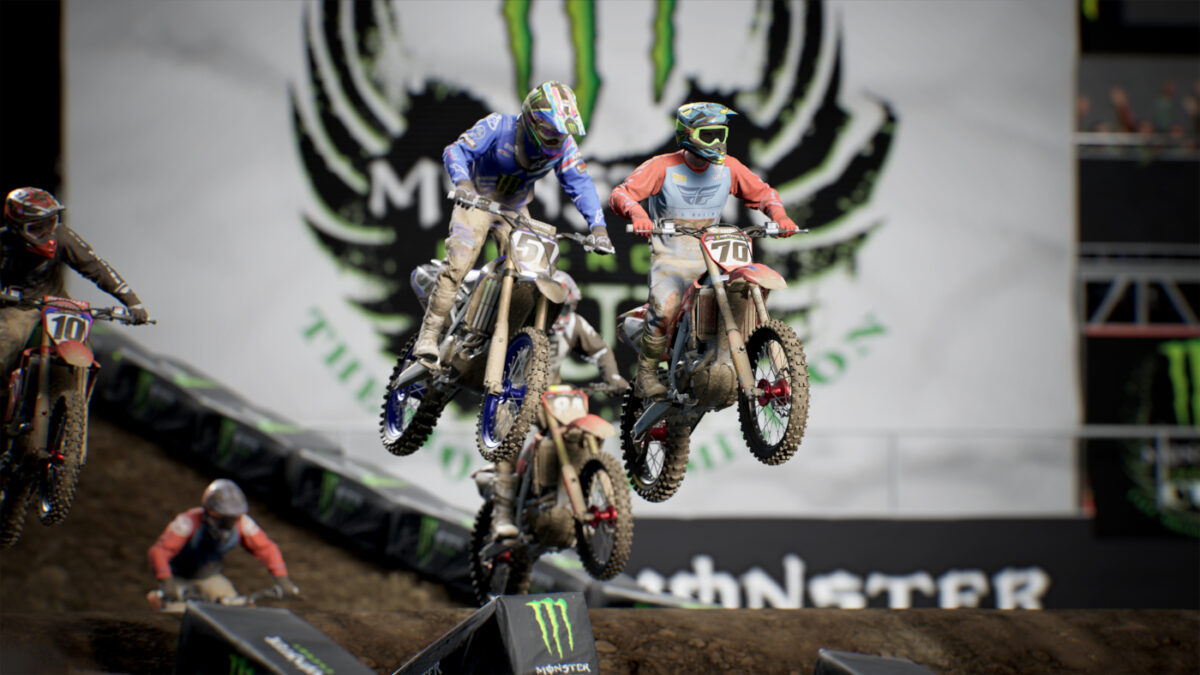 The Monster Energy Supercross 4 SX eSport Championship
The Monster Energy Supercross 4 SX eSport Championship is the most exciting of the two, with a grand prize of a real Yamaha Wolverine RMAX4 1000 adventure buggy worth around £22,000. But you'll need to get through three stages of competition to claim the prize, with time trial qualifiers running from May 7th to June 30th 2021, head-to-head heats in July, and an eSX final on a date to be announced.
The eSX eSport championship is open to all platforms, so you can enter via the PC, PS4 and PS5, Xbox one and Xbox Series S|X versions of the game. You'll need to register online to take part, and the time trials will appear via a dedicated eSports area in-game when the trials begin. A total of 12 from each platform will move on from the timed laps to the next stage, with the top 2 on each version selected from the head-to-head racing. Which means 10 Supercross 4 racers will be competing at the finals for the Yamaha prize.
But everyone who registers will ge guaranteed to take an exclusive Yamaha eSX in-game motorcycle skin at least. So it'll be worth giving it a try if you're a Monster Energy Supercross 4 fan.
Monster Energy Supercross 4 – Historical Monster Energy Cup 2011 DLC
Available now to buy and download is some DLC with possibly the longest name in racing games. The Monster Energy Supercross 4 Historial Monster Energy Cup 2011 DLC allows you to race in the historic event in the Sam Boyd Stadium in Las Vegas with qualifications, last chance qualifiers and the event itself, which consists of 3 races of 10 laps each.
If you're not a supercross fan, the Monster Energy Cup was introduced in 2011 as an exhibition race each Autumn with a $1 million prize for any rider who can win all three races, and $100,000 if you're the overall winner without the triple victories. In the first year, Ryan Villopoto claimed the million dollar prize, which has been sinze also been claimed by Marvin Musquin in 2017, and Eli Tomac in 2018.
It's available through the Season Pass, and is includeded in the Monster Energy Supercross 4 Special Edition or Complete The Set bundles.
With both the new Supercross 4 Esports Series and Historical Cup DLC, you can buy the game as a digital download for the PC via Steam, the Xbox One and Xbox Series X|S via the Microsoft Store, or the PS4 and PS5 via the PlayStation store. Or pick up a physical edition from Game or Amazon.
And keep up with the latest Monster Energy Supercross 4 news, DLC, updates and now eSports, here.