There must be a big market for people wanting to use the same wheel for their racing car and sim ring. Having previously revealed the BMW M4 GT3 version, we've now see the Fanatec Podium Steering Wheel Bentley GT3 unveiled.
The first noticeable feature is the round 3.4″ display in the centre of the wheel, surrounded by a forged carbon bezel, and four rotary encoders. You can use it for game telemetry and other features, including a clock if you want to use the wheel as a timepiece with the included mount for your wall or desk. Which makes it useful in three different ways, because it addition to being a sim racing wheel and a very expensive clock, it can also be used in the real Bentley Continental GT3 Pikes Peak race car.
Fortunately there's more substance to the Fanatec wheel than just a timekeeping device. Officially licensed by Bentley, the 310mm diameter sim racing wheel has a magnesium alloy core, and the 5mm thick carbon fibre plate features a custom green weave. You also get Alcantara grips for comfort, and it uses the QR2 exchangeable quick release system if you need to take it from your sim rig to your Bentley racing car in a hurry. And the whole thing only weights around 1900 grammes.
Obviously you can see plenty of the buttons available on the wheel. There are eight snap-dome buttons with 900g activation force, two 7-way FunkySwitch directional sticks, two aluminium thumb wheels with optical encoders, and the four encoders in the bezel.
Plus the four magrnetic paddles, with two for gears and two for additional functions, and two analogue clutch paddles with contactless Hall sensors.
You also get nine RGB RevLEDs and six RGB FlagLEDS and interchangeable button caps. The whee;l deatures a dual-core ARM Cortex-A7 microprocesor, and an integrated USB-C port for firmware updates. Interestingly, the open GT3 wheel design not only comes with a carry case, but due to the demans of the Pikes Peak hillclimb circuit, there's also a lower rim section you can attach for extra steering lock.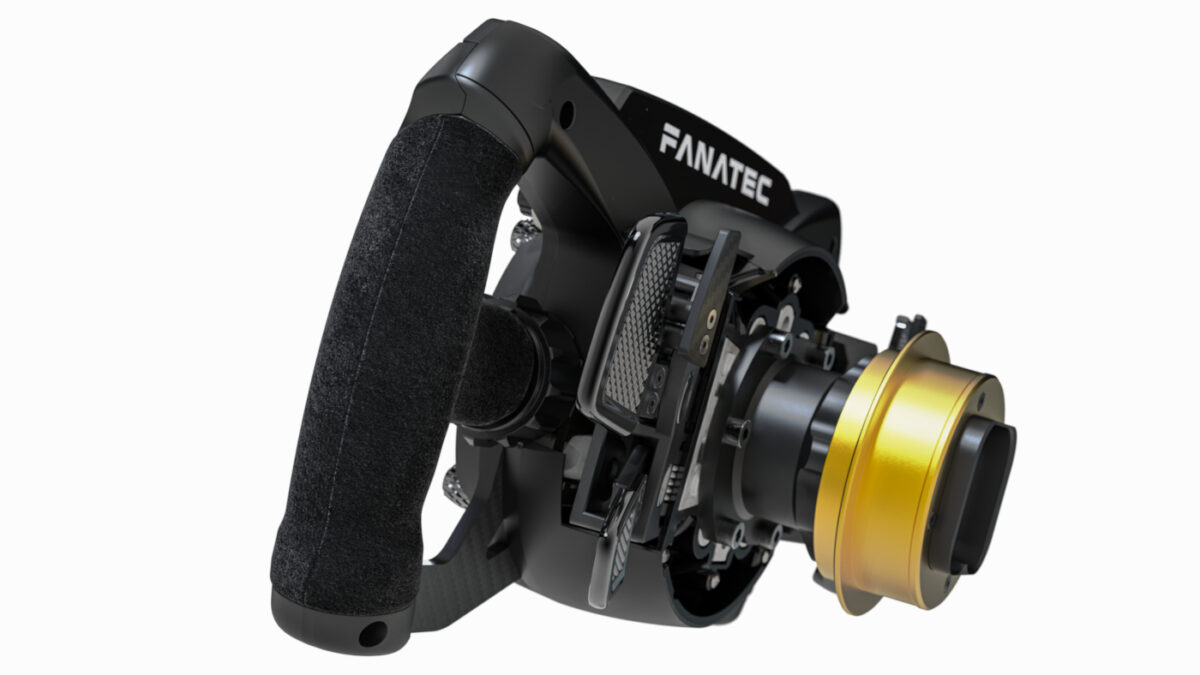 Which seems like a useful compromise if you don't want to keep switching between wheel rims, even if you're not taking on one of the world's most famous hillclimb courses in a Bentley.
It's interesting to see the recent announcement and releases from the sim racing hardware company. On the one hand, they've created enormous interesting in lower priced Direct Drive options, and on the other, they're creating high-end wheels which can be used in both race cars and sim rigs. So you can pick up a CSL DD Wheel Base for 349.95 Euros, or a McLaren GT3 wheel for £199, or go for a full race car wheel like the Fanatec Podium Steering Wheel BMW M4 GT3 or the Fanatec Podium Steering Wheel Bentley GT3. As for a price, the existing Porsche 911 GT3 R wheel costs €649.95, that's the starting point for your savings.
Keep up with all the latest Fanatec products and news, here, or all sim racing wheels and pedals, here.