With the German manufacturer so heavily involved in sim racing at all levels, from running Esports teams to developing hardware, there's plenty to cover with the 2021 BMW SIM Live winners and news. The event took place last weekend for the third year in a row and featured the finals of three sim racing competitions running across three different platforms. And featured announcements of new content, products and the 2022 seasons.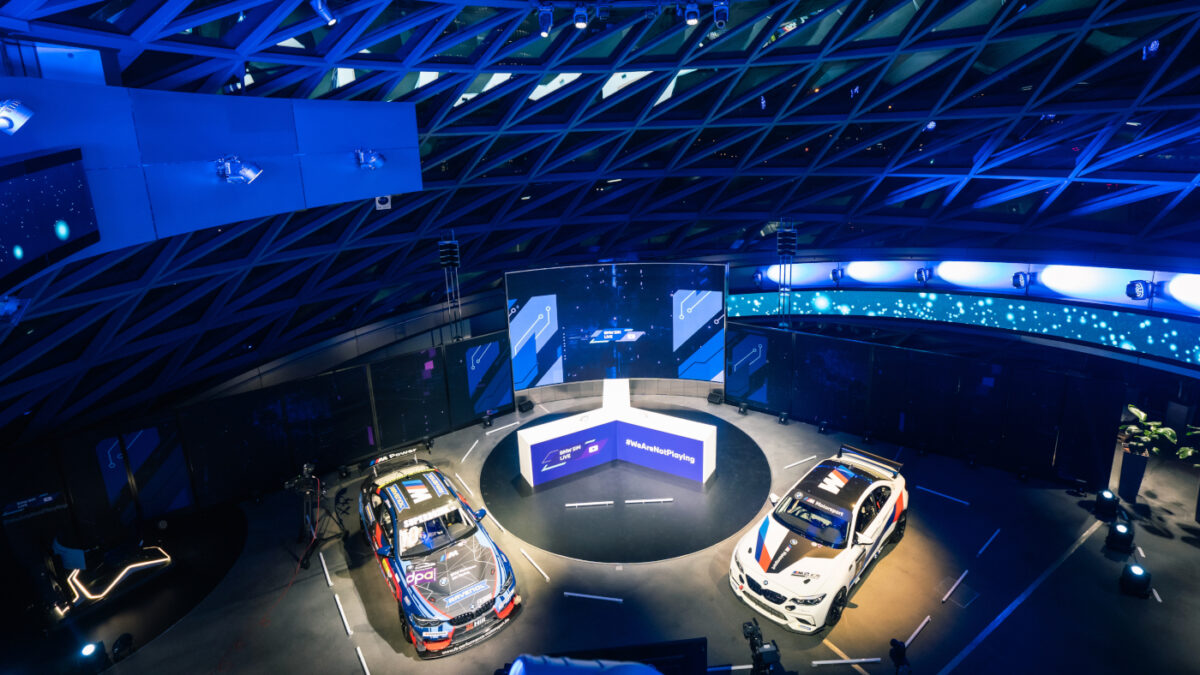 2021 BMW SIM Live Racing:
First up comes the racing, with a total prize of almost 90,000 Euros for the winners of the BMW SIM GT Cup on iRacing, the BMW SIM M2 CS Racing Cup on rFactor 2 and the BMW SIM Time Attack on Assetto Corsa Competizione.
The first event was the BMW Sim Time Attack running on ACC, with Nils Naujoks taking the victory and 8,000 Euro prize money after 20 minutes of racing around the Silverstone circuit in the BMW M4 GT4. Second place and 4,000 Euros went to Daniel Savini, and Tobias Pfeffer secured third and 2,000 Euros.
Nils Naujoks said: "This was the reward for all the hard work in the week preparing for this race. I really feel at home at Assetto Corsa Competizione. It was a bit hectic for me in qualifying and also before the start but the race itself went very well."
Next up was Spa-Francorchamps and the BMW M2 CS Racing as the finalists competed in the BMW SIM M2 CS Racing Cup on rFactor 2. Erhan Jajovski retained his title from 2020 and picked up the prize of 6,000 Euros despite a battle with second place Marcell Csincszik which lasted until the final corner. Csincszik picked up 3,000 Euros for his efforts, followed by Jiri Toman who received 1,500 Euros for third.
Erhan Jajovski said: "It has always been very close between Marcell and me this season and that was also the case in this final race. I was surprised that he did not attack me earlier in the race as we always were very close behind each other. In the end I was lucky, I think. I very well defended the inside line in the final corner and am very happy about my victory."
Round off the competitive side of the 2021 BMW SIM Live event was the final of the BMW SIM GT Cup on iRacing, which involved a qualifying race at Sebring in the BMW M8 GTE followed by the main event at the Red Bull Rin in a BMW M4 GT3.
It was defending champion Joshua Rogers who took the victory and $25,000 prize money, followed by Coanda Simpsort team-mate Charlie Collins who received $15,000, and Team Redline driver Diogo Pinto getting $7,500 for his third place.
Joshua Rogers said: "I was very nervous before the race, especially because our starting position wasn't ideal. For me coming in for my pitstop early made sense in order to stay out of trouble and get some clean air afterwards. This undercut worked in the end. I pushed really hard until I could see that my strategy would play out, as soon as the others came in for their pitstops. Then a gained a lot more confidence."
2021 BMW SIM Live Racing And Content News
The BMW sim racing news for 2022 included the announcement that the BMW SIM GT Cup and BMW SIM Time Attack will continue next year, with the BMW M4 GT3 Cup being the car choice for the iRacing-based competition, and the Assetto Corsa Competizione series utilising a full range of BMW M Motorsport cars. Plus the news of a new championship, the BMW SIM Trophy, which will let you compete across different cars and sim platforms to secure a trophy. And the official teams for 2022 will be BMW Team Redline, BMW Team BS+Competition and BMW Team G2 Esports.
And there's new car content on the way, as the BMW M4 GT3 will arrive for Assetto Corsa Competizione from November 24th, 2021, and in mobile title Real Racing 3 in 2022, having been exclusive to iRacing for most of this year. Meanwhile rFactor 2 fans aren't being left out, as there will be an entirely new concept design coming to the sim, with the BMW Formula Pro, which sounds like it could be pretty interesting.
2021 BMW SIM Live Hardware News
Still more was announced with a new BMW haptic platform developed by BMW Sim Racing in collaboration with D-BOX and RaceX. Which means a new motion platform with a frame from RaceX, the FIA-approved haptic feedback from D-BOX, and knowledge and insight from BMW which includes techniques like 'motion cueing'.
'Motion cueing' is a translation of the driving dynamic values arising from the simulation environment into 'cues' – transformed stimuli that provide the driver, as precisely and realistically as possible, with information on what the virtual car is doing at that moment," said Rudolf Dittrich, Head of BMW SIM Technology. "In short, the better the motion cueing, the more realistically the sim racer feels the movements of the haptic platform. This not only hugely improves the driving experience – the so-called immersion – but also helps to drive the vehicle at the limit and to develop the vehicle set-up more accurately."
BMW also announced a new entry-level sim racing wheel which should be ideal if you're running something like the new Fanatec CSL DD and want a nice round rim. Priced at 139.95 Euros, the Fanatec CSL Steering Wheel BMW featured a 300mm diameter, integrated RevStripe and 3-digit LED, metal shifter paddles and a QR1 Lite Wheel-Side quick release adaptor, and orders should start shipping in February, 2022.
And finally, for those looking to invest in a sim rig which also works as high-end furniture, the FUSION SL which was premiered at BMW SIM Live in 2020 will go on sale early next year, costing around 2,975 Euros for the stand which also transforms into a table when it's not in use. And matching the Wooom SL chair for around 1,904 Euros.
Check out the latest Sim Racing Esports news, here. Or catch up on the latest sim racing wheels and pedals, or sim rigs and seats.