Originally released for the PC in 2015, Absolute Drift gets a physical release for the Switch with a premium package now available to pre-order from Serenity Forge.
The first game developed by Funselektor Labs, who have gone on to also release Art of Rally, it's generally been available as a digital download as the title was released for the Xbox and PlayStation consoles. And the blend of overhead perspective and weightier, more realistic handling came to the Nintendo Switch at the end of 2020.
So it's nice to have the option of owning a physical version of the game in your collection, especially as Funselektor have grown from the individual efforts of Dune Casu. A limited run of 4,000 Playstation 4 physical editions did appear back in 2017, and you can find examples available on sites like eBay, but the new Nintendo Switch Premium Physical Edition comes with bonuses including a poster, 3D lenticular card, and a poster for $34.99, with shipping expected to start in Summer 2022.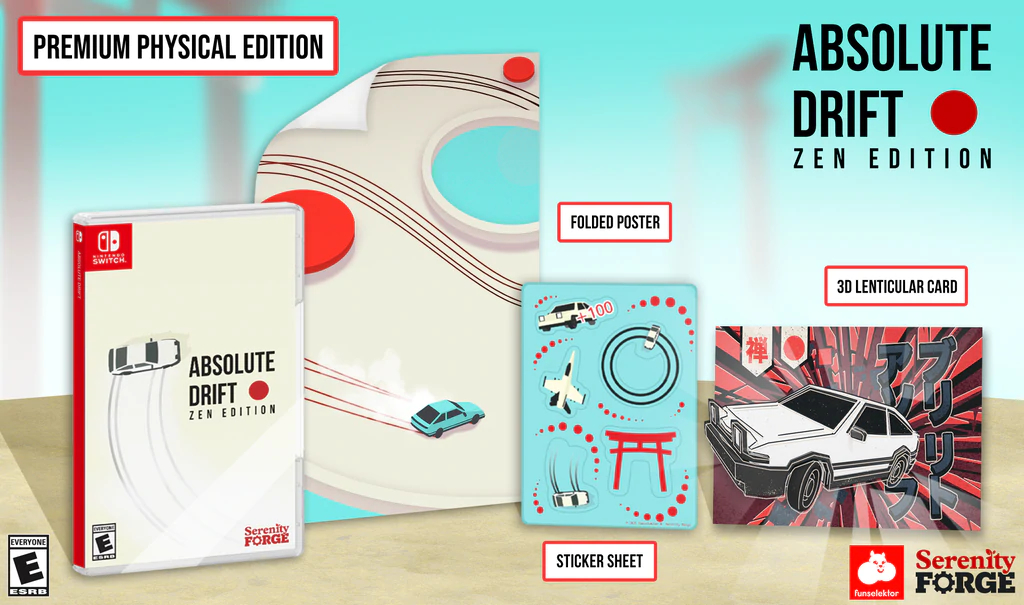 And despite the fact Absolute Drift was originally created seven years ago, it's still a fun, enjoyable and challenging game to play now. Just like the later Art of Rally, the retro overhead perspective masks the fact that a lot of time and effort has gone into making the cars feel weighty and realistic in how they behave. So it's a stealthy introduction to car handling and physics, in something which you can pick up and play in short bursts.
The Nintendo Switch Premium Physical Edition of Absolute Drift includes:
Physical copy of the game on Nintendo Switch
Illustrated inner coversheet
Vinyl sticker sheet – set of 5 unique stickers
3D lenticular art card
Folded poster with unique game illustration
You can see all our previous Absolute Drift coverage, here, and it's also available for the PC via Steam, the Xbox One via the Microsoft Store, the PS4 via the PlayStation Store, and the Nintendo Switch via the Nintendo eShop. It's also available as a mobile game via the iOS App Store. The Premium Physical Edition can be pre-ordered now for $34.99 from Serenity Forge.