The penultimate round of the championship saw two new people on the top step as Williams Esports win the 2022 24H Series 6 Hours of Barcelona race. The duo of Daniel Lafuente and Sota Muto were the fifth different GT3 pairing to be victorious in the five races so far with just the double points of the 12 Hours of Spa-Francorchamps left to race as the finale on April 17th, 2022.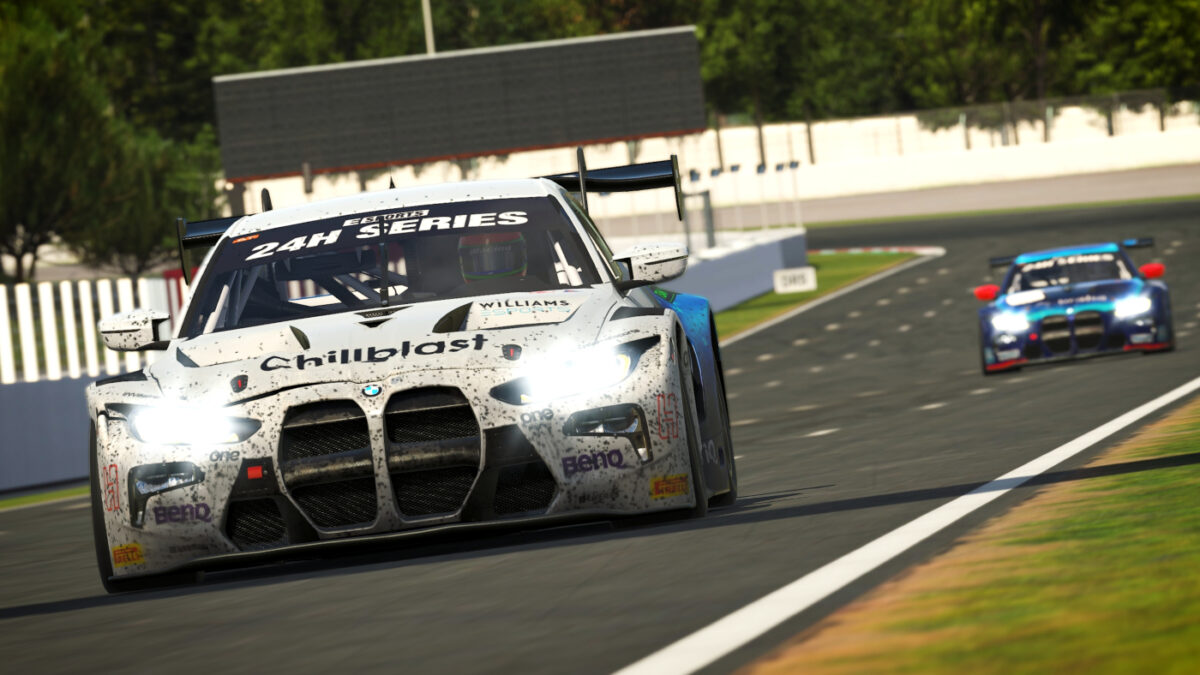 Lafuenete and Muto started from third on the grid, moving into the lear after the first round of pit stops. And they were able to hold that position in their BMW M4 GT3, despite the close attention of MSI eSports, whose own BMW finished the race just 0.7 seconds behind. Biela Racing Euronics II took the final podium place.
Daniel Lafuente (Williams Esports, overall winner): "It was a very hard-fought win. I'm speechless and soaked in sweat. After the final pit stop, when we only changed two tyres, I had a lead of around two seconds over MSI eSports. They applied an incredible amount of pressure – hats off to their performance. It went down to the final turn, where I gave 100% to make sure there was no room to overtake. Huge thanks to the team. We had a great set-up and a fantastic strategy."
Williams Esports also triumphed in the Porsche 992 category, with Alessandro Bico and Moreno Sirica winning by a comfortable margin. CoRe SimRacing took second with the Logitech G Altus Esports team in third.
Moreno Sirica (Williams Esports, 992 class winner): "I'm delighted with this win. Alessandro did an amazing job in the opening phase and got us into the position I needed. After those behind us were awarded penalties, I was able to bring the win home safely. If CoRe SimRacing hadn't been penalised, we would have had as close a finish in our class as they did in the GT3 class."
The GT4 class saw a field of Porsche 718 Caymans, and a fourth season victory for Jurgen Frank and Hayden Berns for Team75 Bernhard by SimRC, finishing ahead of Puresims Esports and Undercut Racing Team.
Jürgen Frank (Team75 Bernhard by SimRC, GT4 class winner): "It was a great race for us. The fact that all the starters in the GT4 class chose to race in the Porsche Cayman this time made things less complicated because there was no need for BoP. In terms of strategy, we saw a few different approaches. It seems that we opted for the right one, otherwise we wouldn't have won. Puresims Esports were very fast, but then they made a mistake and were penalised for it."
And finally in the TCRs, it was an even more dominant win for Kieran Harrison and Corentin Guinez of CoRe SimRacing, in their Audi RS3 LMS, who finished more than a lap ahead of the MSI eSports and Team Heusinkveld cars.
Kieran Harrison (CoRe SimRacing, TCR class winner): "The first stint was primarily about slipstream for us, but then our fuel management allowed us to pull away gradually. Traffic was a huge factor in the final sector. The GT3 cars didn't want to line up behind us in the final chicane and were really aggressive. We had to be careful. But it all worked out really well in the end."
You can sign up to iRacing, here (and credit your referral to ORD, which we'd appreciate!). And see all vehicles included in your basic subscription, or what you can access by paying more, in our full official iRacing car list, here. Or check out all of the included circuits, and the others you can buy, in our full official iRacing track list, here. And keep up with all the latest iRacing news, updates and eSports, here.
And for all our Esports coverage, click here.