Improvements to wheel support, video capture and screenshots are all included with GRID Legends Update V1.09 released across PC, PlayStation and Xbox consoles. It comes just a few days after Update V1.08 which enabled you to buy the Seneca and Ravenwest Double Pack pre-order bonus DLC.
The changes include new presets for the Thrustmaster T248-PS and T248-X wheels, along with recognising the Fanatec CSL DD on PC and Xbox. But there are a number of other fixes for online racing, ranging from issues with rolling starts if you joined a Time Attack race already in progress, to preventing AI setting impossible lap times.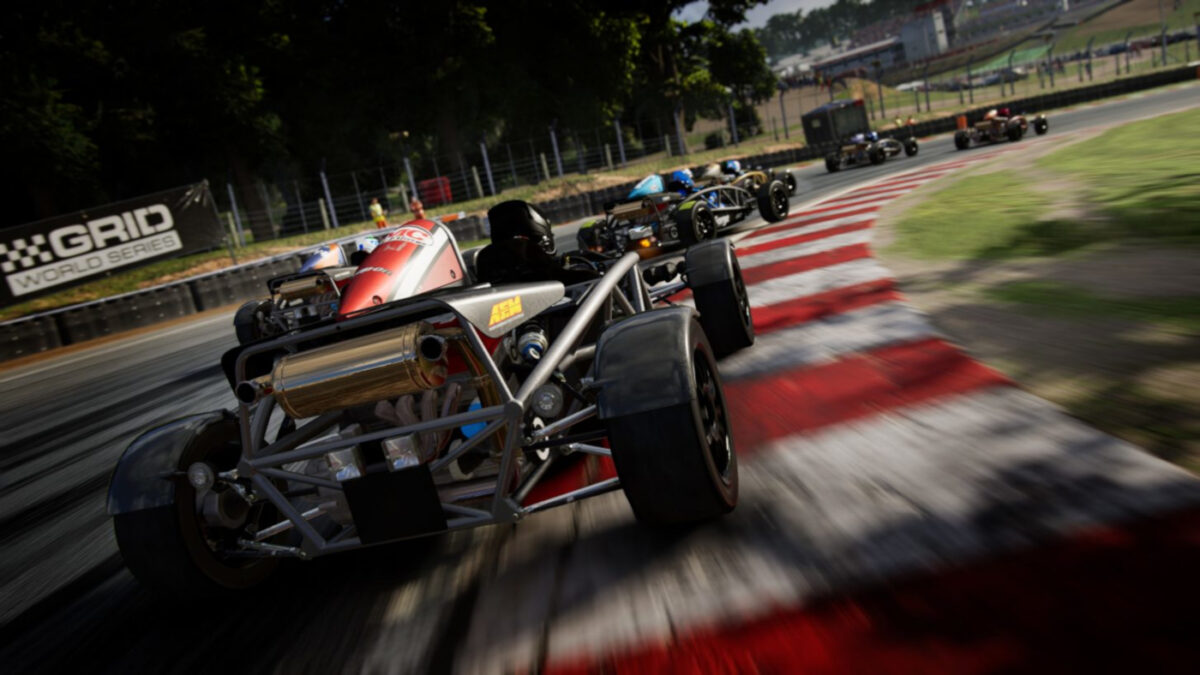 GRID Legends Update V1.09 Release Notes:
General
Flickering under vehicles in the garage has been addressed
Vehicle upgrade icons no longer appear as black squares in Multi-Class races
All in-game store tiles are now working correctly
Presets have been added for the Thrustmaster T248-PS & T248-X wheels
The Fanatec CSL DD is now recognised on PC & Xbox
Distance travelled is now being tracked correctly
Vehicle shift lights are no longer invisible or too dim
The RPM dial on the Dumont T36 Brawler Sport now displays correctly in rain conditions
AI drivers that lose the Nemesis state no longer become Nemesis for no reason
Lens flares for rear lights have been adjusted
The InstaLod logo has been added to the credits and splash screen
Other minor bug fixes have been made throughout the game
Online
AI can no longer generate impossibly fast lap times on Time Attack
Flashback upgrades are now applied for Online races where relevant
An issue causing players to show as Offline when they are Online has been fixed
Players are now able to join via invite after just finishing an event
Cars no longer show as ghosted when spectating
An issue with rolling starts when joining in-progress Time Attack races has been fixed
The game no longers asks the player to change privacy to Public when already set to Public
An empty Race Results screen is now longer shown in Team races if the AI is switched off
Changes to sessions are now displayed correctly
Disconnecting Ethernet now triggers the privacy to change to Offline
Consecutive host migrations no longer make the session disappear from the session list
Driven to Glory & Career
It's now possible to return to the main menu during a Story event
An issue causing some vehicles to go out of world on Into the Fray has been resolved
Pro – Drift – Finale – The time of day and weather conditions are now correct
Fireworks are correctly triggered towards the beginning of the story
The Trafalgar Square Off cutscene now displays correctly
Semi Pro Multi-Class Event 1 – Event is now winnable when selecting the Porsche 911 RSR or Porsche 911 GT1.
Performance/System
Various reasons that would cause the game to Crash have been resolved across all platforms
Xbox
Performance improvements have been made when playing on Xbox One or Xbox Series X
The ability to capture screenshots, capture video, and stream has been restored when HDR is enabled has been restored
Origin/EA Desktop
The game now boots correctly on Windows 11
The game now updates correctly
Text

Debug text no longer displays in certain instances
Minor translation fixes have been made throughout the game
Audio
Main Menu music no longer plays over Credits music
There have been several other audio fixes made throughout the game
GRID Legends is available for the PC via Steam, the Xbox One and Xbox Series X|S via the Xbox Store, and the PS4 or PS5 via the PlayStation Store.
Keep up with the latest GRID Legends news, updates and more, here. Or check out the full GRID Legends car list for every vehicle included in the game.