Since the first humans started competing against each other, people have been trying to gain an advantage through loopholes or exploits. It's part of the long, rich history of motorsport. And it's also a key element of videogames, including sim racing. So what is the iRacing brakedragging controversy, and why has it suddenly become a major talking point.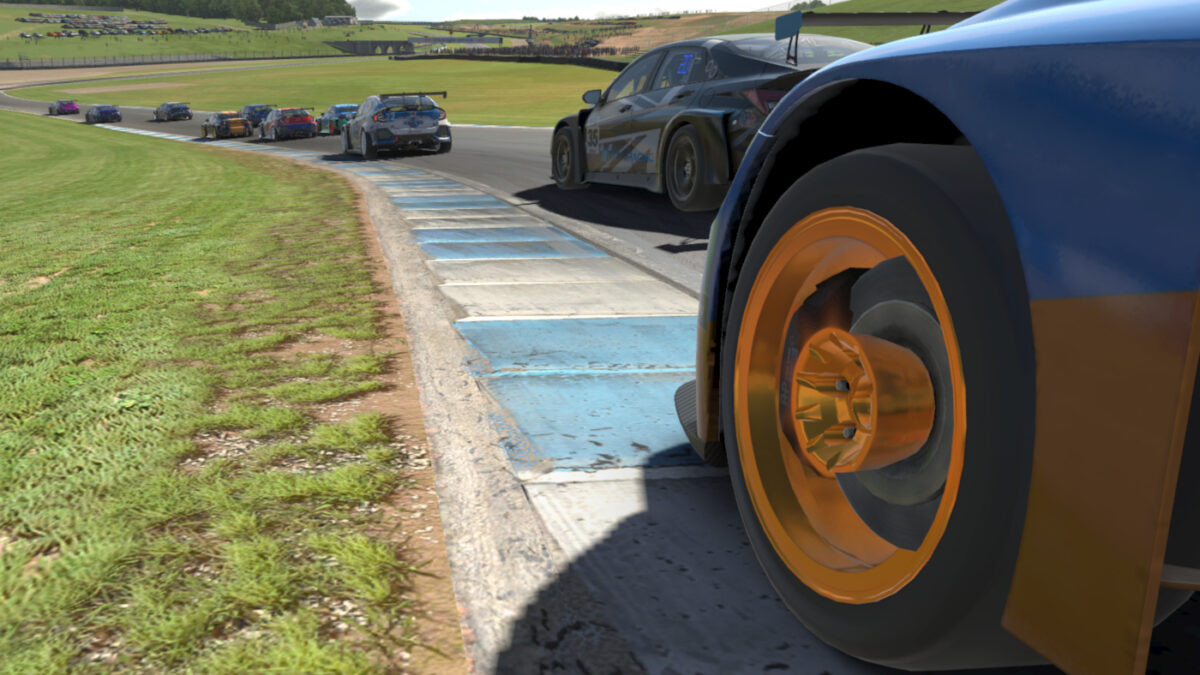 How do real racers use brakedragging?
In real motorsport, you'll get the best lap times when your tyres and brakes are at their optimal working temperatures. It's why racers will pump their brakes during warm-up and out laps (and motorcycle riders often pull a small stoppie as they arrive at their grid slot). And the reason for weaving, including behind a safety car.
Professional drivers have commented on the issue, explaining that they'll brake from 200kph to 80kph in a straight line, or drag brakes through corners for a bit.
This means you're less likely to find you arrive at turn one with cold tyres, and either locking up or sailing off track because your brakes weren't working as expected. And aside from issues with excessive movement across the track, it's not a big problem in the real world, or in sim racing
What's currently wrong with iRacing Brakedragging?
As much as the sim does a reasonable job of emulating real world physics, including for the brakes and tyres, it's extremely difficult, if not impossible, to capture every element of life on earth in computer code.
Any program has bugs or flaws, which can be discovered by accident, or hours or trial and error. And one such exploit is the current iRacing brakedragging issue.
Rather than realistically warming up the tyres and brakes using the same techniques as you would find in real motorsport, this involves going at a much lower speed (30-40kph), and weaving with both the throttle and brakes engaged. It's been known about for a while by some racers, but has recently been more widely shared and publicised, putting pressure on iRacing and league organisers to take action.
The result is that in iRacing it heats up the tyre temperatures. But without impacting the tyre pressures, the surface temps, or the stress on the engine and brakes that would potentially cause a failure in the real life. So by using this technique on an out lap, you can have the perfect tyre temps to start a qualifying lap without any issues. And at the moment, it's not picked up by the qualifying scrutiny model implemented by iRacing for official race series.
Using brakedragging in iRacing can make a huge difference in qualifying, cutting the lap time at some tracks by more than a second. And given how close competition can be, particularly in higher splits or dedicated league racing, this could be the difference between 20th place and pole position. It's also appearing on formation laps, which leads to obvious issues with cars weaving at 30-40kph then racing up to the field.
Even if you've qualified on pole by using brakedragging and can't maintain the same advantage in the race itself, it still means everyone else will have to try and find a way past you. Vastly improving your finishing position in most cases.
What can iRacing do to solve the brakedragging issues?
Greg West has responded on the iRacing forums, and has said that the team are currently evaluating both short and long-term responses. One option mentioned is making the qualifying sessions viewable by other drivers, so you could spot if someone is weaving with the brakes on at less than 60kph and file a protest.
The other is improving the Qualifying Scrutiny System, and potentially turning on the current higher level which requires drivers to run higher speeds throughout qualifying. This is obviously a fairly quick answer, but does mean you could have other issues if racers are running slow following an off track (for instance, driving across grass for a few seconds).
A third option would be a more involved reworking of the tyre and brake physics to include fade, stress and other issues occurring from driving around constantly weaving with the throttle and brakes applied. This is obviously the best solution in terms of adding more realism to iRacing, but also potentially means a lot of time and effort to develop, test and implement. Whether or not this will be done (or is already being worked on in secret), we won't know until it's released.
What to do in the meantime?
While iRacing evaluates the potential solutions to excessive brakedragging and the current exploit in the tyre and brake physics, you have a couple of options as a sim racer.
The first is to just ignore the entire thing and carry on racing as normal. You retain your immersion and realism, and if someone has used the exploit without being fast enough to stay ahead, there's a good chance you'll get to catch and pass them anyway.
Alternatively, while the exploit exists, there's nothing to stop you joining in. The only exceptions are in league and series races where it's explicitly banned in the rules (if it's not mentioned, you may want to check with the organisers first). As in real world motorsport, once a gap in the rules has been found, every team and driver will rush to take advantage until it gets closed. Especially when qualifying is private in official series, so no-one will be able to see what you're doing and file a protest.
While it's always irritating when some drivers are able to gain an advantage through something which isn't realistic or natural, and it's worth flagging issues up to iRacing (or the developers of other sims when similar exploits are discovered), it's important to stay calm and keep some sense of perspective, considering how many bizarre routes have been taken in real world motorsport, from hiding an oil cooler behind the seat of Mario Andretti for the 1969 Indy 500, Ford getting around restrictor plate restrictions in WRC, or flexible wings in Formula 1. Not to mention people putting oil and fuel inside roll cages, or McLaren's famous second brake system.
You can sign up to iRacing, here (and credit your referral to ORD, which we'd appreciate!). And see all vehicles included in your basic subscription, or what you can access by paying more, in our full official iRacing car list, here.
Or check out all of the included circuits, and the others you can buy, in our full official iRacing track list, here. And keep up with all the latest iRacing news, updates and eSports, here.