A fairly sizeable list of issues have been resolved with F1 22 Patch 1.06 released across all platforms. And there are some pretty big handling and force feedback changes, which include engine torque being tweaked, along with gear ratios, and more influrence on tyre temperatures from running very high pressures.
You should also be able to feel stronger and crisper force feedback, allowing you to catch understeer and oversteer earlier, as the self-aligning torque of the tyres has now been added to the overall calculation.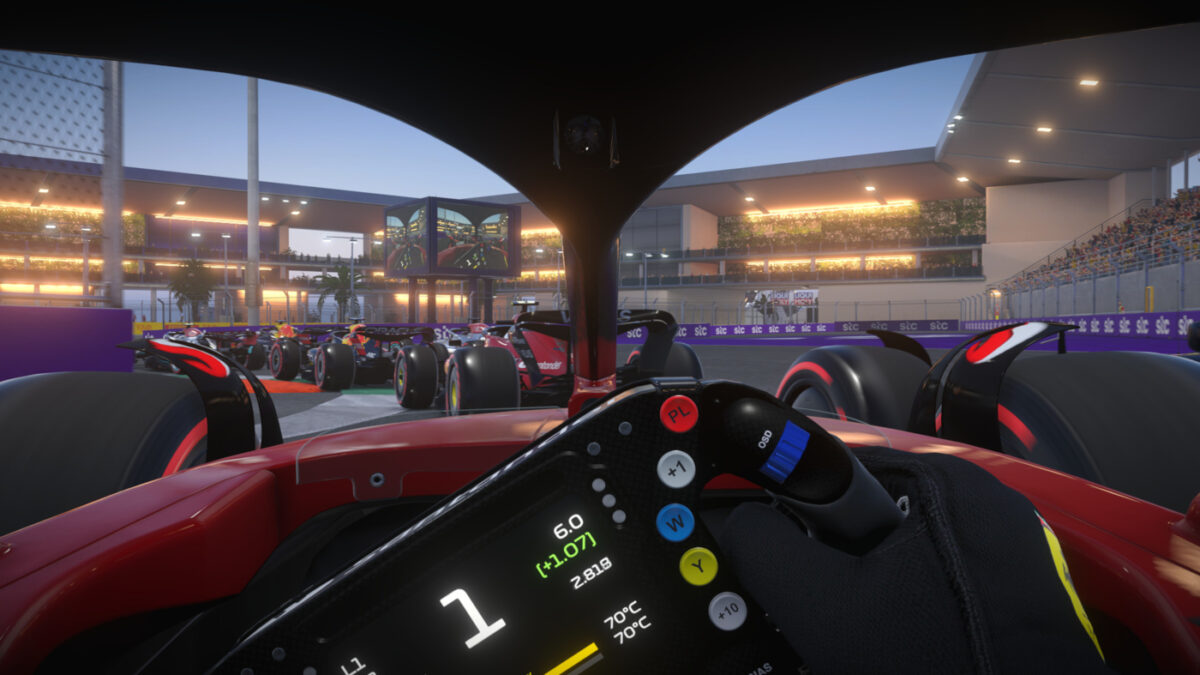 Other fixes introduced include an issue relating to force feedback on several Logitech wheels, and problems with the AI logic such as cars overtaking the Safety Car causing mass disqualifications.
F1 22 launched at the started of July, so it's no surprise that there are some issues to iron out in the game, and there are a number of further bugs and complications listed for future updates, including inconsistent force feedback on controllers, lowing the front wing having minimal effect on grip, or a 50% brake deadzone if you're using Heusinkveld pedals. Three issues always listed as awaitng the next patch are that the driver number 23 is incorrectly available to be used, the engineer claiming DSQ'd cars are still running, and the possibility of excessive DNFs at Baku using Simulation Damage in My Team mode.
F1 22 Patch 1.06 Release Notes:
General
F1® 22 Vehicle Performance has been brought more in line with the real season. All F1® Time Trial leaderboards have been reset as a result of this change
ICE/MGU-H wear rate reduced to be less punishing while using automatic transmission
Sector Time indicators will now show the expected colours when completing a lap
Improved AI Logic at Pit Entry and Exit
Addressed an issue where tyre temperatures are reset after pausing the game in online game modes
Addressed an issue where, in some instances, 'Broadcast' Safety Car can cause all AI-controlled cars to overtake it, resulting in mass disqualifications
Resolved an issue where Personnel Facility upgrades are not applying to drivers
Fixed an issue where track grip could reduce between qualifying sessions
Addressed an issue on Baku where the player could crash into Turn 15 on Baku when under AI control using flying lap
Addressed an issue with tecpro barriers coming loose on Baku
Colour for sponsors' decals and badges can now be applied from a pre-set colour slot
General Stability Improvements
Various minor fixes
Marc will now correctly mention icon drivers
Addressed an issue where the wrong graphics card could be chosen on game launch which could have resulted in a crash
Game will now correctly load when using Intel graphics cards (subject to minimum specs and models)
Adjusted networking session searching so that NM14 errors are less likely to occur
AI icon removed from the timing board during broadcast safety car
Corrected Kevin Magnussen's eye colour
Collisions now correctly reported in UDP data
Two Player Career:
Resolved an issue where, in some instances, players could not advance past Contract Negotiations in Two Player Career
Addressed an issue where players could get stuck after a season break in Two Player Career
Audio
Improved mix of bottoming out in F1 cars, now more audible
Improved performance and mix of tyre scrubs and skids
Added new audio for Mercedes-AMG GT Black Series
Fixed an issue where the Race Engineer could incorrectly mention 'Racing Point' instead of Aston Martin
Resolved an issue where headphones could not be selected as radio output device on PlayStation 4/5
Wheels:
Fixed an issue relating to force feedback with several compatible Logitech wheels (G920, G29, and G923)
Fixed an issue where the LED Tachometer (Rev Counter) lights were not working on Logitech wheelbases
LSB & RSB buttons added for Thrustmaster T248 / T128 wheels on Xbox
VR:
Improved performance when companion screen is set to full screen
Addressed involuntary head movement when braking or accelerating
Fixed issue with Oculus Rift CV1 due to Stencil Mesh being enabled by default
Modified default settings to improve general compatibility
Visual quality and performance optimisations
You can buy F1 22 for the PC on Steam, the Epic Games Store, and Origin. Or via the Microsoft Store for the Xbox One and Xbox Series X|S and the PlayStation Store for the PS4 and PS5. Physical copies are available from Game or Amazon.
Keep up with all the latest F1 22 news, updates, DLC and more, here. And you can find all the cars in the game, including supercars for the first time, in the full F1 22 Car List, here.