Console racing game fans have an interesting new title to prepare for with the World of Outlaws: Dirt Racing release date and pre-orders shared by publishers iRacing. It's the first title to be developed by Monster Games since they were acquired by the sim racing company, and an initial venture into the world of Xbox and PlayStation consoles by iRacing.
World of Outlaws: Dirt Racing will be released on September 27th, 2022 for the Xbox One, Xbox Series X|S, PS4 and PS5. Pre-orders are available now, with the Standard Edition including the base game, and a Gold Edition adding a season pass to cover all additional DLC for the rest of 2022. Already confirmed are three circuits (Limaland Motorsports Park, Federated Auto Parts Raceway at I-55, and Lucas Oil Speedway, along with the UMP Modifieds and Super DIRTcar Big Block Modifieds DIRTcar classes). And the Season Pass will also be available separately.
More details have also been announced, along with a gameplay trailer:
More than 40 venues are promised, including 13 officially licensed dirt ovals already confirmed, and the three DLC locations revealed so far. Others will include fictional circuits, which may be carried across from previous Monster Games titles including SRX: The Game, Tony Stewart's: Sprint Car Racing and Tony Stewart's: All American Racing. You can see everything as it's announced in our World of Outlaws: Dirt Racing track list.
Before the DLC additions of the UMP Modifieds and Super DIRTcar Big Block Modifieds, you'll still have six different classes to race in, with the World of Outlaws 410 Sprint Car, 360 Sprint Car, 305 Sprint Car, World of Oulaws Super Late Model, Pro Late Model and Street Stocks included in the base game.
Career Mode will see you repairing and upgrading your car as you progress through Local, Regional and National series, while there's up to 25 drivers able to compete in online multiplayer. Some of the technology for the online racing and AI has come from iRacing, along with physics tuning. So it'll be interesting to see how that comes together in the final product.
There's also a Car Creator to design your own liveries with more layers and shapes available.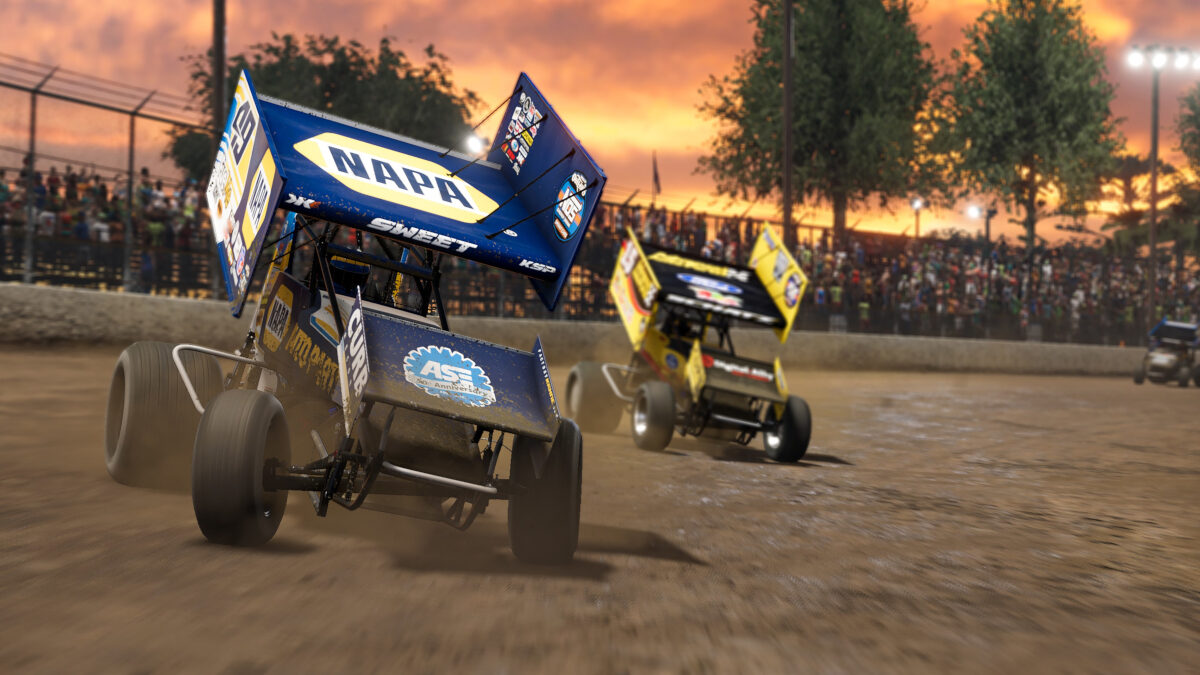 World of Outlaws: Dirt Racing Pre Order Bonus:
If you decide to commit to the game now, you'll unlock World of Outlaws legend Sammy Swindell. For those of us not familiar with dirt oval racing, the 66-year-old is a three time World of Outlaws champion in 1981, 1982 and 1997, and a four-time runner-up, with a total of 394 A-Main race victories. And despite retiring from a full season schedule in 2014, he still competes in races.
And he also raced occasionally in the NASCAR Cup Series, Xfinity Series, Camping World Truck Series, and tried his hand at Champ Car as well. Plus he's a fine-time winner of the Chilli Bowl Midget Nationals, and was the only person to have won it more than three times until his son Kevin took a fourth win in 2013.
World of Outlaws: Dirt Racing is available to pre-order for the Xbox One and Xbox Series X|S via the Microsoft Store, and to wishlist for the PS4 and PS5 via the Playstation Store. You can keep up with the latest World of Outlaws: Dirt Racing news, updates and DLC here, or check out the full track list, here.