The format, team and prizes have been confirmed with the ESL R1 Rennsport sim racing series details announced. Each year will see two championships running, with the Spring season kicking off on February 10-12th, 2023 with the first of eight rounds. Each of the two annual seasons ends with a Major event, which will see the top 24 driver compete to become the champion and get the biggest share of the €500,000 prize pool.
Teams have been invited, with 12 organisations confirmed. And each will field four drivers, meaning a total of 48 competitors. While the first two rounds will take place in person at the IEM Expo, held in Katowice, Poland, the rest will be online until the ELS R1 2023 Spring Major, which will be at the Rennsport Summit, taking place in Munich, Germany in May.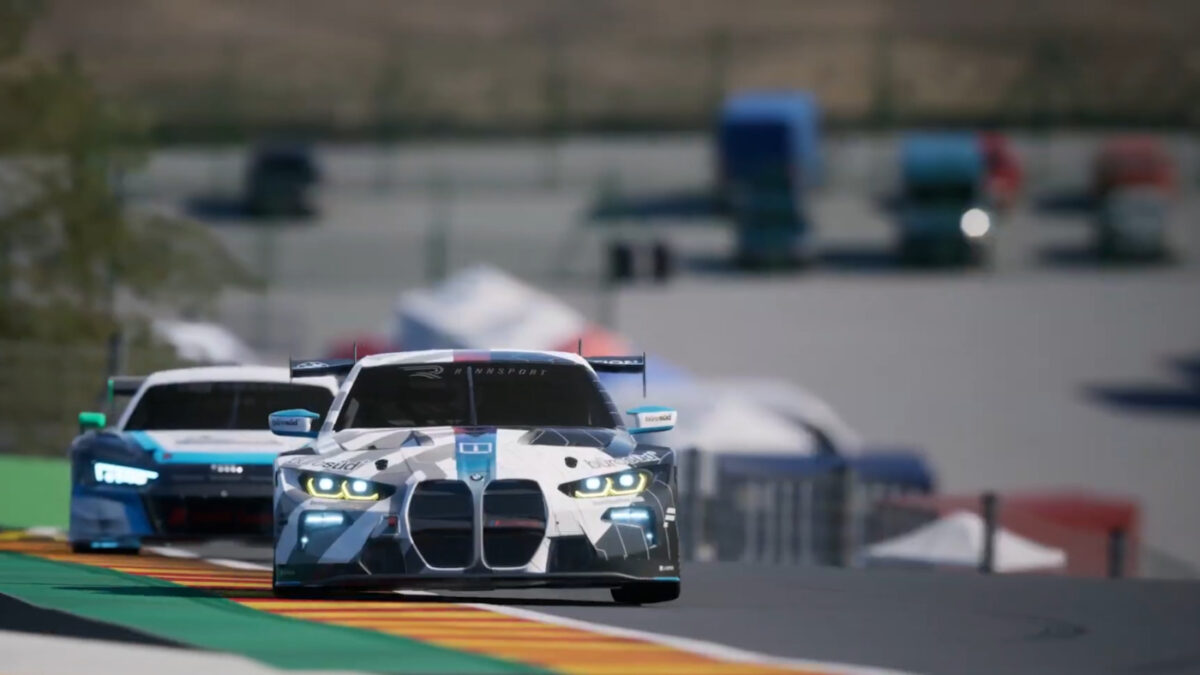 ESL R1 2023 Spring Season Teams
Twelve teams will be taking part in the first ESL R1 2023 Spring Season, and they are made up of some big sim racing and esports organisations. So far, no driver names or car choices have been confirmed, although we can probably guess what Porsche Coanda, Team BS+ Competition BMW M, and AMG Petronas Esports Team Mercedes-AMG might be choosing.
Faze Clan
Furia
G2 Esports
Heroic
R8G Esports
Mouz
Team Redline
Porsche Coanda
Team BS+ Competition BMW M
AMG Petronas Esports Team Mercedes-AMG
Apex Racing Team
Williams Esports
We guessed that it might see the debut of the new FaZe team following the announcement of a collaboration between them and Porsche. But it seems they'll be competing against the established Porscha Coanda squad, which will be interesting.
Eight of the teams are partners in the series, while four are wild cards. So we may see some of the roster changing for the Autumn Season, or in future series. There's no word on which drivers are expected to take part, although there are lots of rumours currently being shared.
ESL R1 2023 Spring Season Calendar
Each series will take place primarily online, with live events bookending the calendar. For the inaugral 2023 Spring Season, the opening two rounds will be held at the IEM Expo in Katowice, with the Spring Major finale at the Rennsport Summit in Munich.
February 11-12, 2023: R1 & R2: IEM Expo, Katowice, Poland
March 13, 2023: R3
March 27, 2023: R4
April 10, 2023: R5
April 17, 2023: R6
April 24, 2023: R7
May 8, 2023: R8
May 27-28, 2023: ESL R1 2023 Spring Major
It's slightly different in holding rounds online on Fridays and Mondays, when most virtual motorsports events take place at weekends, echoing the real world. And while it's not yet confirmed, we'd imagine you'll be able to watch each round live via the ESL R1 Twitch and Youtube channels.
I'm intrigued for the new series to kick off. With the closed beta still coming soon, it'll be a good chance for a wider audience to see what Rennsport is like, and how it compares to existing sim racing titles. Plus we'll discover some new track additions, as well as possibly more cars coming to Rennsport.
Then there's the prospect of the live events and partnering with one of the largest and oldest eSports organisations, which has recently been acquired by Savvy Games Group, a holding company owned by Saudi Arabia's Public Investment Fund. Considering that cost $1.05 billion (along with $500 million for esports platform FACEIT, with the two merging to become the ESL Faceit Group), they're not going to short of cash to put behind a series if it becomes successful.
And then there's the usual potential for drama around the teams, drivers and track action. You've got established sim racing names facing the new arrival of FaZe Clan, along with G2 Esports expanding from the eNASCAR iRacing series. Along with individual drivers potentially switching their commitment from other titles.
Finally, there's the question of how teams will qualify for future ESL R1 seasons. Will Rennsport have a hierachy of other leagues and series to enable teams to move their way up to what will presumably remain the flagship championship?
You'll be able to keep up with our ESL R1 series coverage, here. Along with all the latest Racing eSports news, here.
And you can see the latest Rennsport news, updates, content and more, here, along with a list of all the cars confirmed for Rennsport so far (and the tracks as well).