Arriving over the Easter weekend, the big TrackDayR update 1.0.98.37 adds quads and tracks, including one that has been officially licensed. Along with a 3-wheeled, modified delivery truck, new air and suspension physics, and loads more.
A new HUD has been introduced, which should make it easier to see what's happening during a race, and there's also an update to the penalty system which will hopefully remove some of the attempts to find shortcuts and cheats to top the leaderboards.
New vehicles:
While primarily a motorcycle sim including road and dirt riding, developers MadCow S.r.l have never been afraid to include scooters, pitbikes and other more unusual selections. And adding a four-wheeled quad ATV makes sense, given the big crossover with other off-road riding. So you get a competition-ready 450cc four wheeler to use on dirt tracks.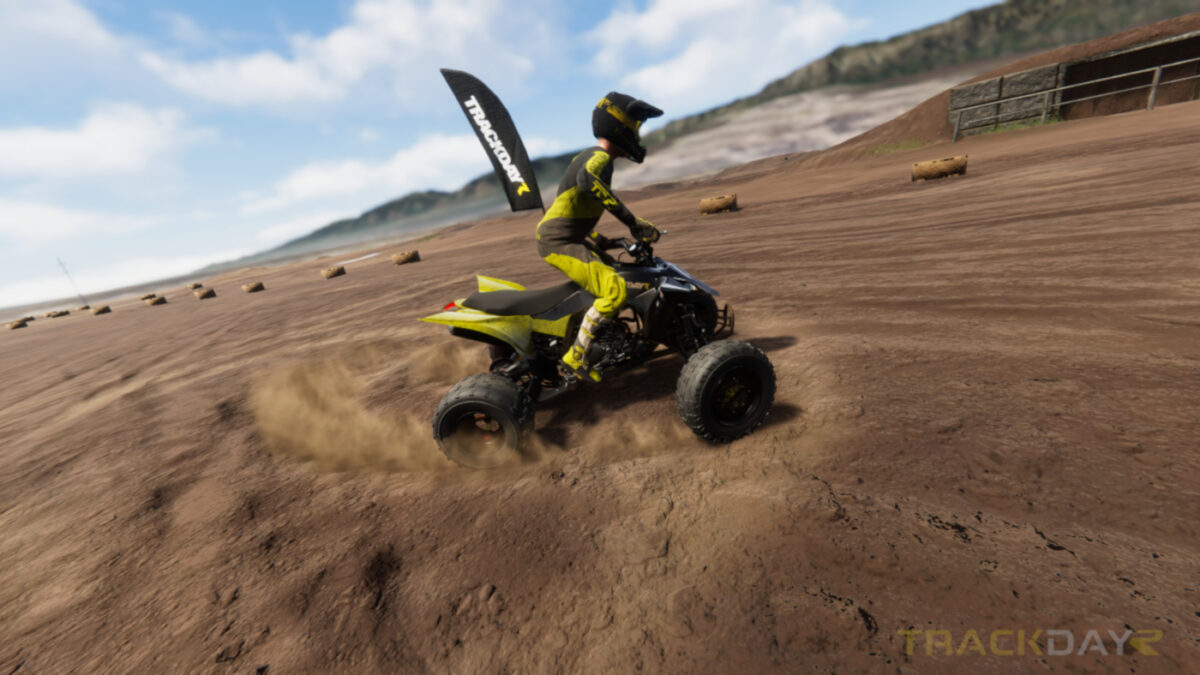 But they've also added MX and road versions of the BProto 3-wheeler, which is based on the 50cc vehicles popular in Italy for deliveries, or used by teenagers to get on the road earlier. Except this version gets a 600cc 4-cylinder engine, and race suspension to offer 100hp in a vehicle weighing 300kg.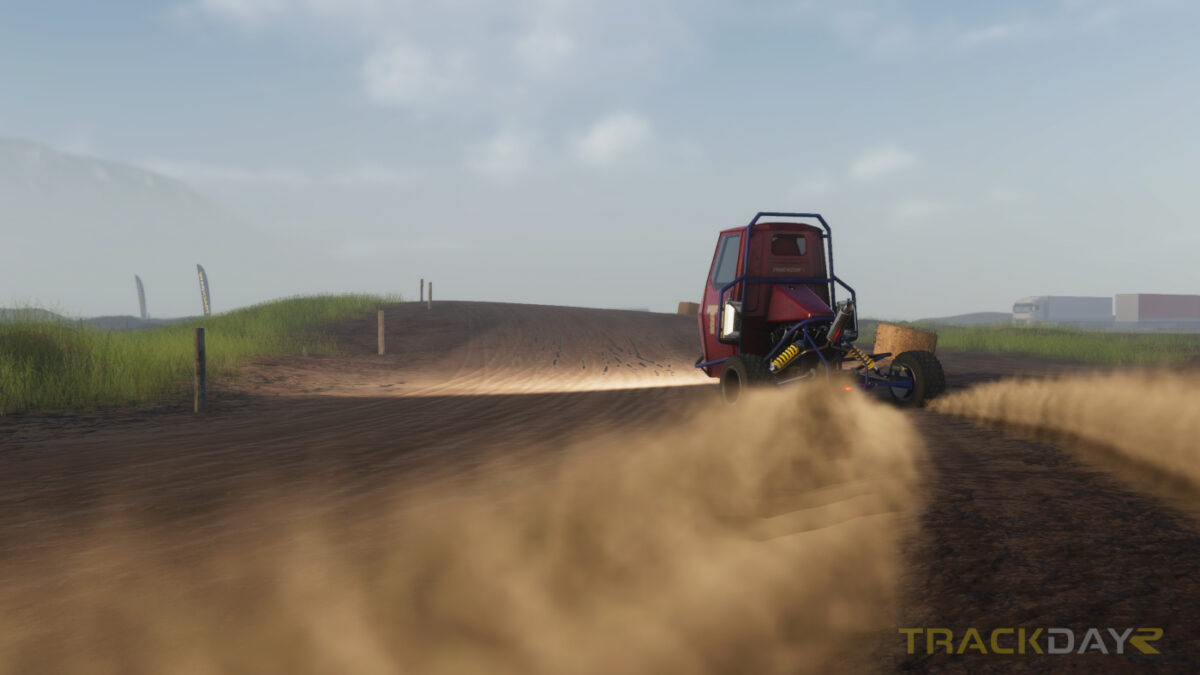 New Tracks
TrackDayR has always balanced fictional tracks with a number of lesser-known officially licensed circuits, often recreating kart tracks for smaller road bikes. Which makes sense for a smaller indie development team self-publishing their sim.
But along with three new circuits (Andes MX, Utah Flat and Moesia, a Supermoto layout incorporating some jumps and tabletops), this update includes the officially-licensed LACR MX track for a venue which originally opened in 1985. The Los Angeles County Raceway Motocross track is in Palmdale, California, with the sandy terrain featuring doubles, tabletops and whoops.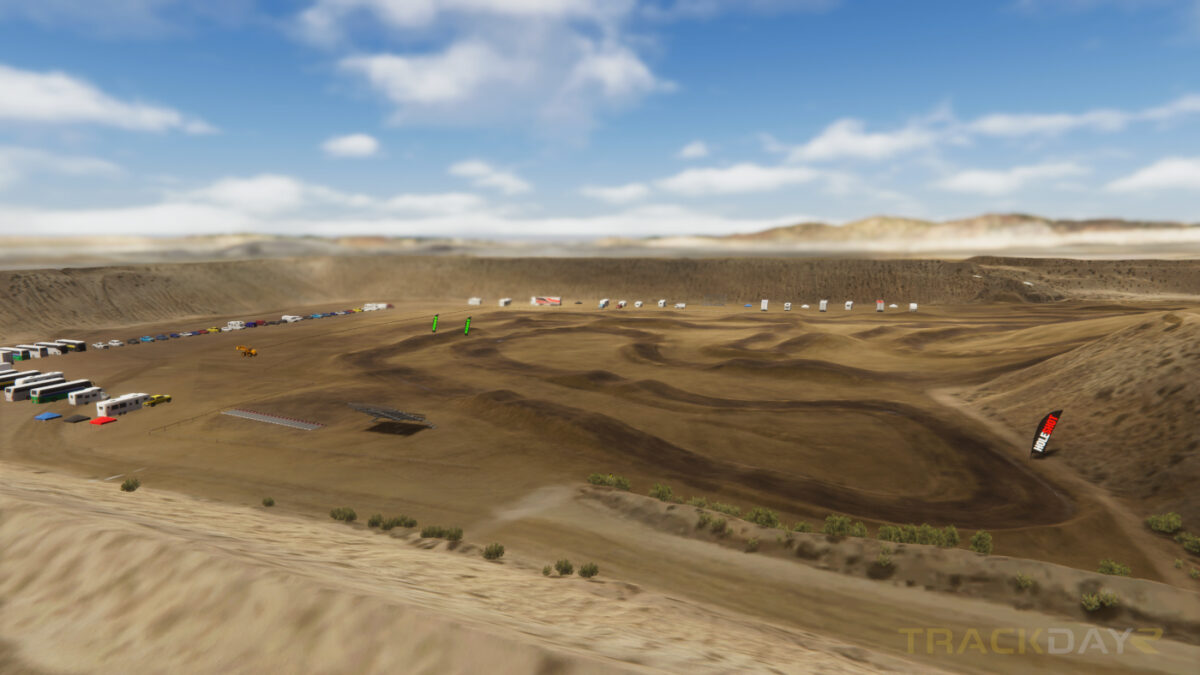 The other major changes were to improve the stability of bikes when they're in the air, making it easier to tackle jumps and gaps more smoothly. And also updating how the suspension of all the motorcycles and vehicles handles rough and uneven terrain. For an experience familiar to many European riders, fog has also been added as a new weather condition.
Immediately following the release, two hotfixes have been released to fix some issues. But the Racer mode allowing you to compete against AI has been temporarily disabled due to the physics changes.
TrackDayR Update 1.098.37 Release Notes:
new HUD
new QUAD ATV MX
new BProto 3-wheeler asphalt
new BProto 3-wheeler MX
new tracks ( ANDES MX, UTAH FLAT, MOESIA SM)
new animation system
new suspension system based on real data
new in-air physics system
new engine torque curve simulation
new tyres
improved sit/stand animation
new wheelie system
improved wheelie balance management
improved influence engine revs in the agility of the bike
improved rear wheel traction
new camera 1
new smooth leaning settings
improved steer managment
new optimal braking calculation system ( BrakeAI )
new physical braking calculation system
added PSD system on rear suspension
new dust replay for the front tyres
new Low profile GFX setting
hotfix the chainpull algorithm that induced strange wheelies even at high speed
new dynamic camber simulation based on rear shock compression
new vertical air drag system
lots of minor fixes
Build 1.0.98.39 Release Notes:
engine delivery at low rpm
rider position correction when cornering
influence of accelerations on rider in air
helmetcam correction
correction of some physics values on 3- and 4-wheel vehicles
some other fixes
Build 1.0.98.42 Release Notes:
hotfix Torque curve of 250 4t
hotfix autocenter lean on MX
experimental new physic frequency (+20%)
tweak high rpm engine
hotfix directionality on ramp
improved leg animations on MX
temporarily disabled the braking AI toggle
TrackDayR is available for the PC via Steam. And you can keep up with all the latest TrackDayR news, updates and release details, here. You can also check out the full TrackDayR bikes list here, and the TrackDayR circuit list, here.