A pretty big release has arrived from developers MadCow S,r,l, as the latest TrackDayR update adds new tracks and bikes, including a motocross sidecar outfit complete with passenger. Plus a new user interface, rider model, and an overhaul of physics, including for braking and when you're in the air.
Originally launched on Steam back in 2021 by the small team at the Italian studio, it's always been a great simulator with some rough edges. And the months of work on the user interface definitely makes the menus look nicer and a little easier to navigate, although it can still be a little buggy at times.
But you may want to spend a little more time in the options, as theres now a new rider model system, which allows you a lot more customisation for clothes, helmets and more. But it's really about the riding experience, which gets expanded further.
Five new bikes have been added with two new 250cc and 450cc four stroke dirtbikes, and a pair of 250cc and 450cc four stroke supermoto machines.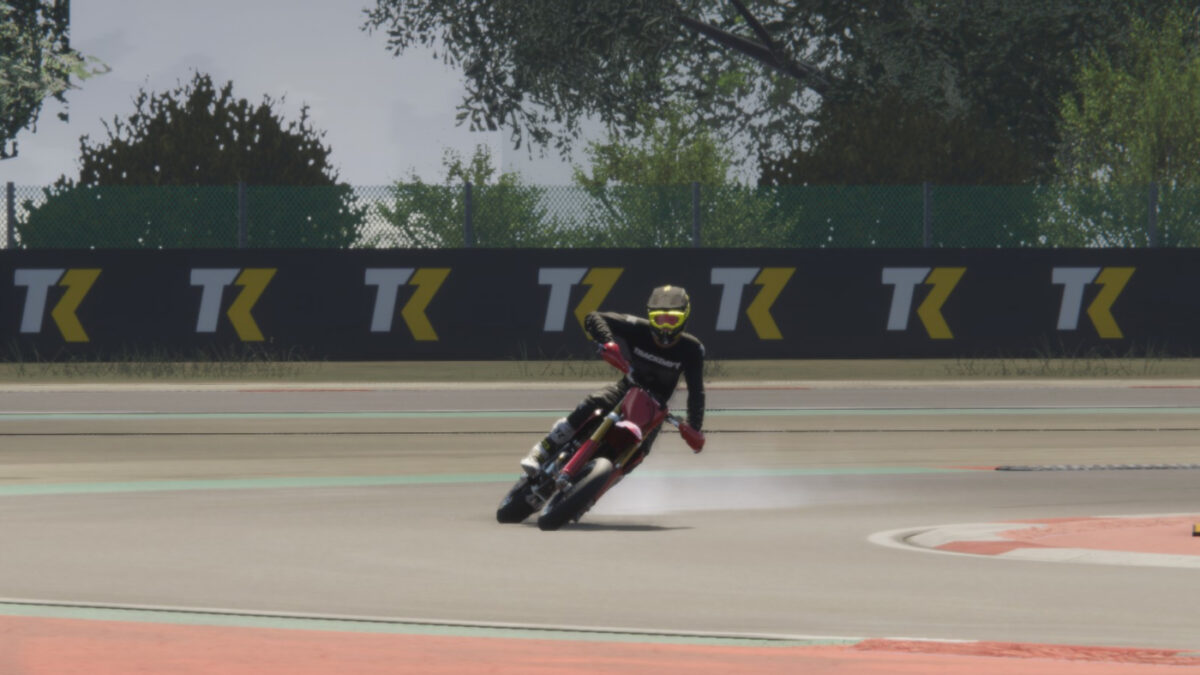 But as always, the MadCow team had to add something a bit different. And this time it's a 660cc four stroke MX Sidecar, with passenger. This means you need to use the right stick to lean both rider and passenger into turns, coping with the weight and geometry of a three-wheeler with an extra body on board, along with navigating an off-road circuit.
Which makes for an interesting experience.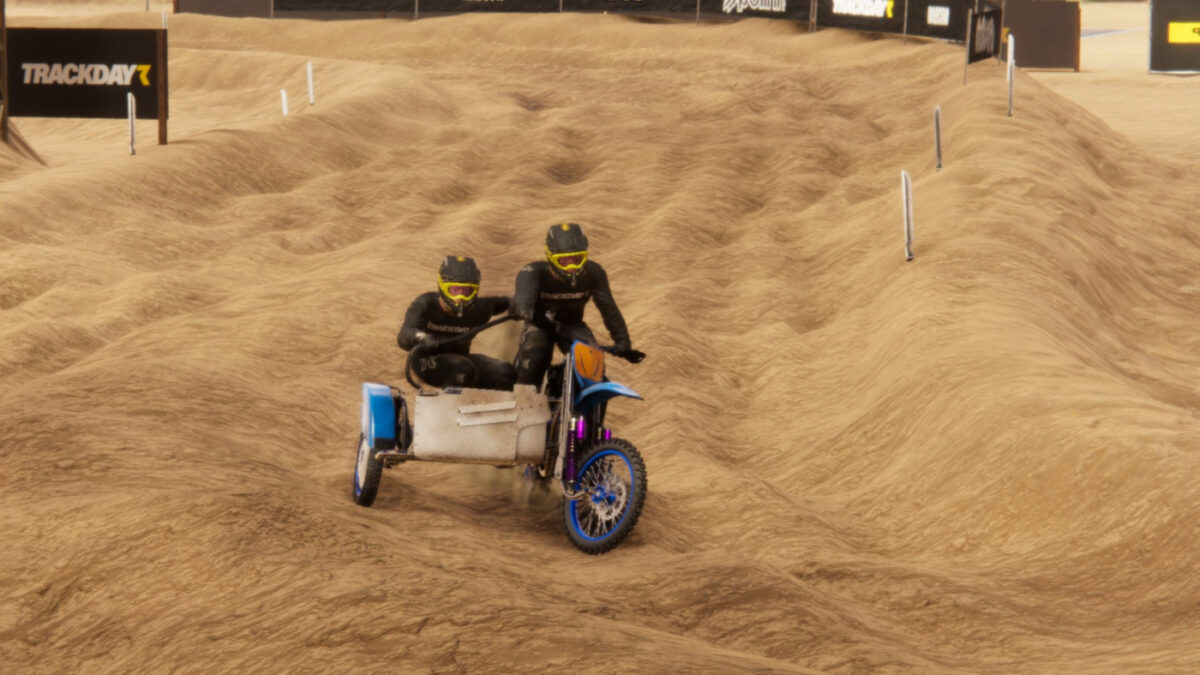 Hopefully a future update might let a second player control the lean angles, for a truly co-operative sidecar experience. And something which has rarely appeared in motorcycle games, aside from the first TT Isle of Man: Ride on the Edge title in the free Sidecar Thrill DLC.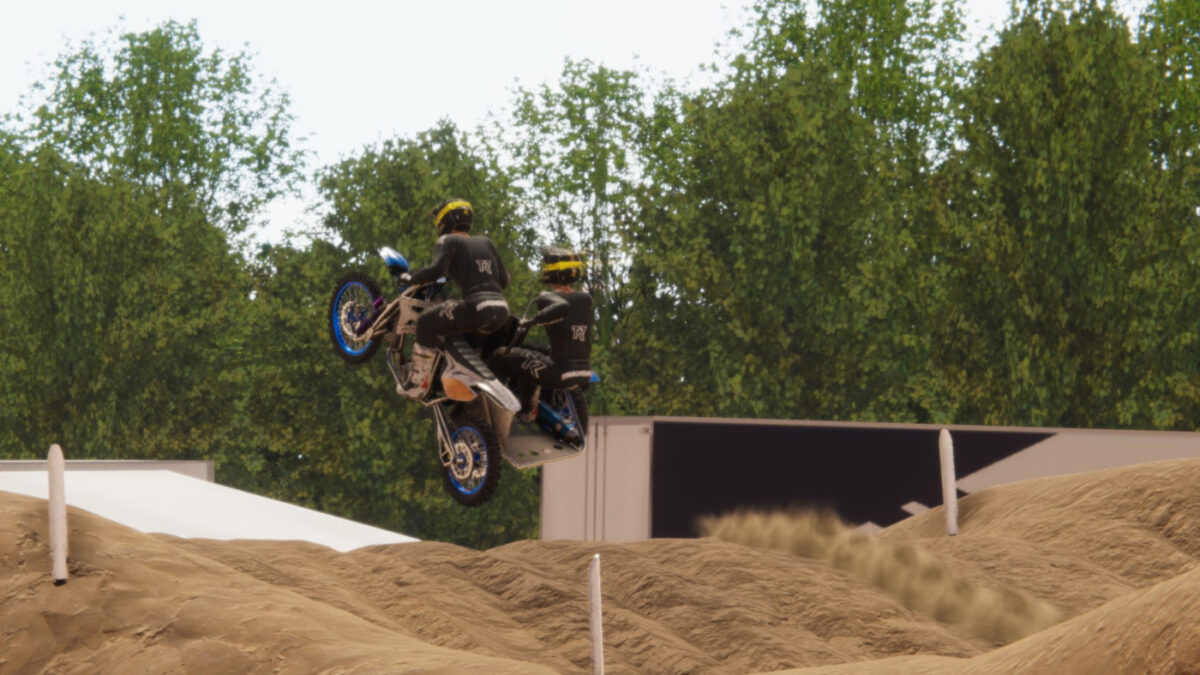 Then there are two new tracks, with Michigan MX 2023, and the terrifyingly named Hell of Sand, which is more fun and less scary than you might imagine.
Along with a new look and content, there's also been a big update to the physics, particularly in how tyres respond to the ground for different terrain, including ruts on the off-road tracks. And with jumps a fairly frequent feature, there's also more realistic behaviour when you leave the ground, including bike inertia, wheel angluar momentum and more. And there's a completely new system for the braking physics, including locking locking up the rear, which is a common technique for supermoto riders to 'back in' to corners sideways.
TrackDayR Update 1.0.1.101.85 Release Notes:
NEW UI & UX (almost fully playable with gamepad)
NEW RIDER MODEL
NEW EXPERIMENTAL IN-GAME BIKE MOD TOOL
NEW REPLAY CORE SYSTEM
NEW RUTS SIMULATION PHYSICS
IMPROVED SUSPENSION ALGORITHM
NEW TYRE IMPACT ABSORPTION
PHYSICAL TERRAIN
NEW SEPARATED MASSES SIMULATION
NEW DRAG CALCULATION (Based on the bike surface)
NEW GYRO EFFECT IN AIR
IMPROVED RIDER/BIKE MASSES INFLUENCE
IMPROVED TYRES PHYSICS ALGORITHM
REVOLUTIONED AIR PHYSICS
NEW RIDERS ANIMATION (based on a totally new cinematic system)
NEW SEPARETED BRAKE REGULATION (Removed combined brakes)
NEW DYNAMIC CoG CALCULATION
NEW SCRUB SYSTEM
NEW WHIP SYSTEM
NEW WHEELIE HELP
A hotfix update has also been released to solve some of the initial issues, including a problem with wheelies when the assist option is set to off.
TrackDayR Hotfix Build 1.0.101.90 Release Notes:
Fixed sideways fall bug in wheelies
Worked on balance management in wheelies (wheelie assist OFF)
Fixed "no sounds" on multyplayer mode
Improved engine – The engine response is more sensitive now
Overall, it's a good update and makes a number of good improvements, although I did find the UI was a little buggy when I first loaded TrackDayR after the update. That appears to have sorted itself out now though, and off-road sidecar racing could be a lot of fun in the future.
It's also great to see progress continues after a few months without any updates, as the motorcycle sim just keeps getting better. Especially when an easier interface and more polished intro could open up TrackDayR to a slightly wider audience. Streamlining the options, assists and jumping onto a bike would definitely make it easier to recommend as a game for motorcyclists who aren't sim racing nerds, and don't want to be messing around with graphics settings and controller key binds before trying to pull a wheelie or get their knee down.
TrackDayR is available for the PC via Steam. And you can keep up with all the latest TrackDayR news, updates and release details, here. You can also check out the full TrackDayR bikes list here, and the TrackDayR circuit list, here.