Last updated on December 6th, 2019 at 03:19 pm
Three downloadable content packs have been announced for Split/Second: Velocity, along with a November 19th release date for the Sony PSP version.
The first of three DLC packs for the Xbox 360 and Playstation 3 versions launched today. Dubbed 'Survival at Rock Park', it includes the brand new Minepit Park track, plus a new 'Survival Race' mode. The original game included a Survival Mode against the clock, but now you've got a single and multi-player challenge to complete a set number of laps to win. You'll still be up against big rig trucks dropping barrels, but the new mode is playable across 5 tracks, not just Minepit Park.
Watch the official trailer for Survival at the Rock.
On October 20th comes the Deadline Pack, which features a new single-player Deadline mode. This is a race against the clock requiring players to pick up objects on-track to be able to freeze the clock. Drifting while you're picking up objects causes even more to appear, and the mode is playable across 12 tracks. The pack also includes four new vehicles: Ryback Coyote Special (new handling for the original Coyote), Cobretti Centaur (muscle car), Ryback Javelin (muscle car) and Hanzo Kanobo (truck).
And on November 3rd comes the Quarry Onslaught Pack. The Quarry track is a new addition for most game modes, whilst Onslaught is a single or multi-player challenge which requires you to beat the pack whilst dodging missiles from a circling helicopter. It'll be playable on nine of the tracks.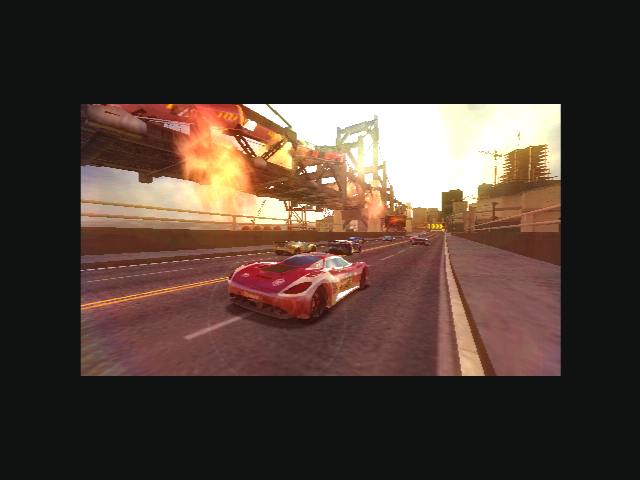 Finally on November 19th, you'll be able to play Split/Second: Velocity on the Sony PSP, with original game, plus a new track and challenge mode.
The additional content was all created by Black Rock Studios, who developed the original Split/Second: Velocity game, and it's published by Disney Interactive Studios.
Currently Play.com is offering the Xbox and PS3 versions for a bargain £14.99, whilst Amazon appears to be the only place with the PC copy currently in stock.
Amazon: Xbox 360, Playstation 3, PC
Game: Xbox 360, Playstation 3, PC, PSP
Play.com: Xbox 360, Playstation 3, PSP
Gamestop: Xbox 360, Playstation 3, PSP, PC