Last updated on November 15th, 2020 at 09:13 pm
It's not a racing game, but there's enough interest in the new Kinect peripheral and the Forza Motorsport Kinect demo that this may be of interest – plus, we couldn't turn down an invite to visit the headquarters of Rare and try out Kinect Sports a month before it's released (Available on November 10 – pre-order from Amazon, Game, Gamestop, Play.com).
Kinect in general:
So the first thing is that Kinect works well – really well. Aside from the fact you need to be a certain distance away – about 4 metres or so works well, it seemed to work pretty much faultlessly throughout our day with Rare.
You do have to take into account the tracking for certain things – for instance when running, lifting your knees up nice and high – but for general movements you can pretty much do what you like and it seems to pick up what you're doing with no problem.
It's going to be interesting to see whether that translates into car control as effectively as a game which uses the human body – standing up with your foot angled for acceleration for minutes at a time will hurt!
Interestingly, it seems more realistic for sports games to not need a controller in your hand – allowing your brain to imagine more of the actual feeling of the sport and the things you'd be using, rather than consciously thinking about how to use the lump of plastic you're holding onto.
Kinect Sports in detail:
For the sporty ones amongst you – Kinect Sports is ace! It's made up of six disciplines; Football, Bowling, Track & Field (Sprint,Javelin,Long Jump, Discus and Hurdles), Table Tennis, Boxing and Beach Volleyball.
Each discipline features single, multiplayer, co-op (where applicable) and online play, and also has a number of fun party minigames, which are particular useful in Party Play mode with teams competing against each other…
The game looks good – the graphics are smooth, the art style is really suited to the type of game, and it's a well-polished effort which is above the standard you'd need for it to work. Plus there's a good selection of licensed music which is used to heighten the atmosphere, and the Party Play mascots seemed to get quite a few fans very quickly.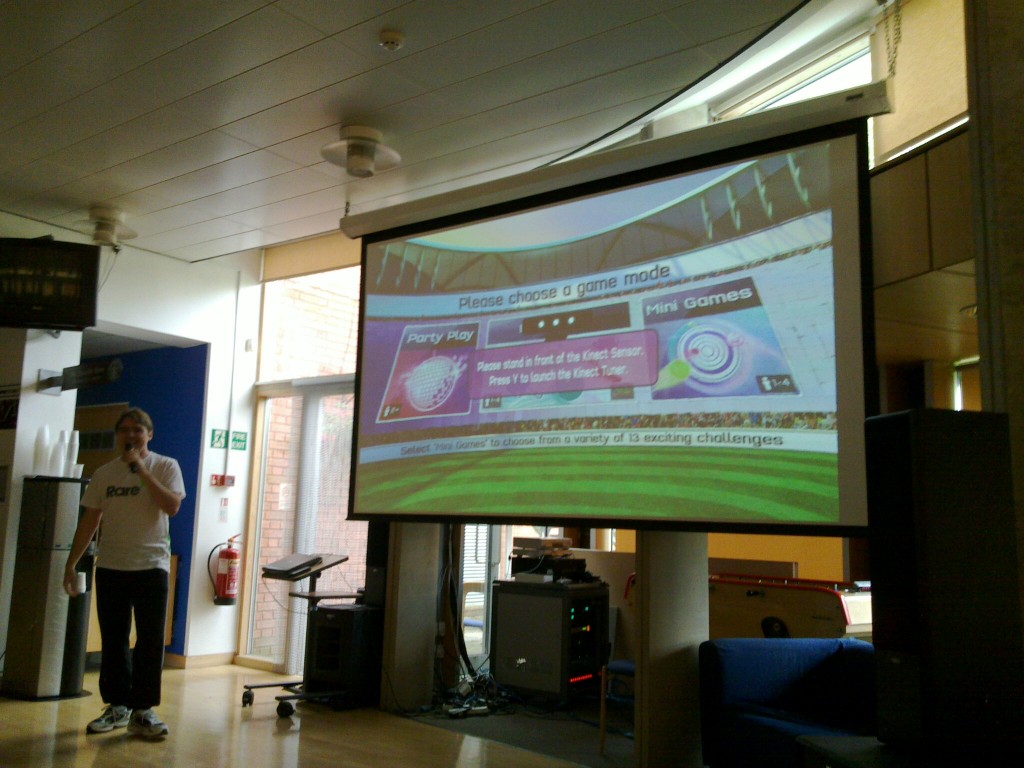 All the games worked well – hurdles, long jump and javelin require a couple of tries to get the timing right, but it's fairly intuitive and easy to pick up. The games with the most immediate depth are table tennis and boxing, with a range of shots for the ping pong player, and some blocking techniques to master in boxing to avoid simply being wiped out by the first person to rapid-fire punches like a hyperactive cartoon character. Slightly surprising was the fact that co-op Beach Volleyball was incredibly good fun and teamwork and co-ordination really made a big difference. You get the feeling that although it's easy to start playing, the more you experiment, the more you'll find slight tweaks to your technique will pay off. And bowling is a reliably enjoyable experience.
Minigames vary between dodging and hitting variations, generally asking you to use certain body parts, or just to hit multiple balls/pins/targets etc in a frantic flurry of activity.
I started the day wondering whether Kinect is too late to be worth buying when the Wii has had motion games for so long – I finished it thinking that there's really no need for an Wii sports games any more. The benefit of avoiding any controller and allowing your brain to subconsciously add to the illusion of reality means you get far more immersed in the action, and if you're planning on getting a Kinect, or thinking about it, and ever plan to have any friends to your house, Kinect Sports is the perfect introduction – sports and motions everyone knows and can easily translate to performing in front of a camera.
And it's a good thing you'll know the moves, because at the end of each game, the Xbox will play back video it automatically captures, and the proud or vindictive and put it straight up on the web.
Visiting Rare:
I'll be honest – I've played Rare games since they started as Ultimate 25 years ago. The likes of Jet Pac and Tranz Am on the Spectrum are some of my earliest memories, and the existential road movie vibe of Tranz Am was probably car game addiction I ever had.
They've had a reputation for privacy over the years, but that definitely seems to have changed with this being their first community day – although you still get the privacy feeling when you drive out into the middle of nowhere, the automatic gates open, and you follow a long winding drive up to the building which eventually appears in front of you.
Interestingly, this day saw people from smaller and more fan-driven sites like ours, competition winners, and hardcore Rare fans all being given the chance to sample Kinect Sports in a gap between show demos and journalists getting their full review copies – it's really nice for a ranges of sites to be able to cover a game with a bit less competition.
And considering there were around 40-50 guests, the fact there must have been about 10 staff on hand meant that you were able to spend a long time finding out more about the game – and in this case, the staff were the developers and designers themselves. It's easier to take a pummelling in boxing when it comes from the guy that built that particular game.
The afternoon was a competition between various teams. Sadly our team (which came from a swift alliance with John & Giles from ReadyUp.com), just missed out on the final, which saw prizes of signed artwork, and copies of the game for the best team (who had to take on the developers, and only narrowly lost). But there were some goodies for everyone, including a Rare t-shirt, and I was happy to go and spend some time reliving my formative years with display cases packed full of Rare history in the reception area.
Huge thanks need to go out to the people at Xbox/Rare for organising it and giving up their Saturdays to let us all come and have fun!