Last updated on January 9th, 2021 at 05:07 pm
Not only is this the ultimate Forza Motorsport Racing rig, but even more amazingly it has an identical twin in a UK warehouse, and they're both up for sale! And just in time for the launch of Forza Motorsport 4!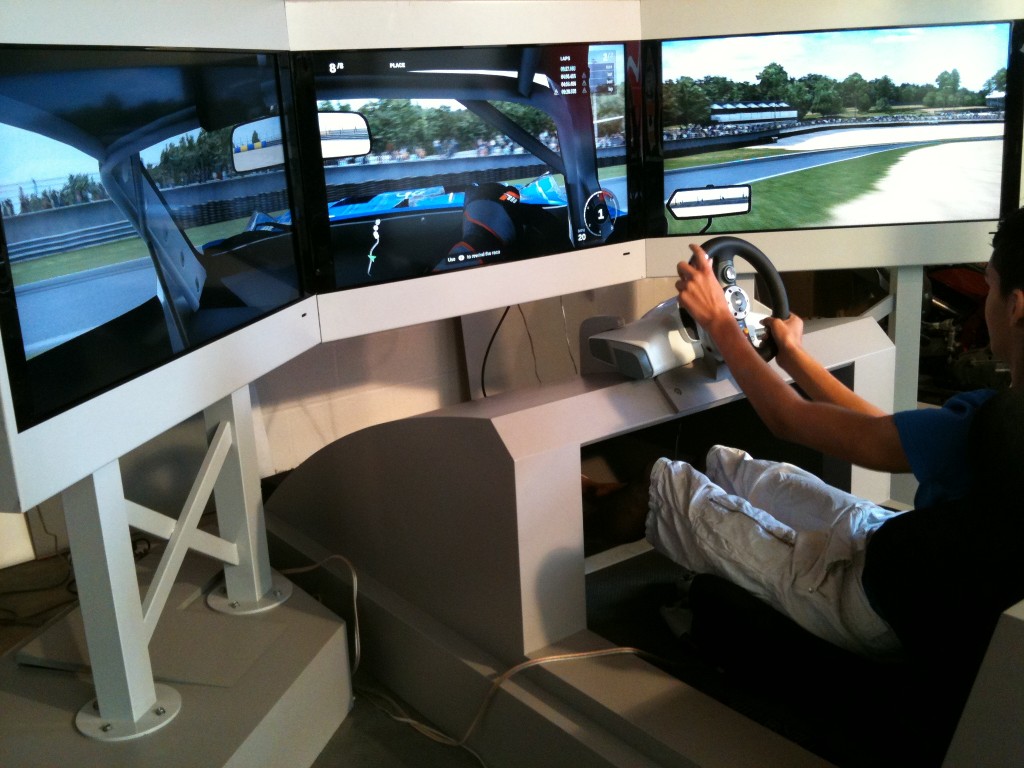 The story behind them is pretty special. They were both originally built for Microsoft to promote the launch of Forza Motorsport 3 at a cost of £25,000 each, and once they were built they were shipped to Le Mans, and used to demonstrate the game. After the launch they were shipped back to the UK, but eventually became property of the shipping company, from where the current owner bought them. One of the two units has now been set-up for demonstration purposes as you can see in the video, and will be sold complete with everything you need.
The specifications list is pretty long, as you'd image for what must be the ultimate Forza Motorsport racing rig. For starters, you'll get the required 3 Xbox 360 consoles. Those feed into the 3 Samsung 42 inch monitors, and control is with an official Xbox paddle shift steering wheel and foot pedals. Meanwhile you'll be able to relax in the Corbeau race seat, assuming you can cope with the sound system. If you like engine noise, then you'll love the fact the units feature an Onkyo TX-SR507 AV Receiver/Amplifier, a Kef Kube-1 Bass Box, Kef Surround Sound Speakers, and a Buttkicker amplifier under the seat.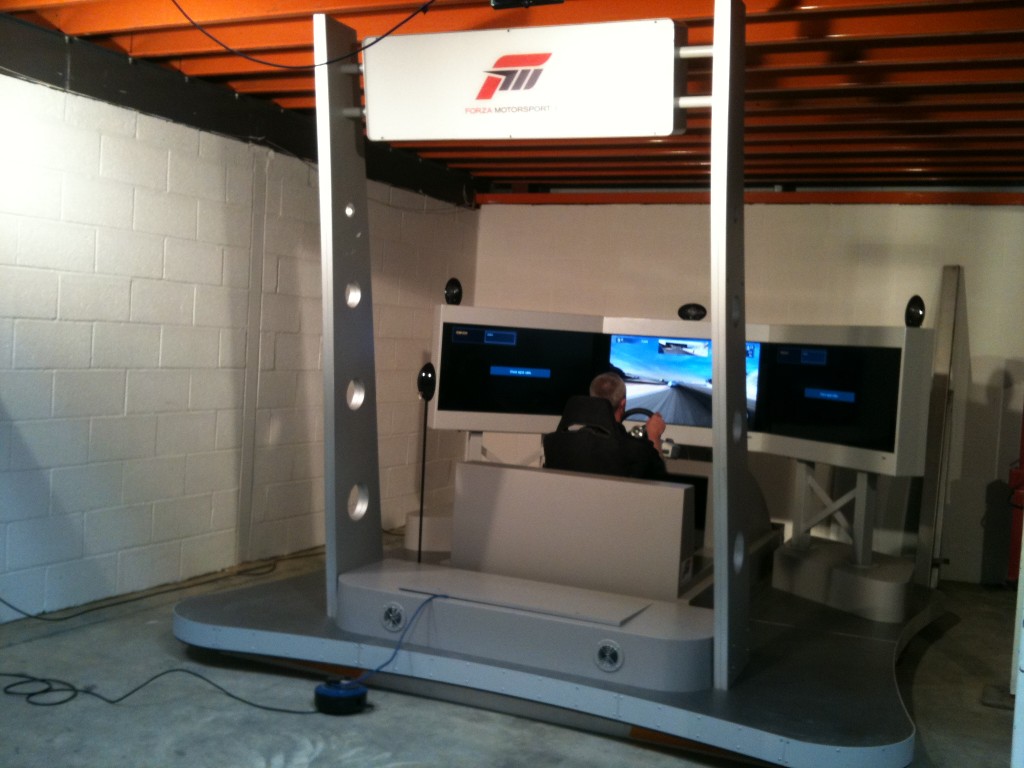 And as you'd imagine for units built for a Microsoft launch, it's all professionally built with steel and silver-coated MDF. All the wiring is hidden and everything fits into custom-built compartments, complete with cooling fans at the front and rear of each set-up. And the underside is lit, as wel as the light box on top of the spoiler.
Opportunities to own something like the ultimate Forza Motorsport racing rig don't come along very often, and the company which currently owns the two units have already been speaking to potential buyers, but if you're interested, there's still a chance to own one of this extremely special set-ups, assuming you have the space to put it in! The owners are looking for around £10k for each unit, and if you're a serious potential buyer get in touch with us via dan.thornton@hotmodmedia.com, and we'll put you in touch to arrange a demonstration or purchase.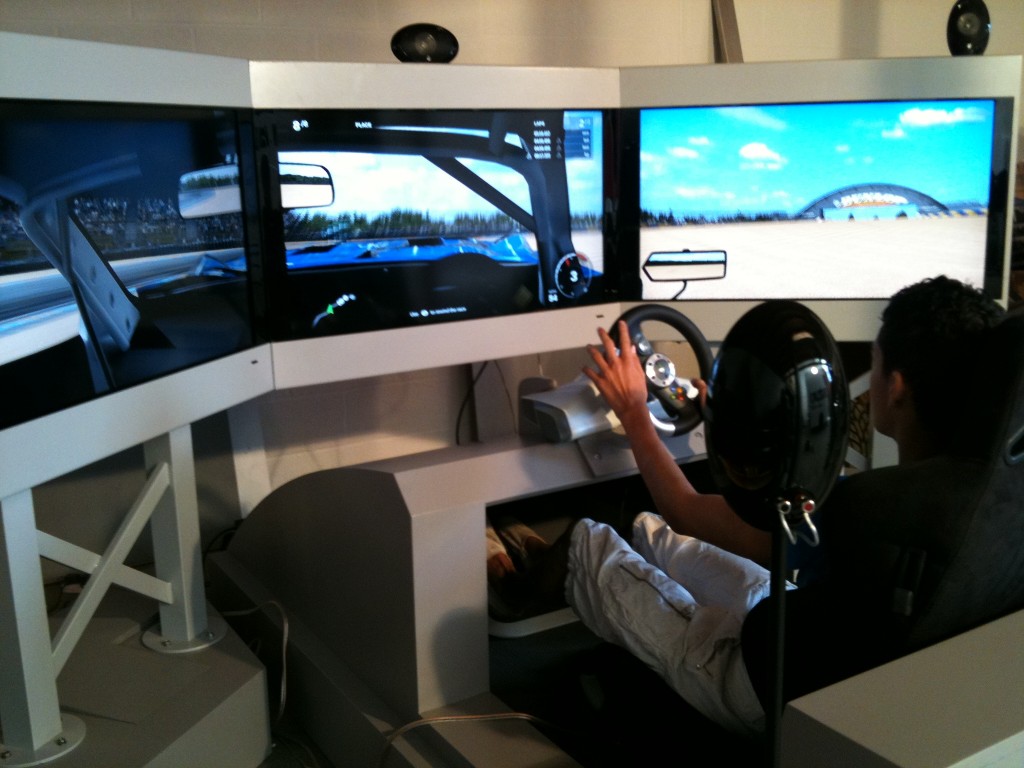 And remember – when you're explaining this to your partner or bank manager, it's an investment in a unique piece of entertainment and motorsport history, not the utilimate Forza Motorsport racing rig. And if you can't see a way to raise the cash yourself, there's always a local bar or club that definitely needs it (pick one within walking distance of your house and with a friendly bar manager/landlord). Meanwhile we're trying to work out how many online racing friends we need to get to club together, as long as they don't mind one of the units being located at OnlineRaceDriver HQ. But if you do have access to around £10,000 before us, make sure you email dan.thornton@hotmodmedia.com to get the details of the current owners and arrange a demonstration.
Specs for the ultimate Forza Motorsport racing rig:
Ex Microsoft demonstration units, costing £25,000 to build
3 x Xbox 360 consoles
3 x 42″ Samsung monitors
Xbox paddle shift steering wheel and foot pedals
Onkyo TX-SR507 AV receiver / amplifier
Kef Kube-1 bass box
Kef surround sound speakers
Buttkicker amplifier (under seat)
Corbeau race seat