Last updated on January 13th, 2021 at 03:29 pm
In the latest video for his excellent Sim Racing Review YouTube channel, Doug Meyer demonstrates the latest addition to Derek Speare's stunning sim hardware catalogue, the DSD Side Panels for Fanatec's Clubsport and Forza Motorsport CSR Elite wheels.
With an incredible three layout options available, the panels are also produced in left and right-handed versions – and what's more, two can be fitted for all-round control! Simply choose a left or right side option and pick the button form factor to build a combination that'll move your cockpit another step closer to ultimate driving comfort – creating an 'office' that fits to you.
Listing the three panel styles produced, DSD give the button configurations as follows:
Style A: 5 two-way momentary toggles, 6 push buttons, 5 two-way rotary encoders
Style B: 2 covered toggles (think Top Gun!), 4 two-way momentary toggles, 4 push buttons, 3 encoders, 1 large lit "FVS" button
Style C: 2 covered toggles, 4 two-way momentary toggles, 4 push buttons, 5 rotary encoders

As Doug shows, the panels are of a high quality, practical and good-looking form familiar to everyone that's taken even a casual glance at the output of Derek Speare Designs. Perhaps most surprising is the fact that this complex addition to Fanatec's wheel arrives with a genuinely simple mounting. There's much to appeal in that feature alone! The stock Clubsport or CSR Elite bolts are replaced by an included longer set that accommodate the wheel body and the extra depth borne of adding the panel.
A future variant that I'd like to see – and one that I imagine would be at least a bit more of a technical challenge to create in forming the joint area – would be a panel angled towards the driver. Though it may not be true for everyone, even with my long reach, I'd find it more comfortable to use the outside half of a button group when sat back during a race.
In his summary, Doug does somewhat pause over the price tag of $127.75 USD but even as someone that would have to import gear like this, I have to say that Derek Speare pricing has always seemed reasonable – especially when comparing it to the products of other companies, where I include the quality, functionality and permutations of Speare-created controls and the fact that comparable options either don't exist or to put it succinctly, are not even made by the much larger producers of racing hardware. Particularly obvious with the button and switch peripherals, there's a sense of refinement in the DSD products that stands out when contrasted with the alternatives from similar small-scale producers. Not to knock other options, but Derek Speare parts really do look good too. Quite the feat considering those unwieldy switches! If anything can and should be said, it's that examples such as these Clubsport/CSR Elite panels are boutique products without the haute couture price. The 'worst' thing could only be the awful feeling of having to wait when all you want to do is get this cockpit goodness into your hands and connected to a USB port!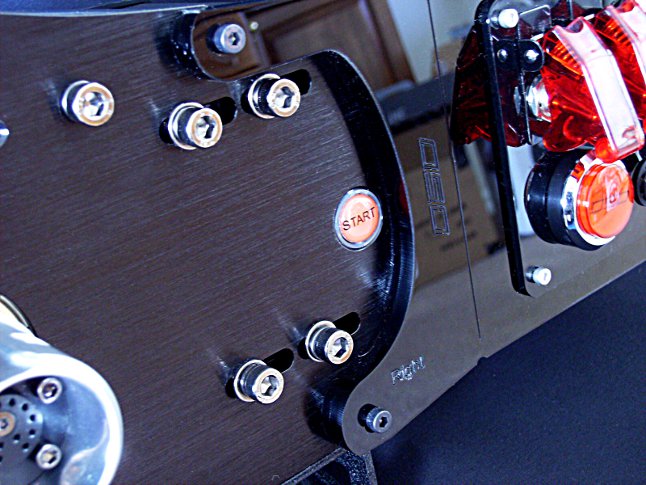 On that note and to underline the sense of fair pricing and value still further, in line with some other DSD products, the cost of shipping is currently included in the above price. That's WORLD-WIDE! The one extra that's unconnected to the product or purchase terms would be that of potential local sales or import taxes. Even with those added, as it is for the rest of the control panel, gear shifter and modified parts range, this is still a fantastic price!
Doug's concluding words say it all.
Too cool, indeed!