BigBen Games and Kylotonn have revealed a sequel to TT Isle of Man Ride on the Edge will be coming in the first few months of 2020 for the PC and consoles, with TT Isle of Man 2 announced in a new video.
And the best news from the surprise announcement trailer is that the motorcycle physics have been completely rebuilt for what they claim will be 'ultra-realistic' behaviour, including a completely integrated gyroscopic effect.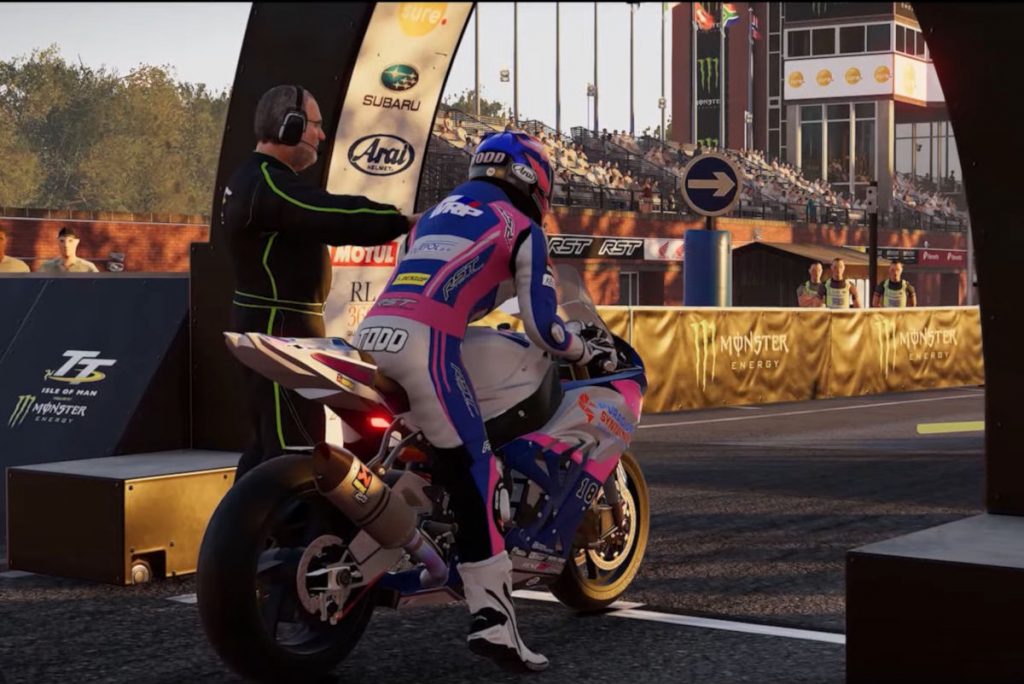 If you ride motorcycles, you'll be familiar with the gyroscopic effect – even if you don't know what it's called. As the wheels spin and propel you forwards, the gyroscopic force increases as you go faster. Which is why it's easy to tip a motorcycle into a corner at low speed, but it takes significant effort on a fast turn. Because the gyroscopic effect is trying to keep your bike upright.
It's why motorcycle racers are almost never sat still, and use their entire body to turn into a corner, including pushing through the footpegs to the point that they wear through the soles of their motorcycle boots. It's also why at higher speeds, you actually push forwards on the inside handlebar to tip into a corner, rather than turning the bars towards the turn.
So if Kylotonn have got it right, it will be excellent news. The last game we played that really nailed it was TT Superbikes back on the PlayStation 2. Which we were busy recommending nine years ago! And it was originally released back in 2005.
Watch TT Isle of Man 2 announced in a new video:
Along with the promise of more precise and realistic steering, you'll also experience speed wobbles as a warning before a fall. And also getting a redesign are how the brakes and shock absorbers work, particularly with regards to the bumps you'll encounter on a public road circuit.
That's important because how the suspension loads and unloads is vital to handling a motorcycle at high speed. Along with the grip changing more realistically depending on your lean angle and approach to corners.
It's great news for motorcycle fans as the original TT Isle of Man game wasn't a bad effort. And it delivered on the sense of speed and danger inherent in a 37.73 course winding between buildings and garden walls at up to 200mph.
Any onboard video from the Isle of Man TT will show you what we mean – here's one from 2017 with Michael Rutter on the Bathams BMW.
Capturing so much of that experience in a video game will always be a challenge. But Kylotonn got pretty close – the biggest complaint was always about the actual motorcycle handling. So if they've got that right, this could be the ultimate TT motorcycle racing game. Which is about time, almost 15 years after TT Superbikes…
Isle of Man TT 2 will be coming to consoles and PC early in 2020 – the limited information at the moment refers to the first 'semester', but as I'm not an American High School student, I'll assume it means some point in the first 3-6 months of the year.
In the meantime, both TT Superbikes (and PS2 sequels) and the Isle of Man TT game still worth checking out.
For the Jester Interactive games, you'll need a PlayStation 2 and a copy of one of the titles, which you can find in fairly plentiful supply on eBay.
For TT Isle of Man, you can find digital copies on Steam for the PC, with a sale currently running until January 2nd, 2020. It's also on the Microsoft Store for Xbox One, the Nintendo Store for the Switch, and the PlayStation Store (also reduced at the moment).
Nintendo Switch owners can save by buying a physical copy from Game. And all versions are available at various prices from Amazon, so Xbox One owners should probably look there.