Last updated on March 15th, 2020 at 09:37 pm
We've mentioned how busy Kunos Simulazioni have been with updates for ACC already this year. But it seems they've done even more with Assetto Corsa Competizione console editions announced for the Xbox One and PlayStation 4. Plus a free new PC update, and both the GT4 and British DLC packs revealed for 2020.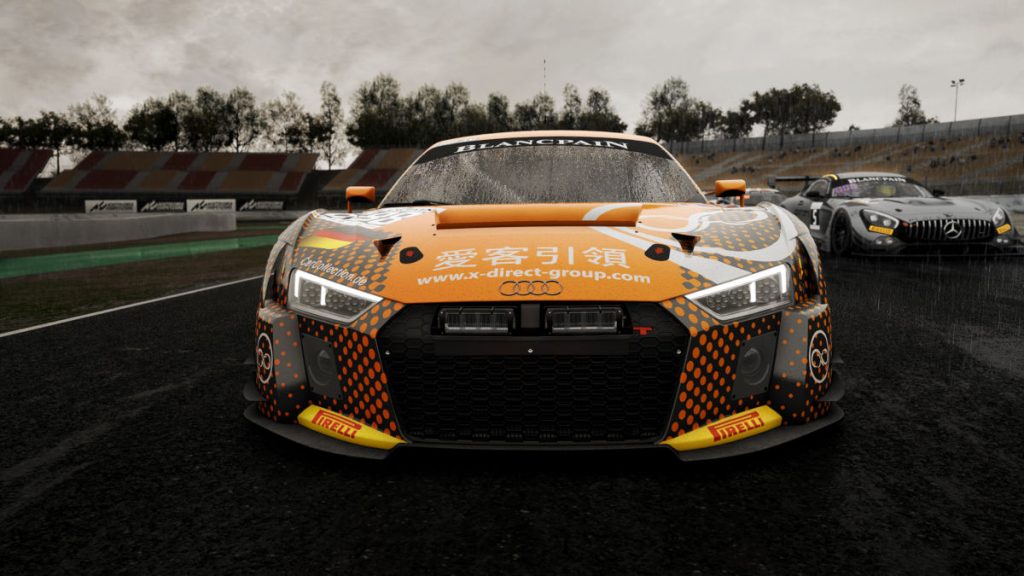 So the first big bit of news is the Kunos Simulazioni and publishers 505 Games will release Assetto Corsa Competizione for the Xbox One and PlayStation 4 on Tuesday, June 23rd, 2020.
Regular sim racers and readers of Onlineracedriver will be familiar with the official game of the Blancpain GT series. Assetto Corsa Competizione has established itself as one of the top racing simulations, and focuses on one of the most popular motorsport classes for a lot of drivers.
The game includes sprint, endurance and 24 hour races for both single and online multiplayer competition. And built on Unreal Engine 4, you get various weather conditions, night racing, a realistic tyre and aerodynamic model, plus the circuits use Laserscan technology for accuracy.
It'll be interesting to see if any tweaks are made for the Assetto Corsa Competizione console editions. The big difference between players will be the much higher numbers using joypads on the Xbox One and PS4, compared to wheels and pedals for PC sim racers.
The pre-order bonus is a good one. If you commit now for the Xbox One or PlayStation 4 version, you'll receive the recent Intercontinental GT Pack DLC for free, which includes Kyalami, Suzuka, Laguna Seca and Mount Panorama. Plus 45 new car liveries, 30 new teams and 50 new drivers, which means you can race the Intercontinental GT Challenge by Pirelli.
Otherwise the Intercontinental GT Pack will cost you £12.49 bought separately.
Pre-orders are available at Game.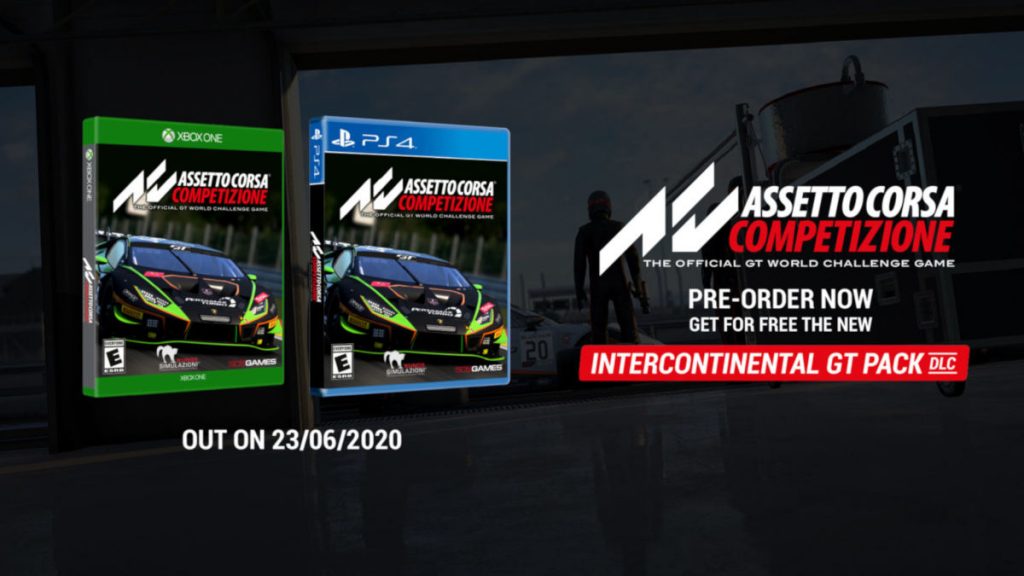 Obviously there were console versions of the original Assetto Corsa released, so Kunos and 505 Games do have experience of making the transition from PC to Xbox One and PS4.
"Competizione is the finest expression of the Assetto Corsa brand, aiming to be known as a synonym of realism" said Marco Massarutto, Co-Founder, Executive & Licensing Manager of KUNOS Simulazioni. "Console players have shown their high appreciation towards our approach to racing simulations, so we are certain they will appreciate our efforts to bringing also to their favourite platforms the experience, accuracy and depth that Assetto Corsa Competizione has to offer on PC".
But obviously that's not all.
The free Assetto Corsa Competizione V1.4 update for PC has also been announced, which will include new features such as " the car showroom, new driver/car personalization choices and additional options for multiplayer servers – and lots of improvements of the game features, UI and algorithms."
The Assetto Corsa Competizione GT4 Pack will arrive in the summer for the PC, and in Autumn for consoles. It will add 10 new GT4 cars to give a new racing class to enjoy.
And then there's the British pack DLC which will be out for PC and consoles in winter 2020. As it brings the additional 3 circuits needed to complete the British GT championship calendar in the game, it's safe to say these will be Oulton Park, Snetterton 300 and Donington Park, as Brands Hatch, Silverstone and Spa-Francorchamps are already in the game.
All three of the new additions are great circuits to drive, and should be brilliant fun in the GT3 (and new GT4) cars.
So the news of the Assetto Corsa Competizione console editions is definitely good for anyone potentially interested in some more realistic and competitive racing on the Xbox One and PS4. And isn't slowing the pace of updates and DLC for existing PC owners of the game.
You can check out the full Assetto Corsa Competizione track list, here, or browse through the full Assetto Corsa Competizione car list to see which vehicles are already available. Or just check out all the latest news on ACC, here.
Pre-order the console editions from Game, or buy ACC for the PC via Steam.