One of the co-founders of the Assetto Corsa and Assetto Corsa Competizione appears to be leaving the world of sim racing for some time, as Stefano Casillo leaves Kunos Simulazioni.
Casillo began working on the netKar racing simulation in 2001, co-founding Kunos Simulazioni with Marco Massarutto in 2004. Since then, the development studio has grown from an original team of four, and released games including netKar Pro, Marangoni Hillclimb Simulator, Trofeo Abarth 500, the Ferrari Virtual Academy titles, and of course, both Assetto Corsa and Assetto Corsa Competizione from their headquarters at the Vallelunga Circuit in Italy.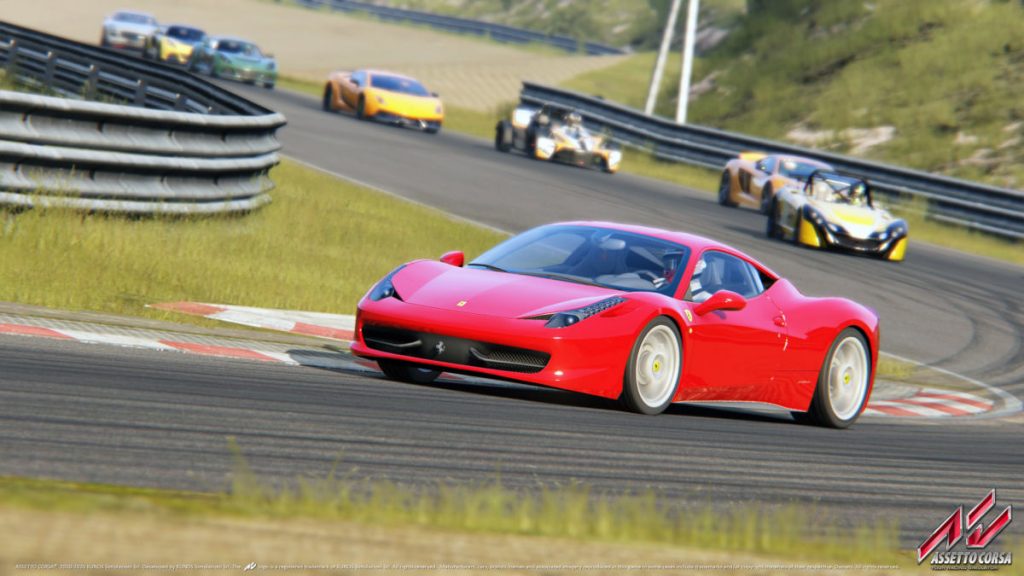 In 2017, the Kunos Simulazioni was purchased by Digital Bros, the parent company of 505 Games. As lead programmer, Casillo has continued to be a key part of some of the most important and respected racing sims over almost 20 years, so his departure is big news for the sim racing community as he references looking elsewhere for inspiration in his announcement, made on his personal Facebook page.
Casillo will now be founding and working on his new Jaxx Vane Studio, and plans to share his journey online.
Today is a different morning for me.​​For the first time since 2005 I woke up and I did not sit at my PC thinking about Kunos Simulazioni software development.​​
Yes, this might come as a shock, but as of today I am not directly involved with Kunos Simulazioni software development anymore.
​​Of course this is not like I had imagined my first day as "full solo indie" back in September when I decided it was time to move on from Kunos Simulazioni, it was a different time back then, before the Corona Virus shook our lives… so, at the end, this post doesn't happen in a mood as festive as I hoped for.​​
Because of this, and out of respect for all the guys there trying to deal with one of the hardest times humans had to go through since the end of WW2 I will keep this as brief and informative as possible.​​
My relationship with the guys in Kunos and Digital Bros is and always was amazing, there is no friction and no bad feeling coming from my decision, that follows over time the one me and Marco took in 2017 when we moved the ownership of our company under Digital Bros umbrella.
​​Enough time was given in order to make the transition as smooth and painless as possible, and thanks to the amazing talents in there I am sure the company will continue to be a shining light in the world of simracing because of the amazing talents in the team.
​​At a certain point I started to feel like I had nothing more to give to the SimRacing genre and it was time for me to go look for new inspirations.​​
My deepest thanks to all the guys who made Kunos Simulazioni possible, these have been the most exciting 15 years of my life and you guys made it special day after day. Marco, Simone, Gianluca, Aris, Luca, Manu, Alvio, Davide, Gergo, Alessandro, Kevin, Valeria, Fernando, Fabio, Itho, Giovanni, Fabrizio, Cristian, Pietro, Kirill, Timothy, Manuela. Plus all the guys in Digital Bros especially Rami, Raffi and Andrew who gave us the amazing chance to work on Assetto Corsa Competizione with an amount of resources we could have never dreamed of and made us feel as part of the family since day one. Love you guys, keep on rocking!​​
As for me, I am as excited and impatient as I can be, sitting at my PC with a blank empty screen, ready to see what comes next; many ideas and fantasies running through my head as I try to remind myself I am now back in the world of real Indie development and whatever I'll do next will have to be scaled to match this new reality.
​​My plan is to make this journey available to all of you willing to follow through the usual platforms, starting with my Youtube channel and eventually expanding to other platforms such as Twitch with frequent streams and update videos. It's going to be an open window into a world of passion, frustration, dreams, shattered dreams, hopes, disappointments, study, research, failures, re-writes, revelations,roadblocks, broken keyboards but hopefully also lots lots lots of fun.. see you out there.
​​Stefano Casillo​
Lead Programmer and Founder​
Jaxx Vane Studio​
Obviously we wish Stefano all the best for his new adventure with the Jaxx Vane Studio, and it'll be interesting to see what he comes up with after taking a break from sim racing games.
And you can keep up with the latest news on the continuing work of Kunos Simulazioni with our Assetto Corsa Competizione coverage, including the upcoming release of console versions and the latest hotfixes.
And you're always able to check out what's included in the game with our Assetto Corsa Competizione car list, and Assetto Corsa Competizione track list.
Both Assetto Corsa and Assetto Corsa Competizione are available to download for the PC via Steam. You can also download Assetto Corsa digitally for the Xbox One via the Microsoft Store, and for the PlayStation 4 via the PlayStation store. Or pick up a physical copy from Game or Amazon.