Two of the highlights of the UK motorsport calendar are the Goodwood Festival of Speed and Revival, but due to the challenges of 2020, they were combined into one event, run behind closed doors. And you can now watch the Goodwood SpeedWeek eTrophy Races which involved eSports for the first time.
The first ever eSports race held by Goodwood saw a list of legendary professional drivers compete in classic GTs on Gran Turismo Sport.
Drivers included Oliver Webb, Darren Turner, Rob Huff, Marino Franchitti, Anthony Reid, Sam Hancock, Andy Priaulx and Nick Padmore. With cars including Shelby GT350s, De Tomaso Panteras and a Jaguar E-Type
The second race of the Goodwood eTrophy saw the drivers switch to modern GT3 cars to take on the classic circuit. Including the Porsche 911 RSR, Aston Martin V12 Vantage GT3, Honda NSX GR.3, McLaren 650S GT3, Audi R8 LMS, Lamborghini Huracan GT3, Nissan GT-R GT3, and Ford Mustang GR.3.
And finally, the third of the races put everyone into 1980s Turbo F1 cars.
While there will doubtless be people complaining about the choice of GT Sport, or the fact that some of the professional drivers might not have approached the digital version with exactly the same level of care, it's good to see Goodwood embracing virtual racing as part of their event this year. And hopefully they might be convinced to including eSports as a permanent fixture of future Goodwood events even when they're not affected by global pandemics.
It'd be great to see more classic and vintage eSports racing in the future, whether that's on GT Sport, or using one of the various PC sim options to potentially allow for a wider range of legendary cars to be included.
Especially if they could increase the size of the field (and we'll hope, and beg, for an invite if they do). It's a great way to open up the competition side of the events to those of us who aren't either millionaires or professional racing drivers. And we'll happily take on the American muscle cars in a classic mini cooper…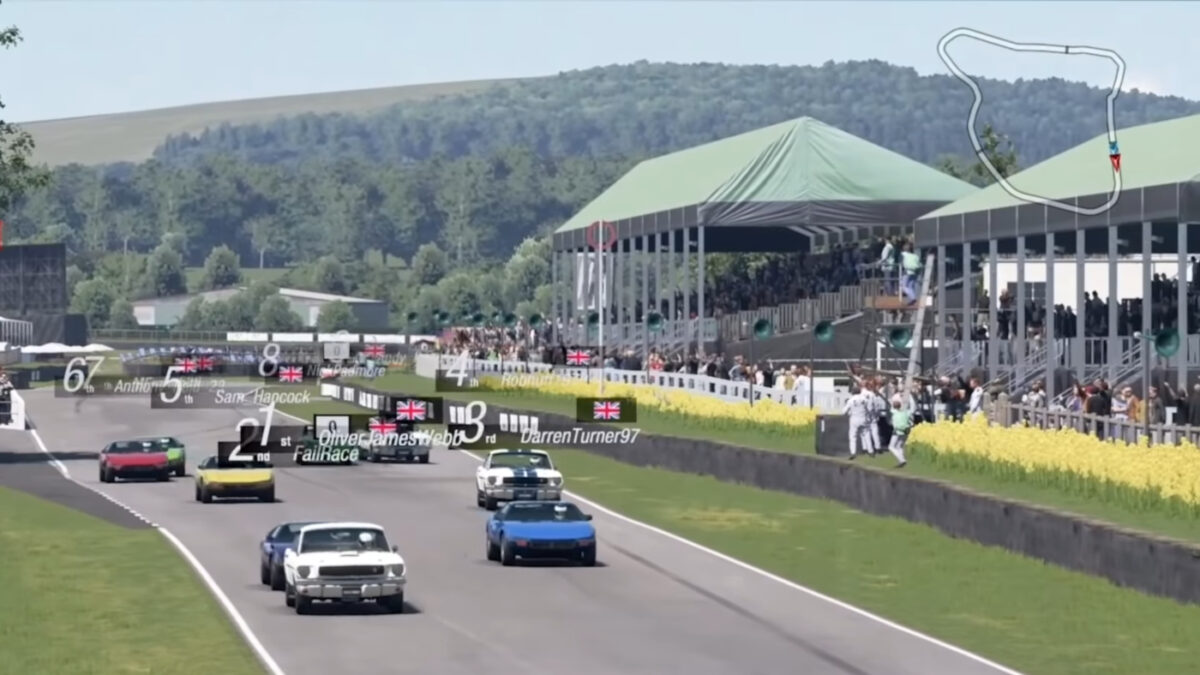 If you're not already a sim racer, and you watch the Goodwood SpeedWeek eTrophy Races and want to give it a go, keep up with all the latest news on both Gran Turismo 7 and GT Sport. Or check out all the vehicles available in the GT Sport car list, and the Gran Turismo 7 car list. Along with the GT Sport track list, and the Gran Turismo 7 track list.
And you can find which game features your favourite classic or historic race machine with our complete car lists for all the popular sim and racing game titles, including iRacing, RaceRoom, rFactor 2, Automobilista 2, Forza Motorsport and more. The odds are that someone is organising vintage racing leagues or competitions for whichever game you choose…