Last updated on December 16th, 2020 at 07:11 pm
Slightly Mad Studios have released a fairly sizeable list of fixes and improvements across all versions of their latest racing game. But probably the biggest news is that Project CARS 3 Update 3 adds the Bahrain circuit free for all players.
And it's a pretty interesting sim racing venue. The Bahrain International Circuit was the first to be awarded the FIA Institute Centre of Excellence, and opened in 2004. Designed by Hermann Tilke, the full track is 5.412km (3.363 miles), with 15 turns, and took Pedro de la Rosa 1:31.447 to complete, giving him the single fastest lap of his F1 career.
Project CARS 3 Update 3 adds the Bahrain Circuit with all four current layouts, the full GP configuration, plus the 1.584 mile Inner, 2.2 mile outer Outer, and 2.2 mile Paddock versions. In 2020, the Bahrain Grand Prix used the GP layout, while the Sakhir GP opts for the Outer Circuit version.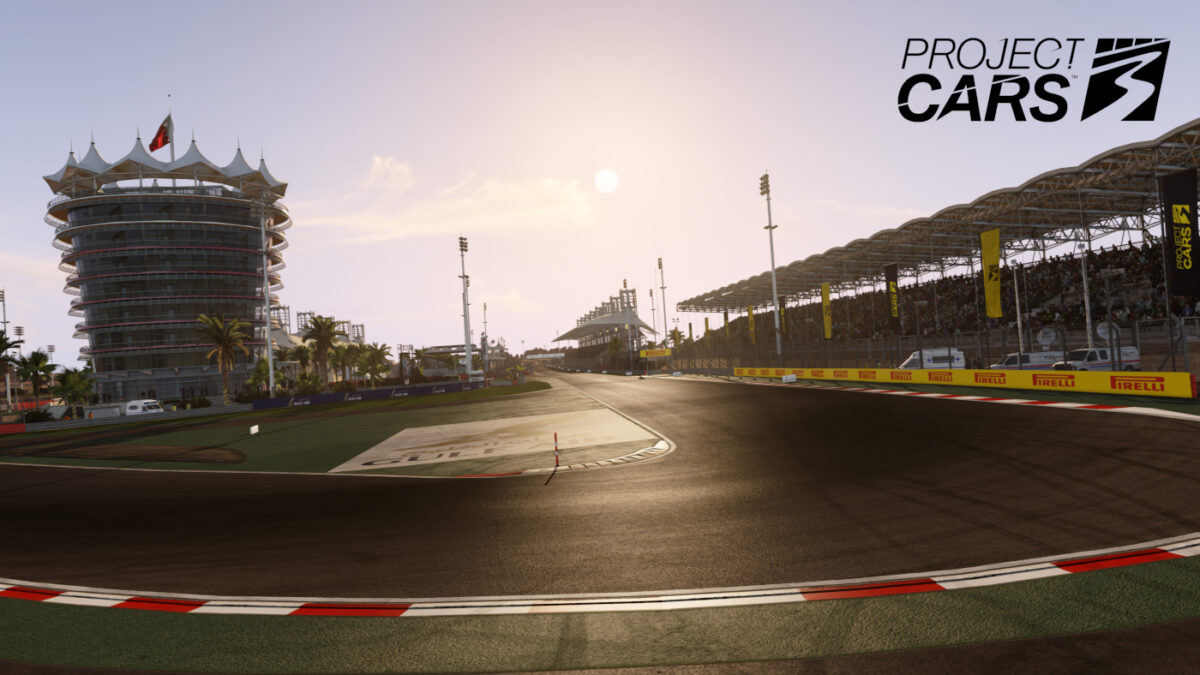 Project CARS 3 Update 3 Change Log:
Online
Issue with online players moving at different times during rolling starts fixed with automatic race delay countdown
New lobby browse flow
New post-race flow in MP
Fixed host assist settings for all MP participants
Fixed an issue that caused MP options to become inactive after reconnecting ethernet cable
GUI
Fix for Photo Mode vignette effect
Fix for pressing the "Hide HUD" button during the post-race spectating sequence
Fix for when you hit "0 attempts left" in Rivals Mode and the Race button wasn't greyed-out
Fixed button to toggle between loaner and owned cars being labelled as "0" in vehicle select
Fix for decals being replaced while applying decals in certain slots and scrolling through decal placement options
Fix for highlighting the GT Open tab causing the Road E class picture to appear
Disabled the "Resume" button when Photo button pressed
Changed sort order of proximity arrows
Added number of attempts left in Rivals to pre-race menu and pause menu
Fixed the track loading screen background flashing at the beginning of the "Welcome to" screen
Improved framerate during video playback
Fixed a crash exiting replays
Updated to the latest Nissan logo
Missing skip tutorial label in Brazilian Portuguese and Neutral Spanish added
Career
Fix for cars not unlocking when user levelled up without leaving post-race screen, interrupting Career progression (this fix retroactively corrects any profiles which were affected by this issue).
Physics
TrueForce initial implementation.
Implementation uses haptic thread to provide high-frequency procedural waves for the rumble effects
Modulated TruForce slip rumble based on surface wetness
Fine tuned slide threshold for TrueForce
Fixed TrueForce curb rumble at speed
Fixed rolling start discrepancy when TC is enabled
Characters
Environments
Willow Springs Horse Thief Mile: Removed "rallycross" tag that was making cars pick the dirt tyre option in all-weather conditions
Mojave: Fixed various holes in the terrain
Fuji: Sponsor updates for the track
Azure Coast Full: Fixed the AI turning abruptly after the finish line in the post-race screen
Knockhill National: Fixed the AI contacting the edge of the barrier when attempting to squeeze past slow or stopped cars
Sakitto National: Slowed AI lap times 2-3 seconds at Legendary
Zolder: Fixed a flickering glass window issue
Monument Canyon B: Fixed the 32nd grid spot being slightly in front of the 31st
Yas Marina: Fixed various LOD popping on track
Zhuhai: Fixed some tree rendering on the track
Hockenheimring GP Classic: Fixed some trees popping
Added Bahrain to the track list
Vehicles
Fixed crash when user applied a racing conversion kit to the last car in their garage
2015 Ford Mustang GT Racing: Made interior dark grey instead of white
Honda Civic Racing: Made interior dark grey instead of white
Mercedes A45 TCR: Made interior dark grey instead of white
Caterham 620R + Racing: Tyre update to stop colour popping when selecting factory livery
BMW M6 GT3: Tyre fix to stop logo popping at distance
Removed exceptions for McLaren P1 GTR, now all custom rims can be chosen
Honda 2&4: Fixed missing animation for accelerating and braking
Audi R8 LMP900: Edited front suspension to avoid clipping with bonnet
Keep up with the latest Project CARS 3 news, DLC and other coverage, here. Along with checking out the Project CARS 3 car list and Project CARS 3 track list.
You can buy Project CARS 3 for the PC via Steam, the Xbox One via the Microsoft Store, and the PS4 via the PlayStation Store. Physical copies of Project CARS 3 can be found at Game or Amazon.