Arriving for PC and consoles in September 2021, we've now seen the Hot Wheels Unleashed Skatepark Environment and more cars revealed in a new video for the Milestone-developed game.
As you'd imagine, the Skatepark features plenty of ramps, halfpipes and grafitti to provide a backdrop for the toy car racing, along with alternate routes and shortcuts. There's also an indoor basketball court, and some interesting new track features. These include a barrier moving from side-to-side forcing cars down one of two routes depending when you arrive, fans blowing cold air onto the circuit to create icier sections with low grip, and a blue plus sign power-up.
Seven more cars are also featured in the video and images, with the Bad to the Blade, Hot Wheels High, Roller Toaster, Solid Muscle, Time Attaxi, Tur-Bone Charged, and Veloci-Racer. Which means we're getting closer to about half of the 60 die-cast replicas which will complete the Hot Wheels Unleashed car list at launch.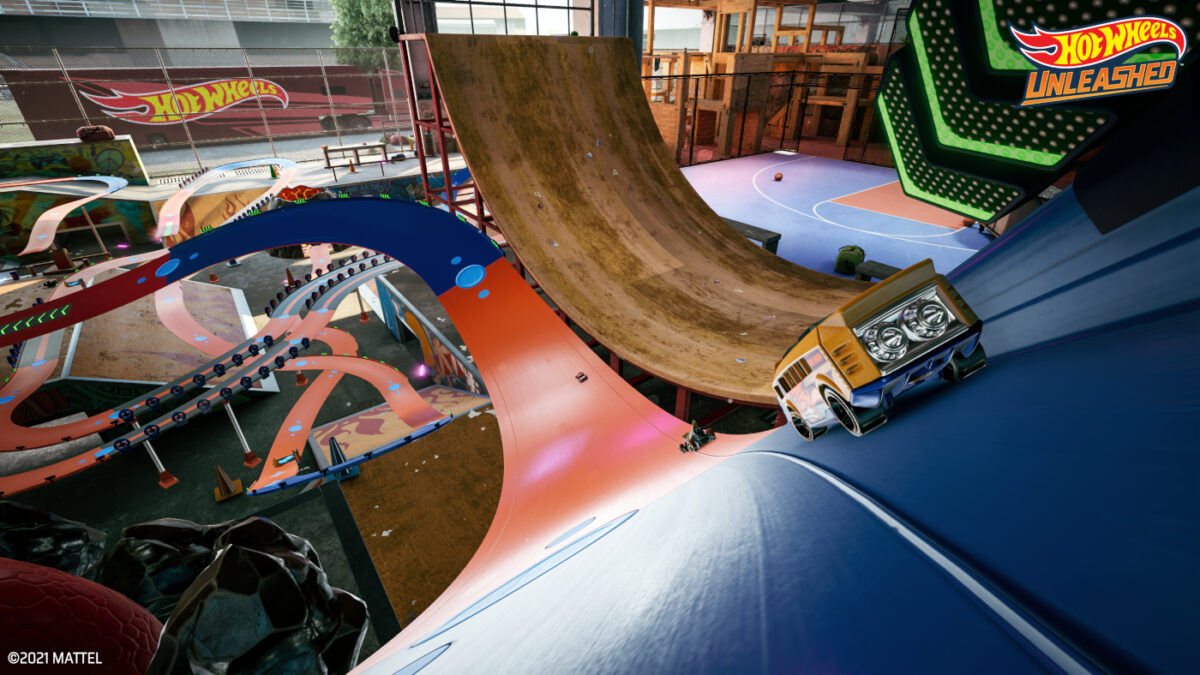 The Skatepark is the fourth of the six environments promised for launch, and it joins the previously shared Garage, Skyscraper and College Campus. So you can expect two more locations to appear before September finally arrives.
And all of this is before you start customing the cars, and using the inbuilt Track Editor to design your own circuits in each location.
You can keep up with all the latest Hot Wheels Unleashed news and updates here. And check out the complete Hot Wheels Unleashed Car List as more models and DLC gets announced.
You can add Hot Wheels Unleashed to your Steam wishlist, here. The Xbox versions are available for digital pre-order through the Microsoft Store, with the bonus of the Sportscars Pack including the Track Manga and GT-Scorcher . Or pre-order physical editions at Game, and you also get the two additional cars. The PlayStation store lists the standard edition with the Sportscars Pack, the Collectors Edition with the Sportscars and Beefed Up Packs, plus the Vol 1 Pass, and the Ultimate Stunt Addition, which includes the Sportscars, Beefed Up and Street Beats Packs, plus the Vol 1 and 2 passes for £69.99.