Classic Americana arrives as Automobilista 2 update V1.2.30 adds the Corvette C3. In fact, two versions of the classic sportscar with an iconic shape have been brought ot the game, with one for the Vintage Touring Car Class, and an R spec version for GT Classics (competing against the Porsche 911 RSR 3.0 released with the previous update).
Produced from 1967 until 1982, it's still the shape most associated with the Corvette, and carried the Stingray name from 1969 until 1976. Engines ranged from 5 to 7 litre V8s throughout production, and given that Reiza Studios generally create awesome audio, especially in replays, I'm looking forward to trying them out.
The Vintage Touring Car version of the Corvette C3 offers a 300hp RWD V8 weighing 3,439 lbs, and producing 278 ft-lb of torque. Whereas the GT Classics Corvette C3 R version pushes all of those measures to a substantial 540 hp in a 3,042lb chassis, with 390 ft-lb of torque. In both cases, you'll be applying that power with a 4-speed H-pattern gearbox.
The two versions of the Corvette C3 are definitely the highlights of Automobilista 2 Update V1.2.30, but there are some other additions, including a Damage Scale, the Real Weather now using real environmental temperature, and some small tyre tread adjustments to a wide range of cars, along with revised clutch intertia values.
Several circuits have all had minor art and optimisation work, along with all versions of the Metalmoro MRX.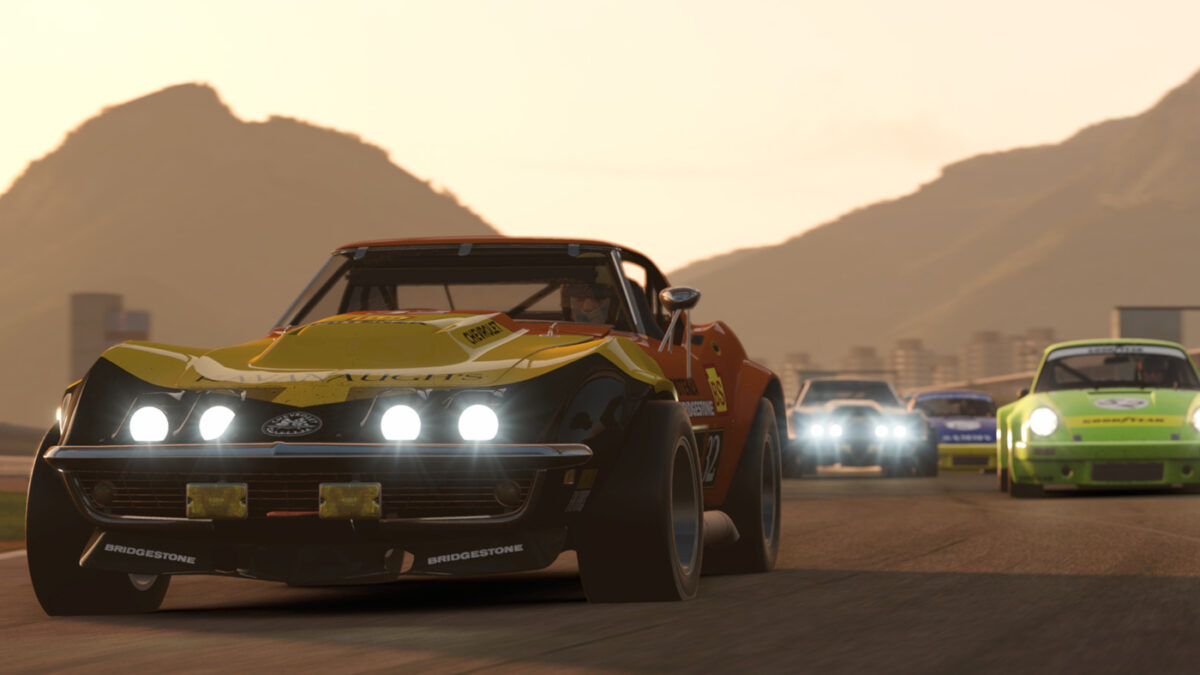 Automobilista 2 Update V1.2.30 Change Log:
Content
Added Corvette C3 to Vintage Touring Car Class
Added Corvette C3 "R" Spec to GT Classics Class
General
Added Damage Scale option
Added option to allow/disable pit stop refuelling
Added time +1 lap option for race sessions
Real Weather now uses real environment temperatures for all tracks (including historical data)
Added weather data between original feature release on June 4th through today to historical database of all locations
UI&HUD
Lobby Page session details: Fixed incorrect value for mandatory stop; Removed duplicate track cut entry; Fixed rolling start label; Added formation lap info
Fixed Lobby driver list scrollbar
Fixed Start button still being available when a championship is complete
Update various vehicle class colours
Corrected track details for Azure
Fixed missing track map for Interlagos Stock Car variant
Fixed Start button still being available when a championship is complete
Further restricted setup options showing redundant adjustable settings in fixed configurations
Physics
Fixed bug in intake manifold pressure model causing poor throttle response in several cars
Minor tire tread adjustments to all GT classes, Stock Cars,, P2, P3, F-3, F-Trainer, Procar, Group A, Group C, Porsche RSR, F-Vintage, F-Vee, Opala 79, Old Stock, Lotus 23, Street Cars
Revised clutch inertia values for all cars
Porsche RSR 1974: Tire carcass & tread model adjustments; slightly adjusted CoG height & inertia; Minor default setup adjustments; Fixed wet tires overperformance
Fixed redundant 1 bumpstop level adjustment on setup screens for several cars that don´t have that setting
F-Vintage: Added extra final drive ratios to both V8 models as well as Lotus 49C, Brabham BT26
AI
Altered AI selection logic to selected fastest drivers first when fixed drivers are unavailable or exhausted.
Fixed excessive clutch inertia causing AI slow starts & gear shifts for Procar, Group A & Porsche RSR
General wet weather callibration pass for all cars
BMW M1 Procar, Group A, Porsche RSR AI callibration
Improved line and AI performance at Interlagos, Montreal & Santa Cruz
Audio
Added diversified curb, grasscrete, astroturf sound effects according to material type & profiles (all cars)
Added dirt pickup sound effect (all cars)
Corrected various curb material sounds for Granja Viana, Ortona, Long Beach, Silverstone 1975, Silverstone 2001, Spa-Francorchamps, Kyalami, Imola, Kansai & Montreal
Adjusted audio pan compensation for curbs and added support for more types to road noise sound
Mercedes 190E DTM: Fixed no engine sound when looking back in chase cam view
Tracks
Minor adjustment to visual Livetrack groove
Hockenheim: Fixed minor object popping issues
Salvador: Fortified some gaps in the walls; Added more tree trunks to open areas; switched on collisions for stactic vehicles
Silverstone: Added a missing curb on old Abbey-Bridge road; Fixed a minor selection set error
Silverstone 2001: Reduced road noise on GP layout; Minor art & optimization pass
Brasilia Outer: Fixed minor clipping issues
Granja Viana: Improved track cut limits; Minor art & optimization pass
Silverstone 1975: Minor art & optimization pass; Fixed pit wall collision
Long Beach: Fix broken transform on some fence speakers; Adjusted pitlane cheat block
Interlagos: Minor art & optimization pass
Cadwell Park: Minor art & optimization pass
Adelaide Historic: Added pitlane cones; Replace triggers with new boxes; Minor art & optimization pass; Slightly reduced road noise
Spa Francorchamps 2020: Minor art & optimization pass;
Kyalami 2020: Minor art & optimization pass
Imola 2021: Minor art & optimization pass
Montreal 2021: Minor performance & art pass; Fixed strange collisions at T14 exit.
Added VR cams for Brasilia Outer and Curvelo B
Fixed missing pitbox marker in race session for Daytona and Long Beach
Santa Cruz: Add cones to mark pit ent/exit
Kyalami Historic: Revised physical terrain material types; Minor performance pass
Minor fixes & adjustments to trackside cameras of Kyalami, Azure, Cascais
Vehicles
Metalmoro MRX (all variants): Added driver animations; Detached the cockpit gear shifter. Adjusted the cockpit view to match the new driver position.
F-Trainer: Add rear chassis parts and rear suspension for cockpit view
Stock Corolla 20/21: Fixed LOD C glitch
Various minor art improvements to Vintage GT helmet & suits
Automobilista 2 is available on Steam for the PC, along with the Ultimate Edition, the Season Pass bundle and all DLC content so far.
You can keep up with all the latest Automobilista 2 news, updates and DLC here. Or check out everything available already with our Automobilista 2 car list and Automobilista 2 track list.