Last updated on August 31st, 2021 at 05:30 pm
Some racing sims aim to attract drivers by offering a wide range of cars. And that's definitely the case as the latest Automobilista 2 update V1.2.2.0 adds a 1974 Porsche RSR 3.0 for you to drive.
Even better news is that it will be the initial entry to a new GT Classics class, so it'll be great to see what other motorsport legends join the game in the future. In the meantime, the RSR was a purpose-built competition model, with around 55 made using the new 3 litre engine, wider wheels and improved aerodynamics. And they went on to dominate GT racing, winning various major races including the Targa Florio and 24 Hours of Daytona.
If that's not enough, the update also includes the Salvador street circuit. The Brazilian track is located in the Centro Administrativo da Bahia, in Bahia state, with 5 corners and a length of 2.724 km. Over recent years the CAB circuit has also been known as the Circuito Ayrton Senna in honour of the legendary F1 driver.
Also included are an alternate Cascais layout, and Interlagos Stock Car and GP variants, plus loads of general fixes and tweaks to individual cars and tracks.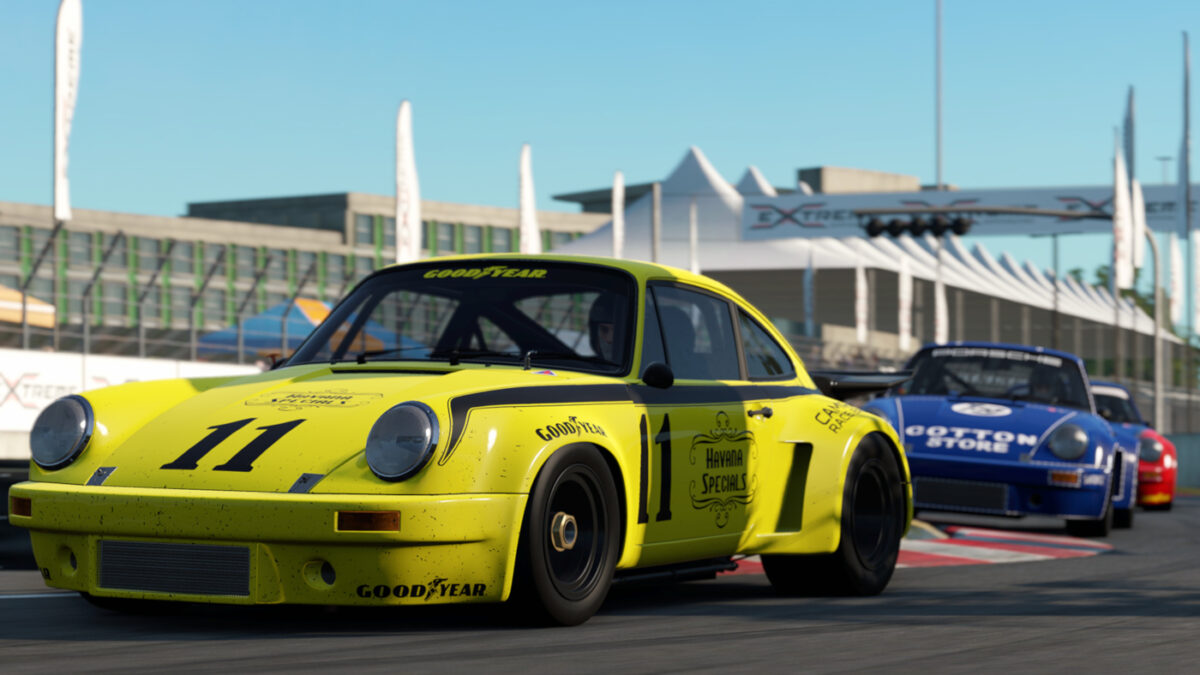 Automobilista 2 Update V1.2.2.0 Release notes:
CONTENT
Tracks:
Added Salvador Street Circuit
Added Cascais Alternate Layout
Added alternative Interlagos Stock Car / GP variants (latter features temporary grandstands from grand prix weekend)
Vehicles:
Added Porsche RSR 3.0 1974 to GT Classics Series
GENERAL
Added support for 6 User control sets per profile. Slots can be renamed. (known issues: reset to defaults does not reset name, controller type (wheel/gamepad) is not retained with saved set)
Disabled collisions during formation laps and rolling starts
Fixed Championship editor saving incorrect dates for P/Q sessions
Added custom Steering Lock setting when user is running with a gamepad or digital controller for less sensitive steering than regular default steering lock
UI & HUD
Added binding entries for on board TC/ABS adjustment (Assignments > Vehicle).
Fixed save/load notification not displaying when switching user control presets
Added ability to copy another user control preset to the currently active control set
Moved controls screen 'Reset to Defaults' button up to user preset section to reinforce it is profile specific.
Added the current user preset name to controls screen secondary tabs.
Corrected various track UI information errors
Fixed setup edit screen displaying adjustable dampers when they have none when unitless option is enabled
Disabled redundant aerodynamic settings in setup screen for various wingless vehicles

Fixed qualify session length not correctly displaying in championship overview for custom championships
Fixed incorrect help text on test day custom date input
Fixed French text appearing on German version of the Time Trial loading screen tip text
Fixed Engine Breaking label in Edit Setup screen
Fixed untranslated Live Track preset label on session settings screen
Added texts for Laguna Seca and Daytona Nascar Layout
PHYSICS
Revised tire treads for M1 Procar, Group A cars
Minor tire tread adjustments for Group C, Opalas, F-Vee, Lotus 23, Copa Classics, Mini, GT5, G40 Cup, F-3, F-Trainer, Omega Stock Car, Stock Car 2019, GT3, GT4, karts (all variants)
Fixed error causing new traction control model not to be used in all cars featuring the system except F-V10 Gen2 & Mclaren 720S
Adjusted baseline damper settings for F-Retro Gen1, F-Vee
Revised brake heating functions for GTs & classic tintops

Adjusted body drag coefficients for Group A, Procar & vintage touring cars
Revised inertia values for both Vintage touring cars
Revised differential ramp angles for Procar & Group A cars
Adjusted default front wheel camber for all karts
Revised diff settings for all GTs, Stock Cars
Corrected Mini 1965 gear ratios

Adjusted default toe settings for Ginetta G55, Mercedes GT3
Adjusted Omega diff preload
BMW M4 GT4: Stiffer rear suspension rates
Revised engine lifetime ranges for all cars
Cadillac DPi: Fixed bug causing pitstop CTD due to missing default compound option
Adjusted front & rear toe ranges for F-Classics, Group C (requires setup reset)
Minor default setup adjustments for both Group C cars (setup reset recommended)
Added throttle map for Porsche GT3-R
Minor manual H shift RPM tolerance adjustments for completing clutchless shifts

Slightly reduced grass & gravel bump amplitude
Minor revisions to grass, gravel, grasscrete friction coefficients
AI
General AI callibration pass for dry & wet weather performance
Further reduced AI lateral rate in urgent moves
Fixed bug where fuel would be consumed by AI during accelerated time or during skip to end when the fuel consumption is set to OFF
Fixed some strategical decisions by AI not taking into account the fuel consumption setting when set to OFF
Curitiba: Smoothed fastline start/finish joint to prevent AI slowdown crossing it
Laguna Seca: Reset collision corridors at T11 (fix for AI pileups on rolling starts)
Bathurst: Minor AI Grip adjustment
Further increased AI performance in qualifying vs race
Taruma: Adjust pitlane exit speed
Interlagos Kart: Adjusted AI Grip for all layouts
AUDIO
Surface sounds: lowered flat curbs volume, increased dirty debris off line occurence
BMW M1 Procar adjusted chase cam live-play sound.
TRACKS
VIR: Added seasonal foliage; Optimized track cut mesh; Minor art & optimization pass; Fix broken shrubs
Montreal (Modern & Historic): Added seasonal foliage
Cascavel: Fixed terrain hole and gap in the barriers near the old pit
Laguna Seca: Fixed some object LOD popping
Oulton Park: Updated seasonal foliage textures
Cascais: Minor art & optimization pass
Spielberg GP: Add missing brake marker boards at T6
Hockenheimring: Enable playground for short layouts
Interlagos Kart1: Relax track limits at T7
Kansai: Minor LOD tweaks
Adjusted Interlagos, Nurburgring, Snetterton trackside camera glitches
Spielberg Historic: added VR cams
Cadwell Park: fixed invisible bits of road
Added working trackside cameras to all Speedland layouts
VEHICLES
Superkart / Kart Shifter: Added shifter & driver shifting animations
Stock Car Corolla 2021: Updated front bumper and hood model as per recent series facelift
Stock Car Cruze 2020: Fixed the cockpit bonnet and external damage clipping on the top
Minor adjustment to first shadow cascade radius from cockpit view
Switched Vintage Touring Car drivers to GT vintage models
Adjusted driver LOD levels to minimise driver parts from popping out while still in sight
F-Ultimate: Fixed inverted left mirror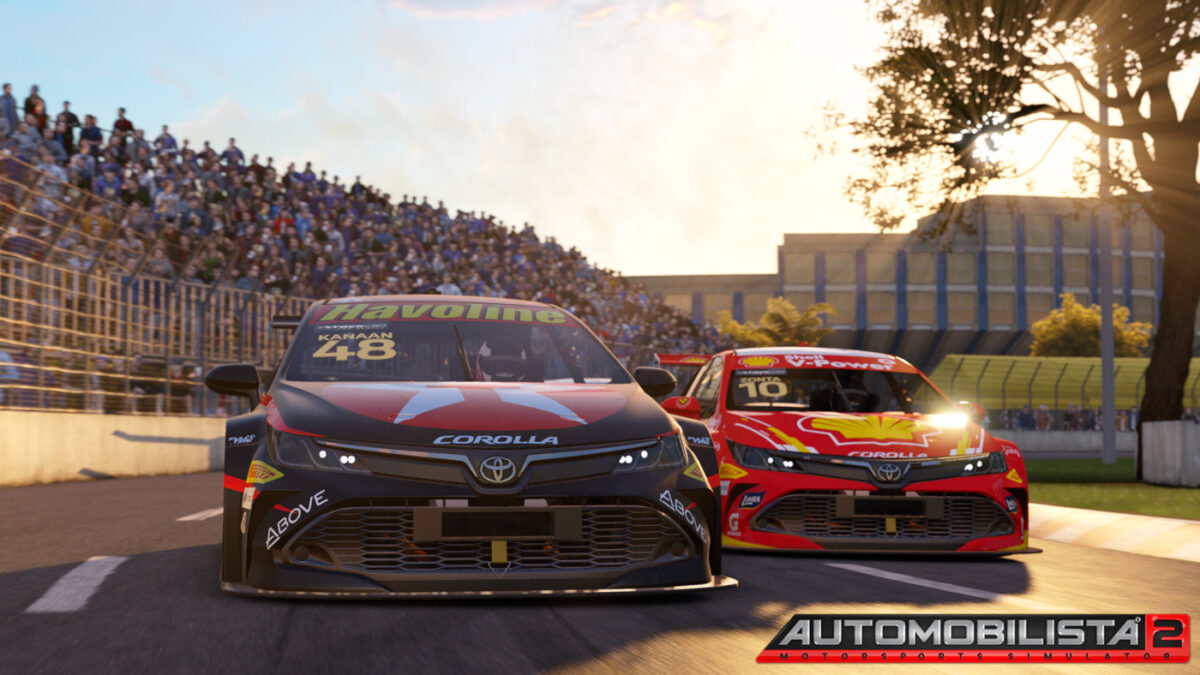 Probably the biggest reasons to jump onto Automobilista 2 are the sights and sounds of the more unusual cars in the game, so expanding the range of classic racing options is a good thing. Especially when many sims have become GT and open wheel focused. It offers a good opportunity for Reiza Studios to build up more of a fanbase for their own game, and I'm certainly looking forward to trying it around Brands Hatch or Cadwell Park…
As Automobilista 2 Update V1.2.2.0 adds a 1974 Porsche RSR 3.0 for the first GT Classic class car, what choices would you like to see Reiza produce next?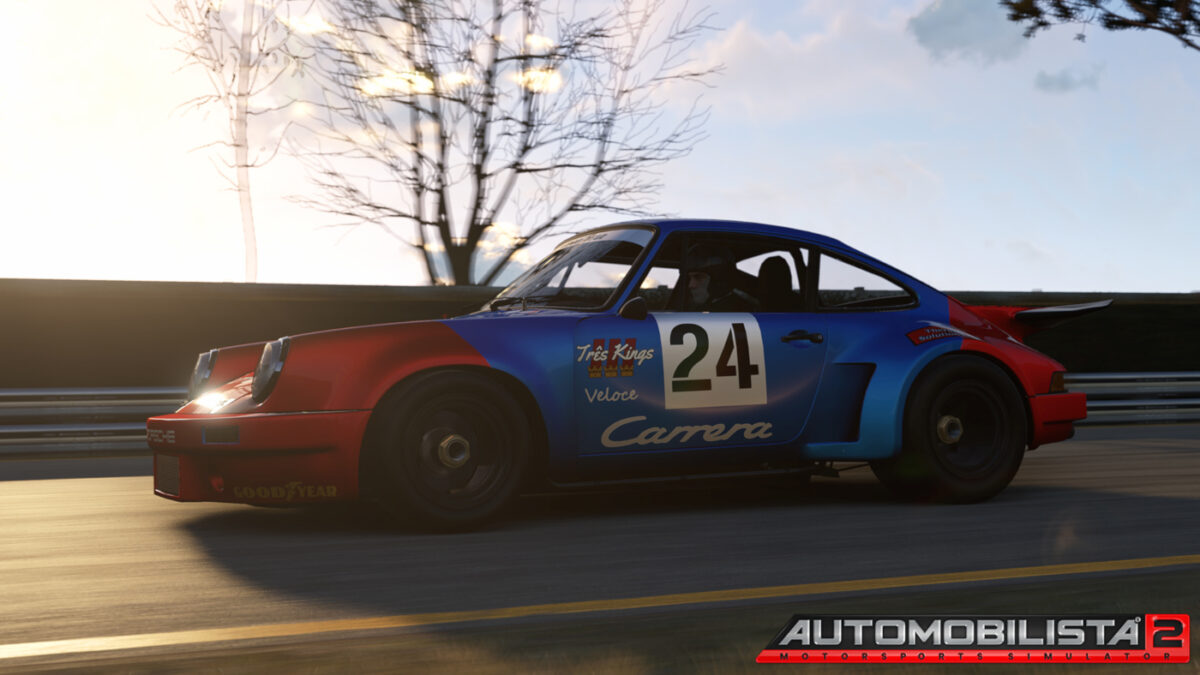 Automobilista 2 is available on Steam for the PC, along with the Ultimate Edition, the Season Pass bundle and all DLC content so far.
You can keep up with all the latest Automobilista 2 news, updates and DLC here. Or check out everything available already with our Automobilista 2 car list and Automobilista 2 track list.