There were highs and lows as Team ORD start the VW Jetta Cup 2021 Season 2 with the first race at Tsukuba 2000 on Monday. Having competed in the inaugural season earlier this year, we had some mixed results as Ryan Smith did brilliantly to take 4th overall in the drivers championship, Chris Smith ended in a creditable 11th, and I placed in a slightly disapointing 20th. As a team, we finished fourth out of the eight entries, losing out in a close battle for second.
So onto Season 2, and there have been some important changes to the championship. It's now the VW Jetta Cup powered by GT Omega, with a prize for the top driver and trophies for the top individuals and teams. And it's also being run in partnership with VCO Esports, who are sharing and promoting the broadcasts. And they're also providing a talented in-sim photographer at every round, which is why the shots here are courtesy of VCO.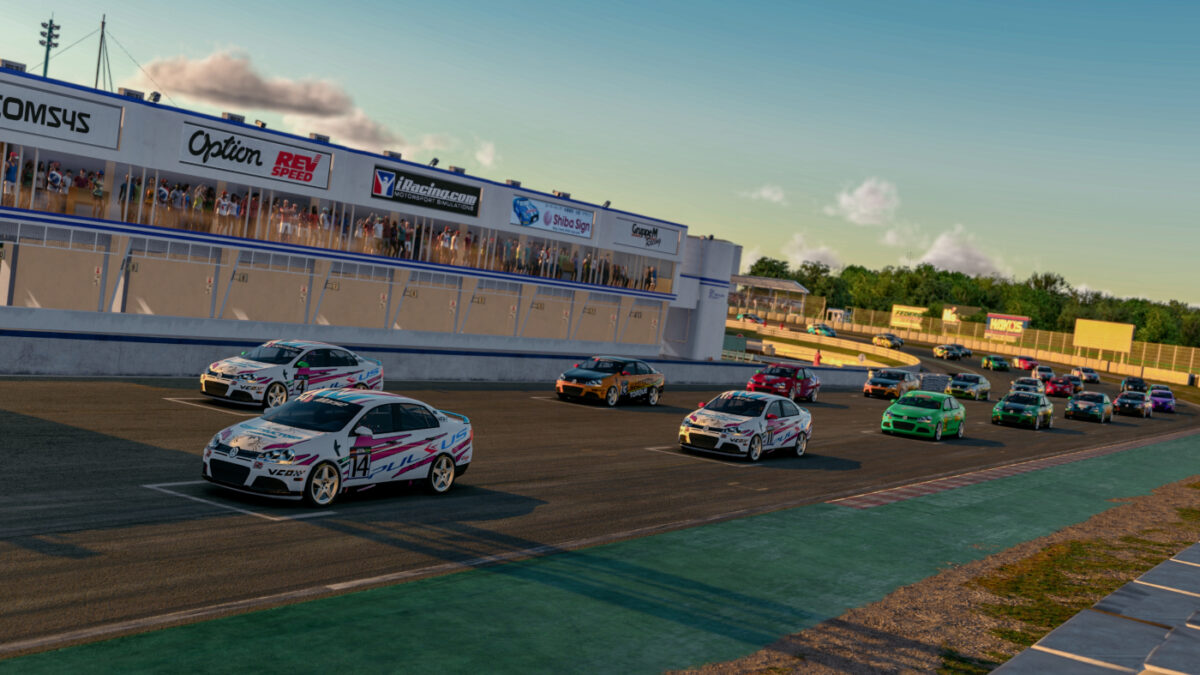 Other changes included new drivers, the field expanding to a maximum of 32 cars at each event, a 10-race calendar with no option to drop rounds, and various rule tweaks. And while we decided to stay with the same driver line-up as last season, we also had an amazing new livery designed by Lee Walker, who has become part of the team and developed a paintscheme we can run across all our eSports league entries (e.g. the SRF Weekend Warriors league).
Preparation went well, and in the two open practice and media days, we were all in and around the point scoring positions. So things were looking good heading into the opening round. Even if both Chris and myself managed to end up ill over the weekend before the first race.
VW Jetta Cup 2021 S2 – Tsukuba 2000
A small circuit, 32 cars and practice during the dark early morning was always going to be an interesting first round. Chris Smith (#83) qualifed well for the Sprint Race in 4th, with Ryan Smith (#66) in 8th. And I was rear-ended on the first lap of qualifying, losing me 2 valuable laps and putting me back in 23rd. Considering how difficult passing would be on the tight twisty track, and the fact that almost everyone qualified with 0.8 seconds of pole, it was going to be difficult to make up any places.
The same driver then failed to pull away at the start, dropping me back to 27th by turn 1. Meanwhile at the front, the Smiths were both fighting hard for a top five position. Until Chris got tangled up in an incident and was forced to pit. Meanwhile I was battling hard to try and find a way past Sam Vanolst, one of the independent drivers. Tsukuba isn't the easiest circuit for clean overtakes, and he was determined to hold onto 22nd, meaning that in the final lap I actually pulled aside to let Chris back in front of me to get a better grid slot for the second race.
At the front, Ryan claimed a great fourth place at the end, behind winner Morgan Burkhard for Zero Fawkes Given Racing and the two independent drivers Jack Lewin and Alexander Woude.
The feature race has the top 12 reverse their grid positions, and Ryan did well to gain a spot by the end and finished in 7th. Chris also scored ended the day well by claiming 12th, making up 11 spots over the course of the race. And I decided to try pitting later, coming in from 5th position, and not realising my fuelling settings were going to give me too much. So I came out a few seconds later than I should have done, behind the familiar yellow car of Vanolst again.
Annoyingly I ended up 21st, one place away from the points, and having accidentally collected Sam in the process, earning myself a penalty. So that didn't go well.
You can watch all the action for yourself here:
Onto the next round at Okayama Short on the 20th September, which is another of the selection of short circuits selected to open this season. You can watch live via the Youtube channels of The Racing Line or VCO Esports as you prefer, and the photos above are used courtesy of VCO Esports.
If you're not a member yet, you can sign up to iRacing here (and credit your referral to us).
And if you're not sure what's included in the iRacing subscription and what content costs extra, check out our full official iRacing car list, and iRacing track list. Along with all the latest iRacing news and updates, here.