If you fancy playing car football in a classic American muscle car, or a new electric version, now is the time as Rocket League adds Ford Mustangs to the Item Shop from December 9 until December 22, 2021. It's been anounced alongside Ford returning as the Presenting Sponsor of the RLCS 2021-22 Fall Major and the second Ford + Rocket League Freestyle Invitational.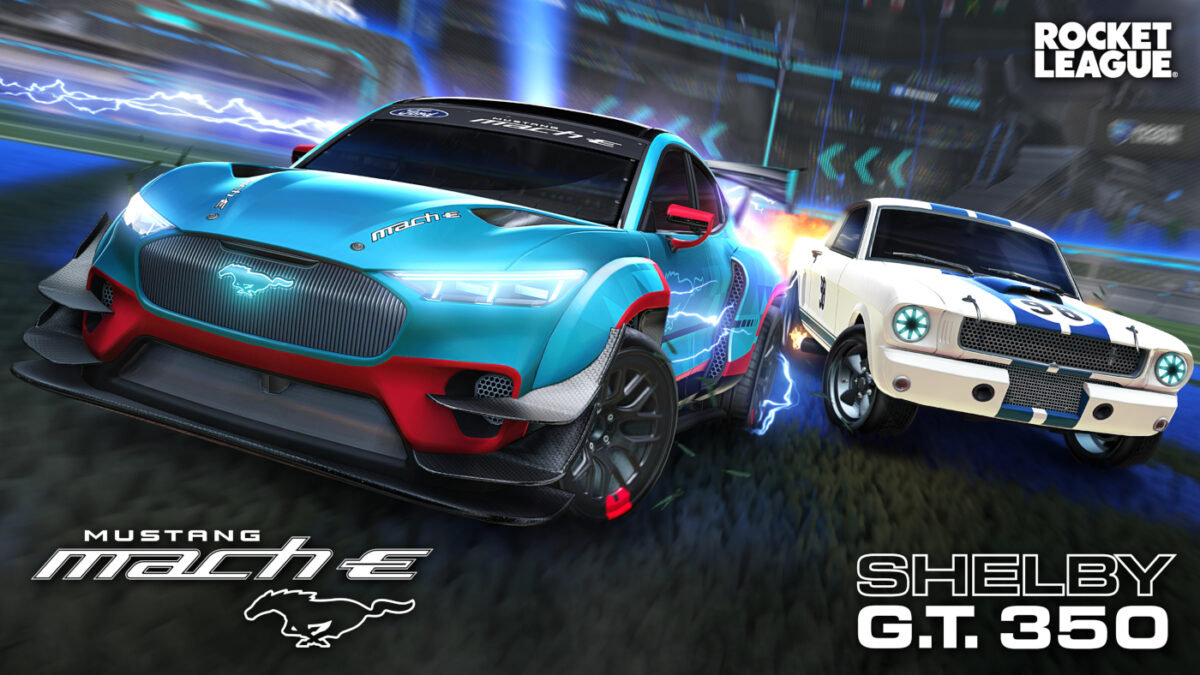 The two new cars available for Rocket League players to purchase will be the classic 1965 Ford Mustang Shelby GT350R, and the Ford Mustang Mach-E Rocket league Edition which becomes electrically chaged when it goes supersonic in-game. Each car can be bought for 1100 Credits (£7.50 or $9.99), or get both for 2000. With each car you also get wheels, audio and a player banner, and the Mach-E also has the EV Boost. The Mach-E uses the Octane Hitbox, while the GT350R Hitbox comes from the Dominus.
And both cars can be customised with other Rocket League items, whether it's your existing toppers or trails. Although it feels slightly wrong to stick a comedy hot dog or hat on a classic Shelby GT350R.
Then there are the two upcoming events. Ford are sponsoring the RLCS 2021-22 Fall Major, which will take place from December 8-12 in Sotckholm, Sweden. It's the first cross-regional RLCS competition for more than a year, and will be followed by the second Ford + Rocket League Freestyle Invitational on December 15 and 16. This puts the top Rocket League freestylers in the U.S up against each other with one winning a real 2022 Ford Mustang Mach-E, and you'll be able to watch it all via the Rocket League Twitch channel.
And even if you're not planning on turning pro quite yet, you'll be able to use the two Mustangs in the current Rocket League Season 5, which started on November 17th.
You can keep up with all the latest Rocket League news, events and coverage, here. Rocket League became free-to-play in 2020, and is available for the PC via the Epic Store, the Xbox One via the Microsoft Store, the PS4 via the PlayStation Store, and the Nintendo Switch via the Nintendo eShop.