Last updated on June 15th, 2022 at 12:59 pm
We've always enjoyed the overhead action of the Funselektor titles, and now there's going to be a free Art of Rally Indonesia Update coming soon, along with pre-orders opening for standard and collectors physical editions, along with an audio sountrack vinyl LP.
The new location will add six new stages and a freeroam area, along with the usual unlockables. And from the teaser video released to announce the news, it'll look typically gorgeous. The Rally of Indonesia has appeared as part of the World Rally Championship on occasion, along with being part of the Asia Pacific Rally Championship, with previous winners including Colin McCrae (1995) and Carlos Sainz (1996 and 1997)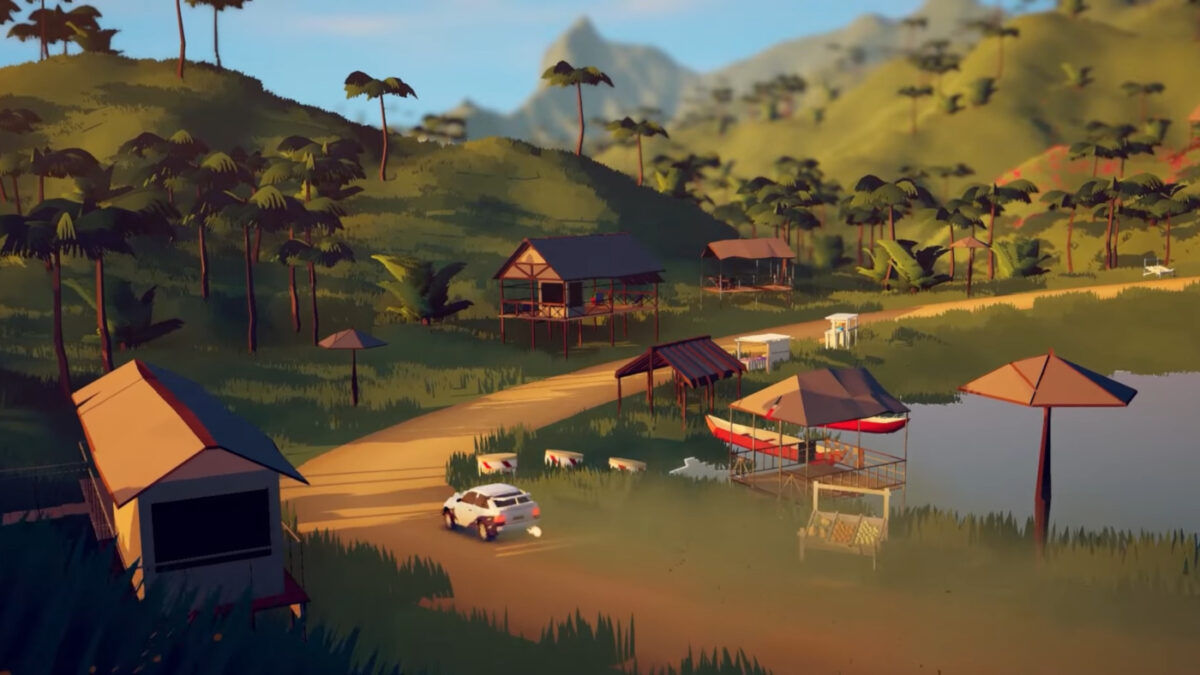 So you can expect palm trees, humid weather and beautiful scenery as you race around South East Asia. Like the previous Kenya update, it should appear on all platforms unless we hear otherwise. The Nintendo Switch version has recently received a specific update to improve performance.
But that's not all, as pre-orders have now opened for two Nintendo Switch, PlayStation 4 and PlayStation 5 physical editions of Art of Rally, along with a double vinyl record of the soundtrack. All are being produced via Serenity Forge, who previously worked with Funselektor on a physical Switch release for their previous game, Absolute Drift.
The Art of Rally Premium Standard Edition for the Switch, PS4 and PS5 is expected to ship in Autumn 2022, and costs $34.99. It includes a copy of the game, a soundtrack download card, a vinyl sticker sheet and a DIY papercraft model of the il Gorillona car. You can pre-order it here.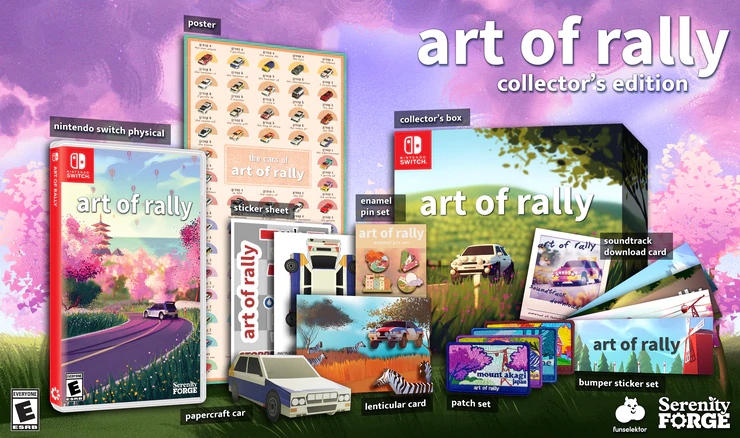 There's also the Collector's Edition for $74.77 which adds an illustrated poster of the in-game cars, a four-piece enamel badge set, four bumper stickers, four patches featuring in-game locations, and a 3D lenticular card with an action shot from the game. It's expected to start shipping around the same time, and you can find it here.
The final physical item might just be the coolest, with an Art of Rally double LP vinyl soundtrack featuring album and label art by Bridget Olson and Yu Ying Ong, a vinyl master by Ohad Nissim, and the music composed and arranged by Tatreal. The vinyl can come in either the Sunset Galaxy or Sunrise Splatter options, with the former exclusive to Serenity Forge. And it also comes with a digital download code for the full soundtrack if you don't want to risk actually playing the records.
The Art of Rally soundtrack vinyl is expected to ship some time in Q3 of 2022, and costs $36.99. You can pre-order it here. The art looks amazing (though it's worth noting it's subject to change), and coloured vinyl is always cool (although there's always some variations due to the production process).
You can find Art of Rally on Steam for the PC here, the Microsoft Store, the PlayStation Store, or the Nintendo eShop for the Switch here. And you're able to keep up with the latest Art of Rally news and updates, here.