If you're buying a sim racing cockpit, then you want it to look cool along with being comfortable and working well. And that includes matching your Sony console with the Next Level Racing GTLite PlayStation Edition launched for £249.
Essentially, it's the officially licensed version of the existing GTLite cockpit, which normally costs £229. For the extra money, you get coated PlayStation logos and colours to get you into the perfect mood for Gran Turismo 7. Obviously, you can still use it for racing on a PC, and other consoles are available, but the main appeal is matching it to your PS5, unless you just really prefer blue over the red of the normal GTLite.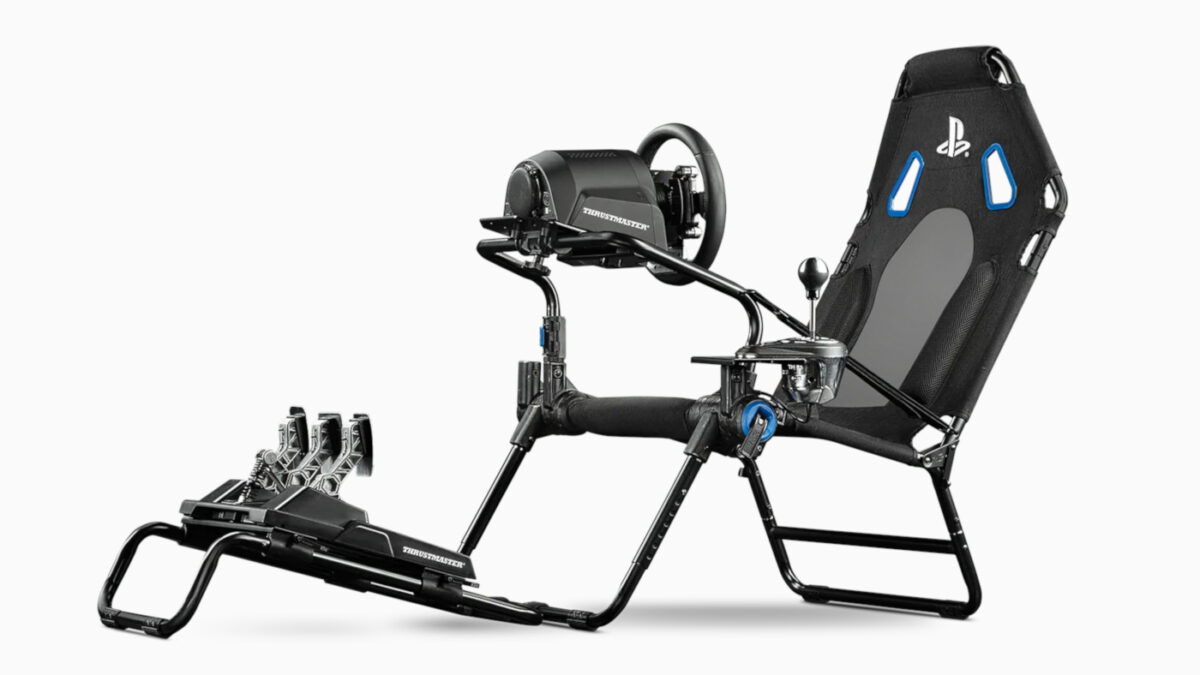 Foldable cockpits like the Next Level Racing GTLite make a lot of sense for console sim racers, as you may be fighting for time in front of a shared television rather than having a permanent sim racing setup. Especially when you can keep your wheel, pedals and gearshifter attached with pre-drilled holes to mount most of the common brands including Logitech, Thrustmaster and Fanatec.
Having a built-in seat with beathable fabric also saves you messing around with office chairs, giving you a potential benefit over a wheel stand. Especially when it seems harder and harder to find something which isn't on castors, meaning you'll roll back everytime you hit the brake. And you'll get better control and more immersion than trying to sit on the sofa with a wheel and pedals at a weird height.
The Next Level Racing GTLite PlayStation Edition supports heights between 120 to 200 centimetres (4ft to 6ft 6 inches), and a maximum weight of 130kg or 287lbs (20.5 stone). So it should fit the majority of sime races, and you'll need a space of 176 X 93 X 95cm when it's ready to drive, or 104 X 93 X 30cm folded up. Just be aware that the cockpit weights 14.4kg before adding a wheel and pedals.
Even if you're not planning on folding the GTLite away every evening, it's not a bad permanent option if you're not quite ready to commit to a full aluminium rig. And it comes with everything you need to mount wheels, pedals and a shifter on either the right or left side.
Next Level Racing products are available via a range of retailers, including Currys. And you can find coverage of sim racing rigs and seats for every budget, here. Along with other products from Next Level Racing, including their recent launch of the HF8 Haptic Gaming Pad.