Last updated on January 20th, 2021 at 02:50 pm
The F1 2014 release countdown continues and Codemasters has released a fourth 'Hot Lap' video this afternoon.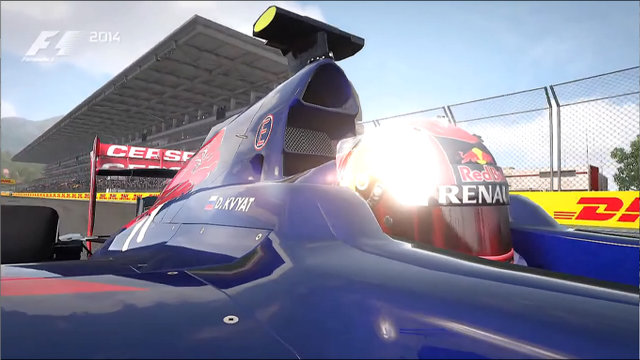 Introducing Sochi
The venue for the Russian Grand Prix, Sochi Autodrom, makes a founding appearance here ahead of its October début. Within the 'modern' post-war era of grand prix racing and Formula One, it will be the first time that a race has been held in what is now known as the Russian Federation.
Fittingly, Daniil Kvyat, a former Red Bull Junior and current Scuderia Toro Rosso driver, is the co-subject of this Sochi video. As expected of the 2014 Winter Olympics host location, the Tilke-designed circuit reflects the modern style of other tracks built during the last decade – likewise framed within the confines of existing architecture. In this instance, that is the buildings of Sochi Olympic Park.
Love it, loathe it
Thanks to a game camera that changes on every bend and even between a few, it's impossible to get a good feel for the flow of the tarmac with this video. However, certain traits do emerge for anyone with even a passing familiarity of such places as Yas Marina and the street course at Valencia. After one-minute and forty seconds of mostly external footage, it seems that Internet Racer opinions have already been made!