Last updated on January 17th, 2021 at 10:13 pm
With barely five weeks to go until its arrival, Ride has reappeared with a new gameplay trailer.
North Wales is the chosen region this time round. At first glance, it's a fairly good blending of places within what's really a geographically diverse area that goes from wide sandy beaches to remote hills and lake-strewn mountain ranges. The game has a stylised look, sure – but the right cues are there, down to the tarmac surfaces, slate, terraced houses, old dry-stone walls and… castles!
This slideshow requires JavaScript.
We did also notice that there's plenty of room for the riders to move around during a race. Assuming that it's not merely an effect of the game's field of view, the roads looked wider than many of the real ones we're familiar with. This could be a good thing where racing is concerned and might convey that the team have considered how the competition would play out during a race. Shoulder-to-shoulder fights would soon get tiresome for this type of game if the roads were nothing but realistically tight country lanes! As far as we can tell, it's not meant to be Road Rash Revisited!
Perhaps that's for a spin-off series…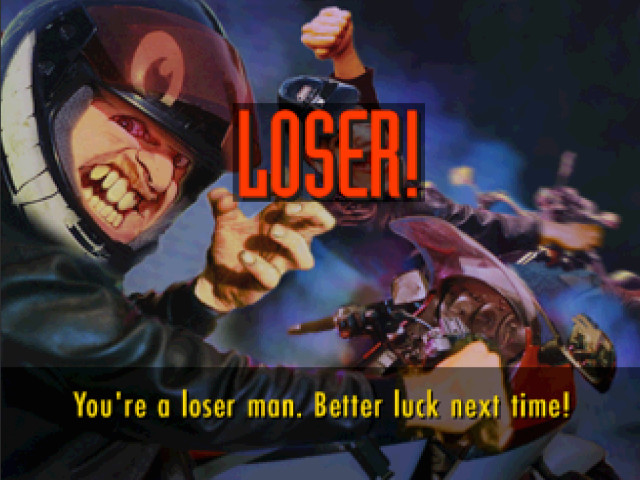 Hey, if any producers are reading, we'd go for that too! Don't forget the 3DO port!
This is Ride though – no traffic cops, chains or baseball bats. Customisation, tracks around the world, racing, Track Day and Endurance challenges – that is Ride!
Away from, er, road dimensions, a third chance to take notes continued to suggest that Ride won't be competing visually with the latest and shiniest of recent releases. Though people on social media have already relayed their disappointment, a good number – including the extremely keen bikers amongst us at ORD – can accept this style as long as the play and riding feel holds up. It's not as if the looks are unappealing anyway and there are some nice touches here and there between textures and comfortably subtle lighting effects.
If anything caught our attention and gave pause for thought, it's that there didn't appear to be many bikes on the road. Fortunately, that should place the footage we've seen so far as being from an early build given that Ride's Features page describes 16-rider races and championships. As in previous videos, the course also remains sparsely populated wherever spectators are assembled. Indeed, it would be generous to call it a crowd at any point along the road! Still, this may be a further indicator of the 'work in progress' nature of the build used for the demo and again, most of our attention will ultimately remain on the handling and whether or not the AI can offer a real race.
There's one thing to add. Our ears want pleasing too!
For all that the three-month drip-feed has shown us with screenshots, bike models, rider clothing and recent videos, we haven't yet been given an indication of how the bikes will sound. With such a variety of machinery (and powerful engines with it), as much as it is to ask, we're hoping for something special on the audio front rather than a generic effect that represents over 100 bikes that have little in common between their exhaust notes. Not to forget the all-electric Energica machines but y'know, we like the sweet, sweet sound of combustion!
This slideshow requires JavaScript.
All of that said, we do like what we've seen in these quick-cut videos so far and are now ready to get a demo installed on the PC so that we can sample Ride for ourselves.
Pre-orders…
There's still time to order Ride ahead of its March 20th release. In addition to the PC, the game will reach both generations of the Sony and Microsoft consoles, versions for the PS3 and Xbox 360 sitting alongside those for their more powerful PS4 and Xbox One counterparts. We've gathered a group of on-line prices published to date.
Buying through these links will help to support OnlineRaceDriver.
For those of you that are digital-only players, Ride does also now have a page on Steam. Although a price isn't yet included there, we'll update any listings on ORD as soon as we spot that a figure is available.
Update (March 20th)
Now that Release Day is on approach, some retailers are revising their prices.
Zavvi prices remain static (and high), though Game and ShopTo have each made price reductions. The tables above have each been corrected where applicable.
Game's price drops are across the board. The earlier place-holder tags mean a £20 fall on PC, £7 for PlayStation 3 and Xbox 360, then £10 for PlayStation 4 and Xbox One.
The console versions also include a Game-exclusive three-bike pack that consists of Yamaha's:
1998 YZF-R1
1998 YZF-R7
2002 YZF-R1
ShopTo still lead the way for Ride when it comes to prices. Already the cheapest, the company has further chiselled away at the PC, PlayStation 3 and Xbox 360 versions. Further savings there lie between £1 and £3 or roughly €2 to €4. The PlayStation 4 and Xbox One hold steady at £39.85/€51.00 seen before.
Steam
Ride now has its place on Steam, with two packages on offer and a release date of next Friday – March 27th.
The Standard Edition is priced at £29.99. A further £20 will buy the Digital Deluxe Edition that adds a season pass for DLC, the game soundtrack, a 'Making of…' digital book in PDF form and the award-winning Why We Ride documentary.
Order early from Steam and a 2015 trio of Yamaha bikes will be added to the game. They are:
2015 YZF-R6
2015 YZF-R1
2015 YZF-R1M
#ridevideogame