It's less than a week since Reiza Studios released Automobilista 2 as a Steam Early Access title to keep to their publishing schedule despite the challenges facing everyone around the world right now. And they're pushing on with Automobilista 2 Hotfix 0.8.0.1 released to download now.
The impact of Covid-19 has meant that the game had a soft launch, with a 40% discount, rather than a big push for a v 1.0 release. So the good news is that you can grab a saving, and the updates and hotfixes will apparently be coming at a fairly rapid pace. Hotfix 0.8.0.1 is responding with improvement and fixes for issues reported since the original v 0.8.0 came out on March 31st, 2020.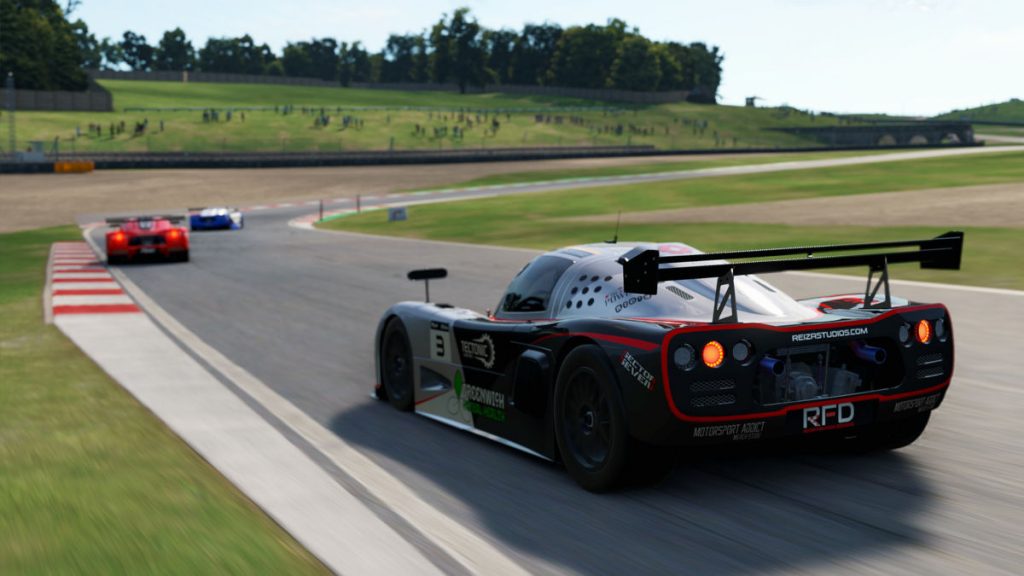 Automobilista 2 Hotfix 0.8.0.1 Changelog:
GENERAL
Adjusted rain spray parameters – slightly longer draw distance & slower decay
Raised default Camera World Movement from 50 to 75, reduced G Force Effect from 50 to 25 (resulting in less default cockpit camera movement)
UI
Added game version number to main menu screen
Desaturated Championship & Time Trial panels in Main Menu to better illustrate current unavailability
Adjusted order and included Start button in Test Day / Custom Event menu (allows pressing start button with cursor+ accept button as well as gamepad start button)
Added missing track background screens & trackmaps for Snetterton
Corrected F-V10 livery thumbnails
PHYSICS & AI
Slightly adjusted tyre tread physics for F-Classic Gens 2&3, SuperV8, MIT Lancer, F-Vee, Opala, Ultima GTR, Copa Truck, Caterhams, karts
Slightly reduced pneumatic trail for slick tyres & adjusted max steering rack forces to suit (results in slightly more consistent FFB)
Fixed error in suspension rates of SuperV8, Sprint Race which could lead to excessive bouncing midcorner and other handling woes
Adjusted differential locks for all Caterham models with LSD
Adjusted brake response curve & reduced default brake pressure to 90% for all cars
Fixed error in Ultima GTR Race rear brakes which would cause it to lock rear wheels easily
Reduced brake torque for Superkart
Fixed missing rear pre-warmed tyres for F3, Roco 001
Adjusted AI dry tyres for Caterhams, Touring Car Classics, Ultima GTR, ARC Camaro, F-Vintage, F-Trainer for more consistent performance vs player
Adjusted AI wet tyres for StockV8, Sprint Race, Superv8, Caterham, F-Classic, Touring Car Classics, F-Trainer for more consistent performance vs player
Fixed Chevette 5th gear ratio
VEHICLES
Mitsubishi Lancer: Fixed windscreen textures issue
Ultima GTR: Fixed shifting animation (manual instead of paddles); Added chrome stripes to some liveries; Fixed wheels and exhaust vertex AO; Added backfire animations
Caterham 620R: Updated several liveries (adding some metallic variations)
Formula Vintage: Added missing lower LOD models (which could cause cars to disappear in lower car detail settings)
TRACKS
Jerez: Complementary art pass & fixes
Snetterton: Fixed curbs & added 3D marbles to both layouts
To users still struggling with brake sensitivity, please make sure to callibrate your controller to try ensure the full range is being correctly used.
Also, default FFB settings are designed for Logitech G2X series – if you have wheels with stronger motors you should scale those settings down to avoid clipping.
So with Automobilista 2 Hotfix 0.8.0.1 released, are you tempted to pick up the game? It's available on Steam Early Access for £24.99, or you can buy Automobilista 2 and the 2020-2021 Season Pass bundle for £94.98, which is 10% off. The Season Pass is also available separately for £79.99.
The Season Pass includes the Hockenheim Pack with the 1975, 1988, 2001 and 2019 versions, the Silvertsone pack with the 1975, 1991, 2001 and 2019 versions, at least three more Track DLC packs, and at least three Expansion packs which are currently listed with the titles of Brazilian Legends, Racin' USA and Adrenaline (which will each include several cars and tracks).
To keep up with the latest DLC and updates, check out all of our Automobilista 2 news. Or you can see what's already included in the game, with our Automobilista 2 car list, and our Automobilista 2 track list.