Last updated on November 3rd, 2020 at 01:37 pm
Reiza Studios has released update v1.0.5.0, which brings improvements to force feedback, the GT3 and Gt4 series, the 2020 Porsche Carrera Cup Brasil, and free access to the Nurburgring GP, Veedol and Sprint layouts for a limited time, as the release of the Nordschleife has been delayed.
You'll be able to drive the Nurburgring for free until the long versions are available, as which point all circuit layouts will only be available if you own the DLC pack.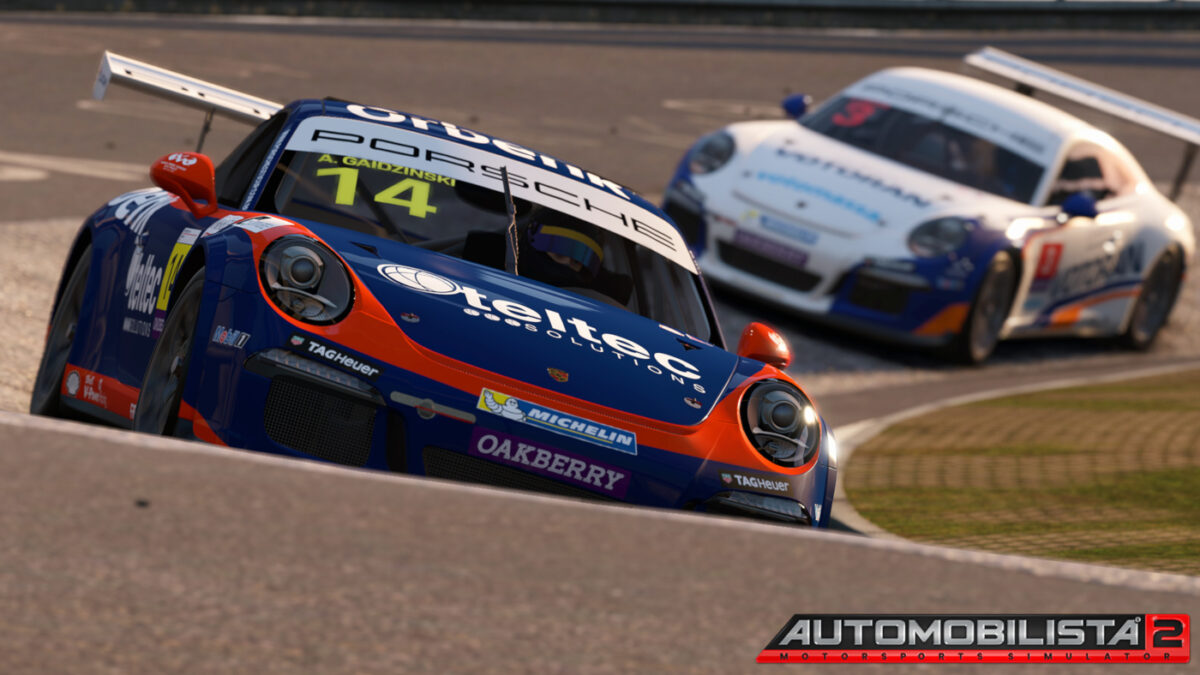 Automobilista 2 V1.0.5.0 Change Notes
With the Nordschleife and 24h layouts not quite ready for this release, we have elected to temporarily offer the other modern Nurburgring layouts FREE to all users until the long layouts are added to the package at some point next week.

Please be advised that upon the addition of the Nordschleife & 24h layouts, all Nurburgring versions will revert to being available only for owners of the DLC or packages that include it.

Updated Force Feedback

This update adds fresh Force Feedback developments, the most significant being:

– Damping now adjustable via in-game FFB menu *
– Enhanced tyre flatspots **
– Enhanced feedback during braking
– Enhanced road feel (adjustable via FX slider) ***
– Improved scrub effect (adjustable via FX slider)
– Effectively eliminated FFB "deadzone" around center in some cars
– Improved gyro moment accuracy
– Now using SETA patch offset/deformation for mechanical trail (much more "organic" feel on edge of grip)
– Tyre temperature and pressure will affect feedback
– More distinctive oversteer / understeer feedback

* We recommend using damping in game vs on wheel setting. Damping in game scales with vehicle, so roughly same level for all cars. On wheel / driver damping doesn't scale with wheel gain, so if you have gain too low, damping will overwhelm FFB signal.

** flatspots are currently presented in "raw" form. Given tire is split into many small patches, you will receive "impulses" as there are "flat patches" on tire. It depends on amount of wear on individual patch. Hence the note "raw signal".

*** Road feel is based on physical surface mesh roughness / bumps – which on real vehicles would be "fed back" to the driver via vibration "travelling" thru chassis and as a result will be felt on steering rim especially cars and race cars that have racks bolted directly to chassis, without any sort of insulating "rubber mounts" – take note this would only "vibrate", not "move" wheel rim left-right. Given our gaming controllers are effectievly "1DOF" device – ie. able to move only left or right, we are shaping this vibration such that it can be felt on them too.

IMPORTANT: Custom Force Feedback profiles may be affected by code changes to the FFB system and not work as before the update. If you find that is the case consider sticking to the default profile until the author of the custom alternative updates his version.

V1.0.4.1 -> V1.0.5.0 CHANGELOG:

CONTENT
Added GT3 series (currently featuring 2015 Mercedes-AMG GT3 & 2016 Porsche 911 GT3 R & 2019 Mclaren 720S GT3)
Added GT4 series (currently featuring 2018 Mclaren 570S GT4, 2017 Camaro GT4-R & 2016 Porsche GT4 Cayman Clubsport)
Added 2020 Porsche Carrera Cup Brasil (featuring Porsche GT3 Cup 3.8 & 4.0)
Added Nurburgring Track (GP, Veedol & Sprint layouts – DLC TRACK, FREE TO ALL USERS FOR A LIMITED TIME
GENERAL
Added support for overriding default liveries with user liveries (more info for this soon)

Updated Force Feedback system & Added Damping slider to FFB menu
Championship mode: Adjusted Stock Car championship rules to better match real regulations ( refuelling permitted in pitstops; use formation+rolling start; added mandatory pitstop; increased minimum race to to 15 mins to allow AI sensible pitting options
UI & HUD
Added support for additional UI track filters

Fixed incorrect label on FOV options tab when in unselected state
Disabled 'Reset to defaults' button in main setup screen when fixed setups are used
Fixed RR compound decrease button altering wrong value
Further reduced opacity of disabled menu options on in-game screens
Fixed incorrect current lap in displayed on HUD when rolling start used
Gaps now shown in laps rather than time for lapped vehicles on weekend results
Added lobby detail page to multiplayer browser
Extended MP player interaction dialog to include Vote To Kick
Allowed Player interaction dialog acces to all users (previously host only)
Updated all in-game leaderboards to allow access to Player interaction dialog (left click / Joypad X)
Fixed player name clipping on in-game MP leaderboards
PHYSICS
Revised tyre treads in GT, Prototypes, Stock Cars, Super V8 for more longitudinal slip & improved force combining
Slight reduction to parking force FFB (all cars)
Fixed missing autolift function in Mini gearbox
Adjusted Max force for MRX (all variants)
Reduced default viscous lock & preload baseline in cars in LSD diffs
Slightly increased speed sensitivity in road tyre tread (60s Classics, F-Vee, Copa Fusca & Uno)
Slightly further reducing lock per clutch in LSD differentials
Corrected rev range error in Group A engines
Adjusted default gear ratios for Group A
Adjusted F-Ultimate sidewall stiffness
AI
Scaled the pit exit speed by the outlap slowdown factor (this prevents the AI going offroad after leaving the pits in Taruma)
Adjusted AI code to minimise weaving
Adjusted AI calculations for enforced pitstops in timed races
Further AI callibration pass for Group A, Procar & 125cc karts
TRACKS
Added animated helicopter & drones to Adelaide, Brasilia, Brands Hatch, Cadwell Park. Campo Grande, Cascavel, Curitiba, Imola, Jerez, Silverstone, Montreal, Silverstone 2001,
Hockenheim (all versions): Minor art & performance pass
Montreal: Object LOD fixes & Minor art & performance pass
Londrina: Adjusted triggers & start location
Donington: Object LOD fixes; Minor art & performance pass
Added VR cams for Adelaide, Kansai & Montreal
Goiania: Fixed marbles
Taruma: Minor art & performance pass
Oulton Park: Fixed broken pitcrew/pitbox marker animations in Oulton / Fosters layouts
Added helicopter & drone animations to Granja, Londrina, Hockenheim, Ibarra
VEHICLES
F3 (F301) – Revised and updated liveries including new community skin; Updated leather textures on head rests.
Metalmoro MRX: Added dirt / damage effects + Dangling damaged parts + new colliders (all variants)
Camaro SS – Corrected LOD D glitch
Added Gol) Dirt/Damage effects + Detachable boot lid (all variants)
V1.0.5.1 CHANGELOG:
Small improvements to the logic of AI to avoid invading of human line on straights when far from curves
Fixed non-linear bumpstop code
Revised suspension for Porsches
Revised Mclaren 720S GT3 aero, brakes & drivetrain
Revised Mclaren 570S aero & brakes
Revised GT3 / Prototype tire tread for slightly more longitudinal slip
Corrected Mclaren 720S stats & onboard cameras
Updated volumes of all Porsche GT3 / Cup cars and minor improvements to GT3-R sound set
Nurburgring: Smoothed harsh road bumps along the pit lane entrance;conform some overlay mainly in pit lane region (road line, kerb verge, grass verge, road seam) fixed some tyrewall Z fighting & some object LOD popping; reorganized bollard/cone for Veedol chicane layout; Minor Art pass
Goania: Minor art pass
Automobilista 2 is available on Steam for the PC, along with the Ultimate Edition, the Season Pass bundle and the Silverstone and Hockenheim DLC track packs.
You can keep up with all the latest Automobilista 2 news, updates and DLC here. Or check our everything available already with our Automobilista 2 car list and Automobilista 2 track list.