Despite the massive disruption to real and virtual motorsport in 2020, there's a lot coming for the iRacing 2021 Season 1 build. Possibly the most exciting, and certainly the most controversial, is the new fictional iRacing Dallara iR-01 announced for release.
The two companies have worked together for a long time, and previous sim projects include the Dallara DW12 Indycar, Dallara F3 and the recently released Dallara P217 LMP2. But the Dallara iR-01 is a virtual concept of a car which could be produced in reality, rather than simulating an existing racing vehicle.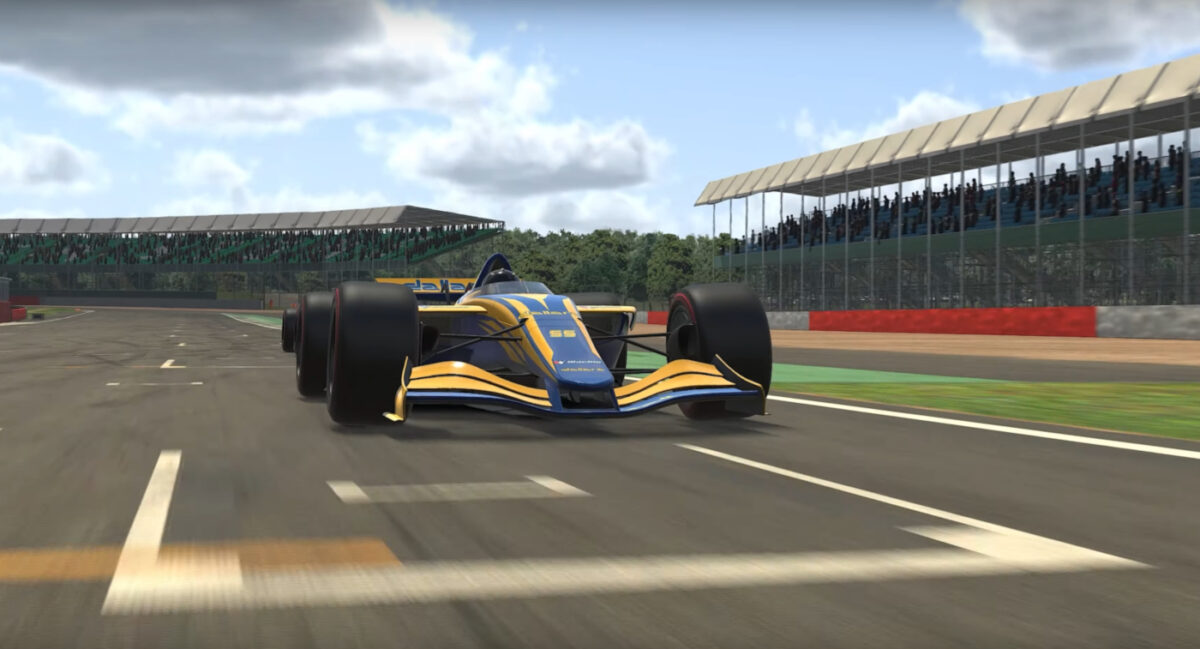 And that's split opinions, as the Dallara iR-01 will immediately slot into the iRacing Dallara Formula iR Series as the premier open-wheel car. On the one hand, there's excitement over what is basically a 2022 F1 car with a 1990s 900hp v10 engine which sounds amazing. And on the other, there are concerns that iRacing has chosen to release a virtual concept, and give it a premier position in the sim racing service.
"Our partnership with Dallara to bring the Dallara iR-01 to iRacing has been unlike any other project we've ever undertaken," said iRacing executive producer Steve Myers. "With a clean sheet in front of us, we challenged ourselves to build the ultimate open-wheel racecar to bring to our users. The result is an exciting blend of the past, present, and future of grand prix racing that is thrilling to drive and produces incredible on-track battles."
"The collaboration with iRacing is long-standing, we got to know iRacing people more than 10 years ago when we were conceiving our driving simulator and looking for nice graphics while iRacing was looking for experts in the real life of motorsport," said Andrea Pontremoli, Dallara Group CEO & General Manager. "That's why we have enthusiastically welcomed the possibility of collaborating with them on this new project. Motorsport has been in Dallara's DNA since its inception, along with the continuous search for new challenges. It is a way for Dallara to bring our knowledge and skills to the world of professional video games, with particular attention focused on the new generation of gamers and their interests. We gladly ventured into the design of a totally new and innovative car dedicated exclusively to the world of sim racers."
Obviously, everyone is entitled to their own opinion (and do share yours in the comment section below). Personally I'm extremely excited about the release of the Dallara iR-01 for a few reasons.
The first is that it has a 1990s-style naturally aspirated 3.0 litre V10 producing an amazing noise and 900hp in a car which weights 600kg. And the second is that it has limited electroncis, a full decoupled suspension and is designed to be easy for new drivers to handle, but difficult to master. Which should make for some fun and exciting racing, rather than a battle to remember which buttons to press for the right electronic aids at any moment.
So, we can safely assume it'll be a great car to race. The only question is whether you think it's acceptable for one of the more realistic and hardcore sim racing titles to include a car which may never be physically produced for real motorsport (as opposed to cars in development, such as the BMW M4 GT3, for example).
It's not the only recent example, with rFactor 2 announcing the electric RCCO eX_ZERO_2020 concept (And all the Gran Turismo Vision creations). But iRacing fans are probably among the most concerned with every nut and bolt of their preferred sim racing choice, so it's not surprising there has been a larger response to the iR-01.
Ultimately iRacing will be looking at the numbers buying the car and participating in racing it rather than internet opinions, but personally I think it's a good move during a year that has meant limited options for accessing real cars to add to the sim, and also to add a new premier open wheel class at the top end of iRacing, which is currently limited to the iRacing Grand Prix Series running the McLaren MP4-30 from 2015 (along with the even older Williams FW31).
While there are still lots of real cars I'd have picked to join iRacing (vintage racing and classic Rallycross spring to mind), I'm more excited about the Dallara iR-01 as something I'd actually like to drive and race than most of the fastest cars in the game (I'm more interested in GTs than LMPs).
Either way, the new fictional Dallara iR-01 will arrive in iRacing in a few days with the 2021 Season 1 build, and will probably cost $11.95 like the other cars in the game.
You can sign up to iRacing, here (and credit your referral to ORD, which we'd appreciate!). And see all the free, and the paid, vehicles available in our full official iRacing car list, here, or check out all of the included circuits, and the others you can buy, in our full official iRacing track list, here.