Last updated on January 2nd, 2022 at 08:30 pm
After being teased a short while ago, we've now seen the Thrustmaster T-GT II sim racing wheel base unveiled. And it's a more advanced version of the four-year old Thrustmaster T-GT, which has been refined and perfected in 23,000 hours of intense work to become the first officially licensed PlayStation 5 racing wheel from the company.
That amount of time sounds like a lot, until you work out that 3 people working 9-5.30pm would add up to more than 21,000 hours over four years. But still, Thrustmaster have managed to add some new features to the new Thrustmaster T-GT II. The main ones being promoted are the real-time drift curve calculation (T-DCC) which should mean the wheel, and your virtual car, are responsive when you're going sideways.
Continuing the abbreviations is the real-time force feedback system (T-RTF) which reduces calculation times by using a built-in processes, and it works across PC and PlayStation 5, regardless of the game itself. So that means you won't have dead zones or latency between the wheel and the game. And the new electronic design uses AEC-Q-certified printed circuit boards from the automotive industry for quality and durability.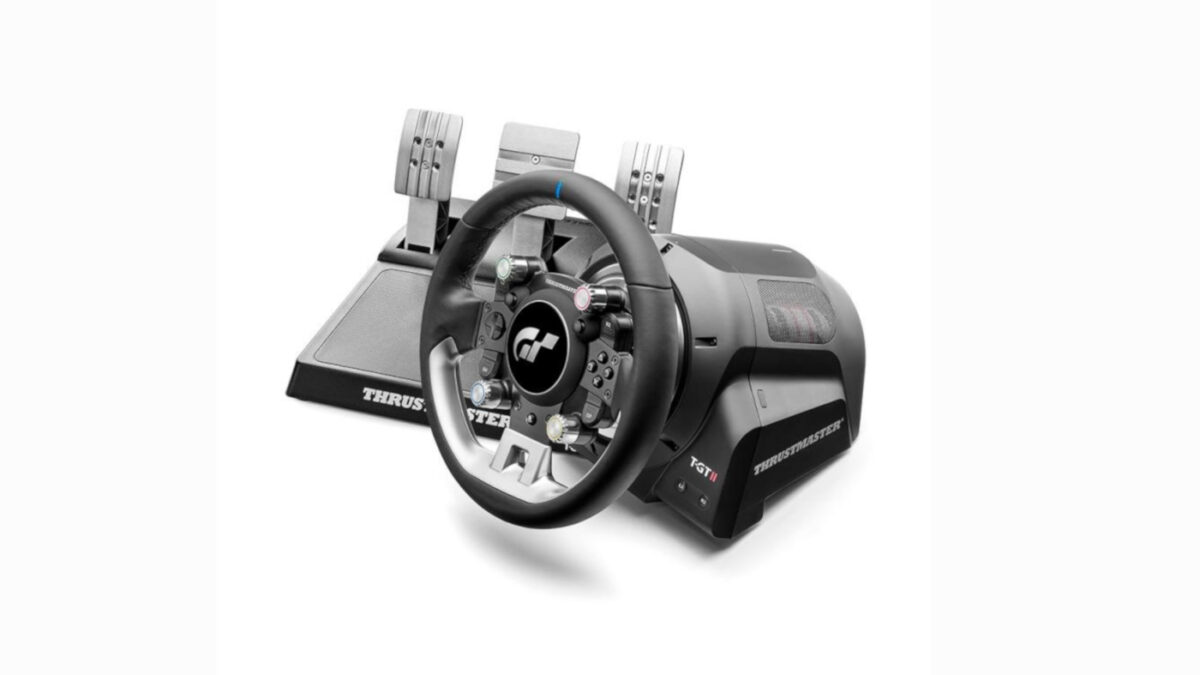 You'll still get a brushless 40-watt motor and a dual-belt system, what looks like similar three pedal T3PGT set (apparently with a more precise and more durable brake pedal spring and higher quality components), and existing features including the T-LIN force feedback system which ensures 100% linearity with what's produced by a game, the T-F.O.C system for a dynamic response from the motor, and the T-DFB exclusive depth feedback for Gran Turismo Sport. Along with the T-MCE cooling system, and the T-Turbo power supply.
And that's about it. Which would normally be an acceptable update, if not earth-shattering. But it does feel slightly underwhelming given the recent excitement over the new Fanatec CSL DD wheel base. Especially when the Thrustmaster T-GT II Servo Base will cost around the same on it's own when it becomes available in 2021 Q4 for £399.99, and with the official wheel it comes in at £599.99. The complete Thrustmaster T-GT II kit including base, wheel and pedals is available today from June 23rd in Europe for £699.99 (excluding the UK, Switzerland and the Ukraine). It'll arrive in the UK on September 1st, 2021, and the US and Canada on October 5th, 2021.
Or the recent release of the new flagship Thrustmaster Formula Wheel Ferrari SF1000 Edition, which has required various games to update their software to work with the 4.3″ interactive screen.
So the new Thrustmaster T-GT II will be another good mid-range wheel base. And should be a decent option if you're looking to enter sim racing, or moving up from an entry-level set-up. But it's probably not enough to tempt existing T-GT owners, or anyone already swayed towards a direct drive wheel base for a similar price. And only a slightly bigger investment if you also need a wheel and pedals.
You can check out more on the Thrustmaster sim racing range here, or all of our sim racing wheel and pedals news, here. And if you're just starting out, take a look at our guide to the best sim racing wheels for beginners, here.