Get the latest liveries for the 2021 GT World Challenge season with Assetto Corsa Competizione Hotfix V1.7.12 released now by Kunos Simulazioni for the PC version of the racing sim.
It means you can emulate all the current drivers and teams in the championship, but also includes bonus paintschemes for the BMW Sim Time Attack series and Logitech McLaren G challenge. There are also some minor tweaks and changes, including specifically for the Porsche 991II GT3 R. But it's a fairly small 308.36 Mb download, even with the new liveries.
Assetto Corsa Competizione Hotfix V1.7.12 Changelog:
GENERAL:
– All 2021 GTWCH EU full-season liveries added as bonus content.
– Bonus livery for the "BMW Sim Time Attack" series.
– Bonus livery for the Logitech McLaren G Challenge.
– Option in menuSettings.json to change the preloading of cars in the UI:
"carsPreloadMode": 0=always, 1=never, 2=auto (default)
"carsPreloadLimitMB": used when carsPreloadMode=2 to compare it with available video memory (cars preload is disabled if video memory is lower than the value set here) (default = 5000)
Legacy behavior: "carsPreloadMode": 0,
NOTE: this setting is to save memory on systems with very low video and system memory to prevent freezes on game launch.
UI:
– Revised View Settings menu with pages for groups and undo function.
– Mirror settings now exposed in the new View Settings menu.
– Revised Gear widget with separated fuel, gear and pedals sections – visibility setting added in HUD menu options.
– Physical steering input now displayed in Pedals widget.
– Max framerate cap increased.
– Minor fix on Oulton Park track map.
GAMEPLAY:
– A fix to an inaccurate pit entry/on-track status at Oulton Park.
PHYSICS:
– Fixed erroneously high default brake bias value in Wet setup presets of the Porsche 991II GT3 R at IGT tracks.
– Porsche 991II aeromap adjustment to allow for slightly higher top speed.
Balancing tweaks for the following cars and track categories:
– Honda NSX GT3 at EU B
– Ferrari 488 GT3 Evo at EU D – further adjustments
– Bentley Continental GT3 at EU D
GRAPHICS:
– Fixed backlight on British GT numberplates.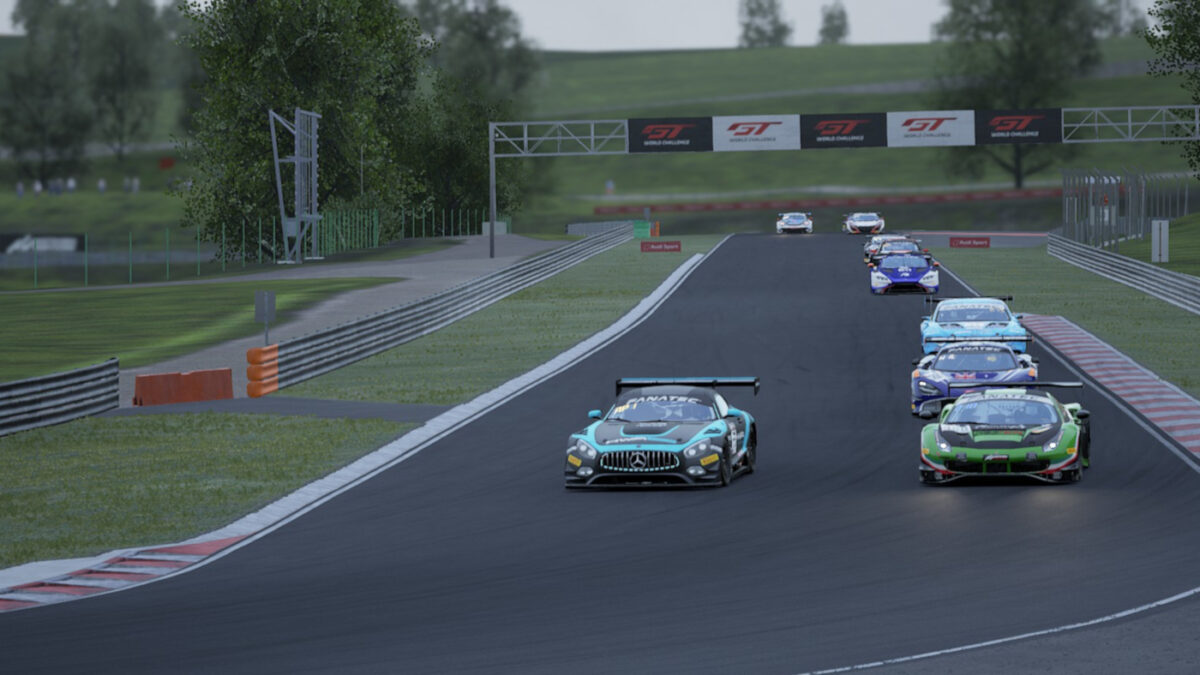 If you want to keep up with all the latest Assetto Corsa Competizione news and updates for PC and console editions, it's all right here. Along with every piece of content available in our full Assetto Corsa Competizione Car List, and Assetto Corsa Competizione Track List.
Assetto Corsa Competizione is available as a digital download for the PC via Steam, the Xbox One via the Microsoft Store and the PS4 via the PlayStation Store. Or as a physical edition from Game or Amazon. The Xbox Season Pass is available here, and the PS4 Season Pass is here, for £19.99.