It seems we were a bit early in assuming Kunos Simulazioni had stopped tweaking and improving their latest big update after some fairly small hotfixes. There's a substantial amount of changes included in Assetto Corsa Competizione Hotfix 1.8.5 and 1.8.6, which can be downloaded now.
Some changes to existing cars including adjusting the steering ratio on both examples of the Ferrari 488 GT3 and Lamborghini Huracan GT3, and changing the brake bias and brake power for setup presets on the Maserati GT4. Other notable additions include further adjustments to how the AI makes strategic decisions due to the weather, and fixing a bug which could prevent automatically saved games from loading.
As always, the updates for the PC come directly from Kunos Simulazioni on a different timetable to any releases for the console versions of Assetto Corsa Competizione, which are handled by 505 Games.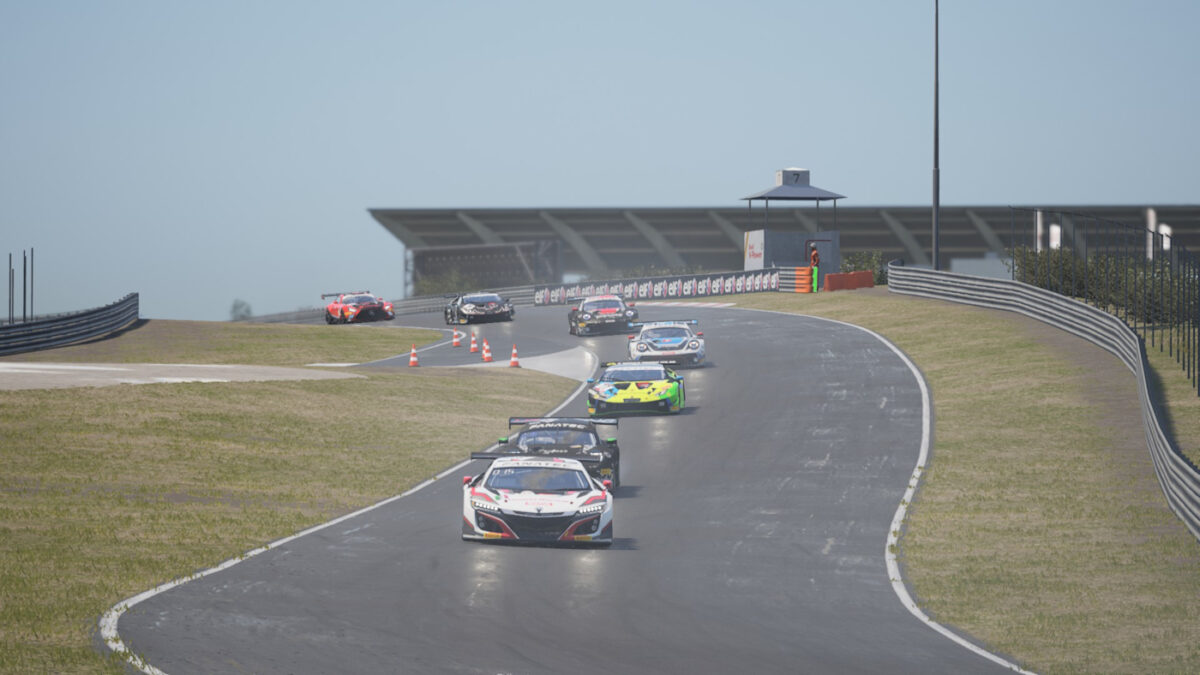 Assetto Corsa Competizione Hotfix 1.8.5 Release Notes:
GAMEPLAY:
Fixed GT3 gen selector in Open Championship
Fixed pit window length setting in Championship
Mount Panorama mountain section now excluded from wet track limits
Further global adjustments to the wet track limits logic
Fixed an issue that prevented automatic saved games to load correctly
Fixed pre-weekend AI setting not taking an effect in Open Championship.
UI:
Fixed keyboard/gamepad navigation in the car selection page
Name abbreviation (Lumirank ID) moved to Profile info page, obsolete Nickname item removed
Added leader track map indicator.
GRAPHICS:
Adjusted windscreen wiper of the BMW M4 GT3 and raindrop effects
Fixed excessive loading times in Oculus VR mode
Slightly adjusted night brightness and standardized values accross tracks
DLSS setting now remains inactive with incompatible hardware
Fixed spray effects affecting windscreen while player car is behind pitwall.
PHYSICS:
Fixed aero page slider display values not updating after using the fuel test function
Fixed BMW M4 GT4 wet preset's excessive brake bias setting for Imola
Adjusted aggressive preset for the Ferrari 488 GT3 Evo at Mount Panorama
Adusted brake bias and brake power in all setup presets of the Maserati GT4
Adjusted steering ratio in the Ferrari 488 GT3 (both)
Adjusted steering ratio in the Lamborghini Huracan GT3 (both)
Re-enabled aero variation readout for the Lamborghini Huracan ST and Porsche 991II GT3 Cup
Removed BMW M4 and M6 GT3 extra ECU map.
CONTROLS:
Fixed Thrustmaster SF1000 display not functioning correctly with other TM devices connected via USB
Fixed Thrustmaster SF1000 delta lap time sign error
Readjusted Steer Filter range for controllers.
Assetto Corsa Competizione Hotfix 1.8.6 Release Notes:
Fixed inconsistencies when editing the driver profile name abbreviation
Fixed a visual issue that occasionally left the airjack visible while driving or in replay
Minor updates to the BMW M4 GT3 display
Further adjustments to the AI's strategic decisions in different weather conditions
Fixed best lap dash display item lagging behind on laps
Fixed navigation and focus-related issues with mouse and controller
VR: fixed missing rendering in the left eye with the combination of FSR + TAA5 + AA quality set to medium or off.
If you want to keep up with all the latest Assetto Corsa Competizione news and updates for PC and console editions, it's all right here. Along with every piece of content available in our full Assetto Corsa Competizione Car List, and Assetto Corsa Competizione Track List.
Assetto Corsa Competizione is available as a digital download for the PC via Steam, the Xbox One via the Microsoft Store and the PS4 via the PlayStation Store. Or as a physical edition from Game or Amazon. The Xbox Season Pass is available here, and the PS4 Season Pass is here, for £19.99.