The Mobileye 2022 GT World Challenge Europe Esports Challenge starts tonight with 48 world class sim racers competing in a one-hour race at Misano on Assetto Corsa Competizione.
The five-round series is the first of the three continental Sprint series running in 2022, and each round takes place on Wednesday evenings. Drivers to watch include reigning series champion James Baldwin with his Veloce McLaren 720S GT3, and team-mate Eamonn Murphy. 2021 runner-up David Tonizza returns for the Scuderia Ferrari Velas Esports team, alongside Kamil Pawlowski, and the grid is packed with potential race winners and podium finishers.
Other professional sim racers to watch include the BMW Team BS+Competition duo of Nils Naujoks and Arthur Kammerer, Amir Hosseinin for R8G eSports McLaren, and Luca Losio following his switch to a BMW M4 GT3 for the Mobileye x Jean Alesi Esports Academy squad. And alongside the 25 Pro class drivers are the 23 Silver class entries, including Dennis Schoeniger, Robbie Stapleford, Egor Ogorodnikov and David Pertile.
If you're interested in how eSports drivers see the current balance of power in Assetto Corsa Competizione, there are 12 Bentley Continental GT3s competing agains 8 McLarens, 6 Mercedes-AMGs, 4, BMWs, and 3 each for Aston Martin, Audi, Ferrari, Honda, Lamborghini and Porsche.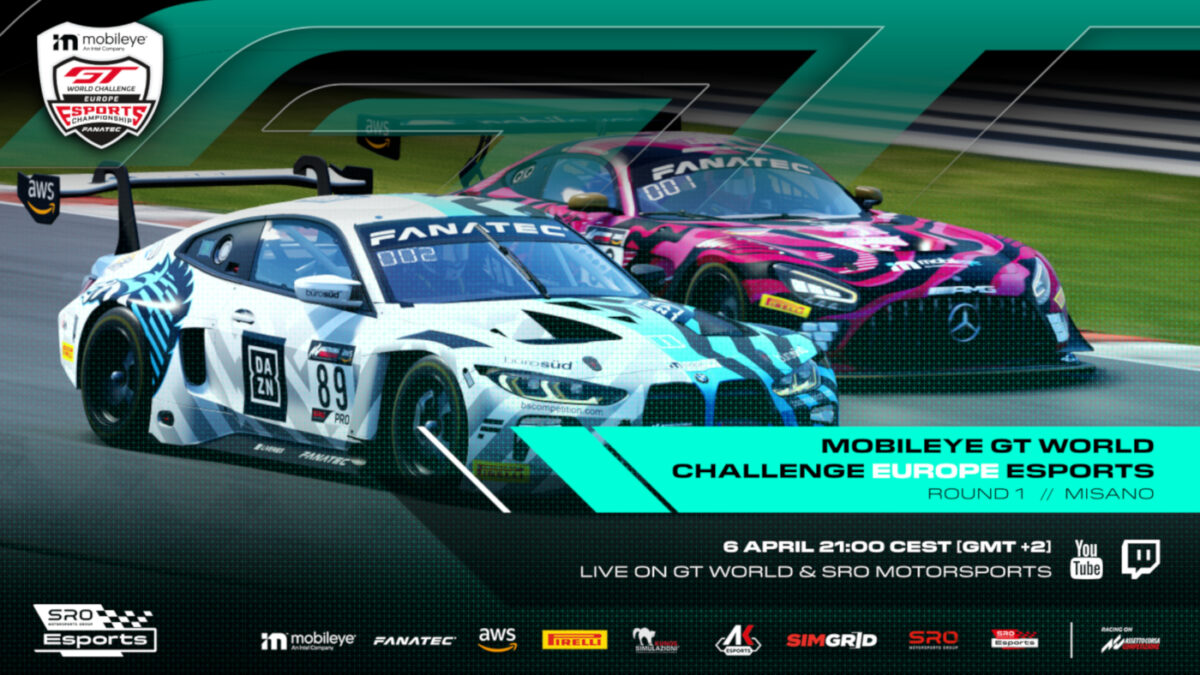 2022 Mobileye GT World Challenge Europe Esports Championship Schedule:
Misano – 6 April
Zandvoort – 4 May
Nürburgring – 8 June
Hungaroring – 6 July
Monza – 3 August
The Mobileye GT World Challenge Asia Esports Championship will begin on April 13th at Circuit de Barcelona-Catalunya, the Intercontinential GT Challenge Esports Championship powered by Mobileye behings with the Bathurst 12 Hour on April 16th, and the GT World Challenge America Esports Championship completes the set on April 23rd at Zolder.
How to watch the 2022 Mobileye GT World Challenge Europe Esports Championship
With the action taking place on five Wednesday evenings, you can watch the action from 9pm CEST, with live streaming on the SRO Youtube and Twitch channels. The streaming starts from 8.50pm CEST, until 10.20pm.
You can keep up with all our racing Esports coverage, here. Along with all the latest Assetto Corsa Competizione news and updates for PC and console editions, here. And every piece of content available in our full Assetto Corsa Competizione Car List, and Assetto Corsa Competizione Track List.
Assetto Corsa Competizione is available as a digital download for the PC via Steam, the Xbox One via the Microsoft Store and the PS4 via the PlayStation Store. Or as a physical edition from Game or Amazon. The Xbox Season Pass is available here, and the PS4 Season Pass is here, for £19.99.