Reiza Studios have celebrated the weekend by bringing a range of fixes and improvements to their sim racing title, with Automobilista 2 Update V1.3.6.1 released on a Saturday afternoon.
The main focus of the release is to maintain older cars and content, including adding the latest versions of tyre carcass and driveline physics. So a wide range of classes are impacted, including the GTE, GT3, GT4, GT1, Porsche Cup, Stock Car 2019, Super V8, DPi1 and P1 categories. And it's really two updates in one, as the V1.3.6.0 version also included a lot of changes, including on the newest F-Ultimate.
So if you haven't dipped into the sim racing title for a while, it's worth checking out once again with Automobilista 2 Update V1.3.6.1 released. You might find a lot of cars you didn't previously enjoy have become a lot more fun to drive.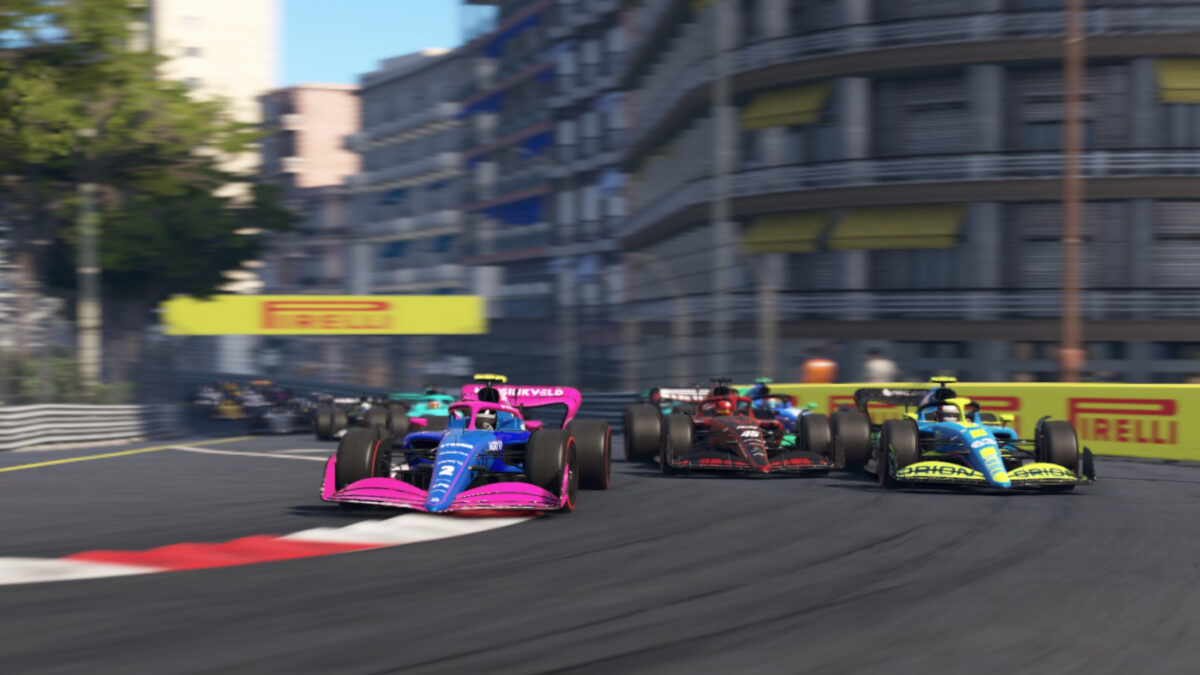 Automobilista 2 Update V1.3.6.0 Changelog
GENERAL
Fixed an issue that would lead to incorrect session times being applied to non-race session on championship load
Fixed incorrect pit window opening lap in custom championships and ensured minimum session scaling accounts for mandatory pit setting
Fixed number step issue when changing race 1 session start time in a custom championship
Added 'Static Wheel' option to Cockpit Driver/Wheel setting and prevented wheel ever being displayed when 'Off' selected.
FFB profiles slots now reset on every return to pits.
Clutch damage is now repaired when engine damage is repaired
Fixed some cases where clutch could incorrectly receive damaged when autoclutch is enabled
Added mandatory FFB "fade-in" on session start / out of pits now applied always after unpausing the game.
Fixed an issue that could leave F-Ultimates in a broken state after viewing instant replay
Corrected 2022 Stock Car Pro Series Championship calendar
Updated shared memory project header to V12 – Adds clutch state and ERS deployment mode info
UI & HUD
Added Filter functionality to multiplayer browser
Updated Imola & Galeao track maps to reflect latest changes
Onboard TC/ABS adjustment input messages are no longer displayed when those systems are unavailable
changed the text of the four options of the 'Display Cockpit Wheel/Driver' setting to less confusing names
PHYSICS
Further tire carcass & tread adjutments for GTE / GT3 / GT4 / GT1 / DPi / P1 / F-Ultimate Gen1 / Gen2
Revised all slicks tread sensitivity to wet surface
Super V8: Revised tire model, suspension, inertia, included real life setup options for springs, ride height, camber, rear wing, tire pressures, engine inertia and added flexible axles; Added 3.27:1 final drive ratio for Bathurst; Slightly raised rear roll center djusted spring rate range to match RL car springs and options
Adjusted heating and inertia slightly in 80s and 90s Formula clutch, and Super V8
Copa Truck: Revised driveline elasticity
Reduced flash heating in basic/road & carbon clutches
Cadillac DPi: Removed application of slow-to-fast dampers. Remodeled 3rd element. Adjusted suspension travel to add bumpstop functionality (main and 3rd element). Balanced aero/ride height to remove squatting. Adjusted tire pressures to suit new carcass model. Remodeled damping and springs (ready for beta)
Revised drafting & dirty air effect model
Fixed atmospheric wind not being applied to some aerodynamic surfaces
Added Non-linear clutch wear effect on performance
Clutch damage is no longer scaled with the damage scale setting
Added clutch damage, revised torque capacity, and revised clutch inertia to all cars (except TSI Cup, ARC Camaro)
Added flexible axles and revised overall elasticity for GTE, GT3 and GT4 Stock Car Brasil 2019-2022, Copa Montana, P2, Ultima Race, F-Ultimates, Corvette C3, Corvette C3R, Stock car Omega, Group A, BMW 2002 Turbo
Globally revised draft / dirt air properties for all high performance cars
Added clutch damage, revised torque capacity, and revised clutch inertia to all cars (except TSI Cup, ARC Camaro)
Added flexible axles and revised overall elasticity for GTE, GT3 and GT4 Stock Car Brasil 2019-2022, Copa Montana, P2, Ultima Race, F-Ultimates, Corvette C3, Corvette C3R, Stock car Omega, Group A, BMW 2002 Turbo, Porsche Cup
Revised engine inertia for Porsche Cup, Cadillac DPI, Ultima Race, GT1, Stock Car Brasil 2019-2022, Copa Montana
F-Ultimate (both gens) Adjusted body drag coefficients for more accurate top speeds & overall performance; Revised throttle map, fuel consumption and engine inertia; corrected fuel tank size, increased downshift blip to help drivability; Revised ERS mapping; increased contrast between attack and qual mode; Monza and Spa energy saving to stay within per lap discharge allowed; ERS torque is now applied to beginning of driveline instead of wheels
Revised default setups & minor physics adjustments for Metalmoro AJR, Ginetta G58, Porsche Cup, Stock Car 2019, BMW M4, BMW M8, Corvette C8R, Cadillac DPi, Porsche Cayman GT4 Cayman to better suit latest carcass revisions (setup reset required)
AI
Fixed an issue where Custom AI Driver track specific overrides would only apply to a single model within a class
Increased likelihood of AI mistakes in qualifying hotlaps
Added dedicated driver names for F-3, F-V10 Gen1, F-Retro Gen1
Stock Car 2019: Corrected Diego Nunes driver name
Imola: Updated AI lines & corridors
Toned down AI performance with slicks in the wet to match latest physics revisions for player slicks on a wet surface
Reduced AI rolling resistance in F-Ultimate (both gens), GT3
AUDIO
Porsche Cup: Updated onboard sounds
F-Retro G3 TE: Assigned proper interior AI sound; increased volume of turbo whine
TRACKS
Galeao: Fixed lap not counted when pitting; Added dynamic brake markers, cones, pit signs; Corrected Max AI participants to 31
Laguna Seca: Improved rolling starts
Campo Grande: LOD fixes
Oulton Park: Minor LOD fixes
Jacarepagua: Adjusted garage positions for larger vehicles clipping pitwall on Oval and SCB layouts
Donington: Added variable crowd attendance per session; LOD fixes in GP layout
Imola: Reduced track cut limits on concrete runoffs; Minor graphical tweaks; fixed innacurate latitude and longitude of Imola (was pointing to the Imola city and not to the Imola racetrack) Updated DRS and S2 trigger points
Santa Cruz: LOD fixes
Spa-Francorchamps: Fixed a hole in an interior garage wall; Minor LOD fixes
Updated trackside cameras for all Hockenheim Historic tracks
VEHICLES
TC Classic / Hot Cars: Added sponsors to all Passat, Puma GTE, Puma GTB & Fusca liveries
Puma GTB: Added dirt map; Adjusted lights materials and textures; Adjusted lights uv maps; Added the cockpit gauge lights; Adjusted the shift gaiter rigging; Adjusted cockpit vibrating mirrors parameters; Adjusted collision (detachable/wobbling hood)
Copa Truck: Added dirt map to Mercedes, VW & MAN models
Puma GTE: Added dirt map
Puma P052: Added dirt map
F-Classic G1M2: Added dirt map; adjusted carbon material uv maps ch3 (dirt) on LOD A and cockpit; Redone the suspension animations adding visual camber; Fixed the RR axle mesh skin
Automobilista 2 Update V1.3.6.1 Changelog
GENERAL
Corrected Stock Car Pro 2022 championship schedule as per latest adjustments
UI & HUD
Updated Steering Lock help text
Cleaned up empty rows from vehicle assignments list
Fixed FFB graph anchor on telemetry HUD
PHYSICS
Adjusted GT1 soft, F-Ultimate Gen2 medium and hard tread coefficients to atone performance gains from carcass revisions
Minor adjustments to Cadillac DPi, GT1, P1 driveline elasticity
Revised front wing / splitter draft effects for generally higher downforce loss behind another car
Further revisions to tread sensitivity to wet surface in high performance slick tires
Minor adjustments to Super V8 & Ginetta G58 FFB parameters
Revised engine heating, cooling & wear rates for Stock Car Opalas, Omega, Corvette C3 & C3-R, Camaro SS, F-V10 Gen1 & Gen2, F-V12, F-Classic Gen3, F-Trainer, Puma P052, Sigma P1 & Ginetta G58
F-Ultimate (both gens): Slightly increased rear wing drag from incremental settings
Super V8: Further revisions to engine inertia, fuel consumption and fuel mix settings
F-V12: Fixed fuel tank size
F-Classic Gen1: Revised fuel consumption
F-Trainer: Updated clutch type
Mclaren 720s: Adjusted default coast ramp diff & preload values
AUDIO
Fixed relative sound effects volume going out of balance for low master volume settings
Porsche Cup: Further adjusted interior sound, added low-RPM gearshift clunk in contrast to more agressive "at speed sound; Fixed loss of engine sound below ~1500 RPM on throttle, djusted upshift volume on higher revs, updated RPM Limiter sound, fixed missing AI sounds
F-Reiza: Adjusted gearshift sound for all views
Revised road noise volume for several cars
AI
Added F-Retro Gen2 & Gen 3 custom AI driver entries
Donington: Updated AI lines for both GP & National layouts
TRACKS
Donington: Re-exported curb bollards to fix excessive damage caused to cars by hitting them
VEHICLES
Porsche Cup: Updated Liveries
F-3: Added dirt map to F301 & F309
F-V10 Gen 1: Added dirt map
Copa Montana: Fixed livery override for windscreen
Automobilista 2 is available on Steam for the PC, along with the Ultimate Edition, the Season Pass bundle and all DLC content so far. You can keep up with all the latest Automobilista 2 news, updates and DLC here. Or check out everything available already with our Automobilista 2 car list and Automobilista 2 track list.