A teaser trailer has revealed that a new Assetto Corsa Competizione DLC will add three American circuits to the racing sim when it's released for the PC on June 30th, 2022.
It's been a while since the British GT Pack brought Oulton Park, Snetterton and Donington Park in February 2021 for the PC (and for console racers in April of the same year). Prior to that, Imola arrived in the 2020 GT World Challenge Pack, and Kyalami, Suzuka, Laguna Seca and Mount Panorama were added in the Intercontinental GT Pack back in 2020. So it's good news some new racing circuits are on the way, and they've all featured in the Fanatec GT World Challenge American series.
They're also instantly recognisable as Watkins Glen International, Circuit of the Americas and the Indianapolis Motor Speedway Road Course.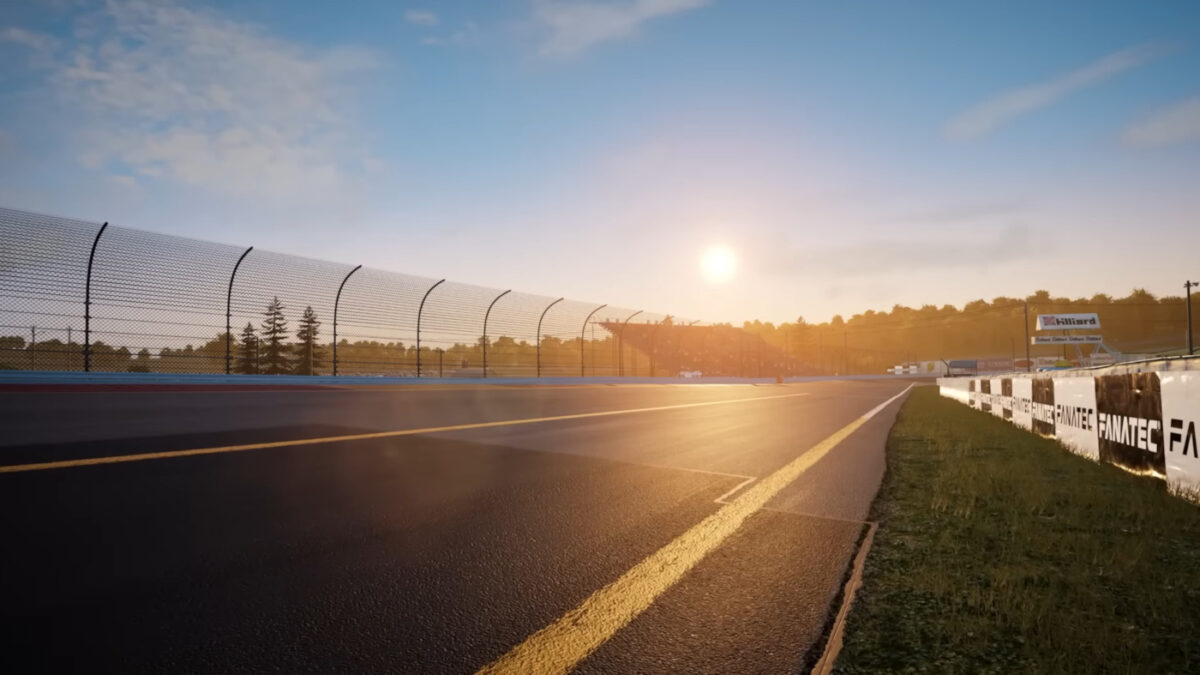 The trio of American racing circuits don't need much of an introduction to any motorsport or sim racing fan as they're well-known from a variety of series and racing sims. COTA isn't on the calendar for the GT World Challenge American series this year, but it was part of the 2021 schedule. Watkins Glen hosts a round in July, while Indianapolis will be the final race of the season.
It's always good to have more variety in sim racing, and it's not surprising Kunos Simulazioni have looked at three popular venues. The base game doesn't actually include any American tracks, so it's good to see more being added, although looking at the GT World Challenge America schedule for this year, the one circuit that stands out as missing from most sim racing titles is actually NOLA Motorsports park in Louisiana, which opened in 2011 and would have been a really interesting choice.
Other tracks used in the series include Sonoma, Virginia, Road America and Sebring, and in the past Mid-Ohio, Long Beach, Barber, Utah Motorsports Campus, and the temporary St Petersburg Grand Prix course. But it's understandable why Kunos Simulazioni and publishers 505 Games might have opted for some safe bets from the current circuit list to develop.
There's no confirmed price yet, but the British GT Pack is £11.99, so it's likely to be similar. And that DLC only included the layout for each venue used by the GT series, so presumably the same will be true for this release. There's no word when it might appear for console versions, which are waiting for the large V1.8 physics update this summer, and the previous Challengers DLC Pack towards the end of the year.
Keep up with all the latest Assetto Corsa Competizione news and updates for PC and console editions, here. And every piece of content available in our full Assetto Corsa Competizione Car List, and Assetto Corsa Competizione Track List.
Assetto Corsa Competizione is available as a digital download for the PC via Steam, the Xbox One and Xbox Series X|S via the Microsoft Store and the PS4 or PS5 via the PlayStation Store. Or as a physical edition from Game or Amazon.