Last updated on April 13th, 2021 at 06:19 pm
There's a new opportunity to become a professional sim racer with the Ferrari Hublot Esports Series announced to open for registration from August 7th, 2020.
The competition will use Assetto Corsa, and participants will be exclusively provided with a Ferrari 488 Challenge Evo to use. It's not surprising that Ferrari might work with Kunos Simulazioni, as the Italian developers created the Ferrari Virtual Academy game back in 2010.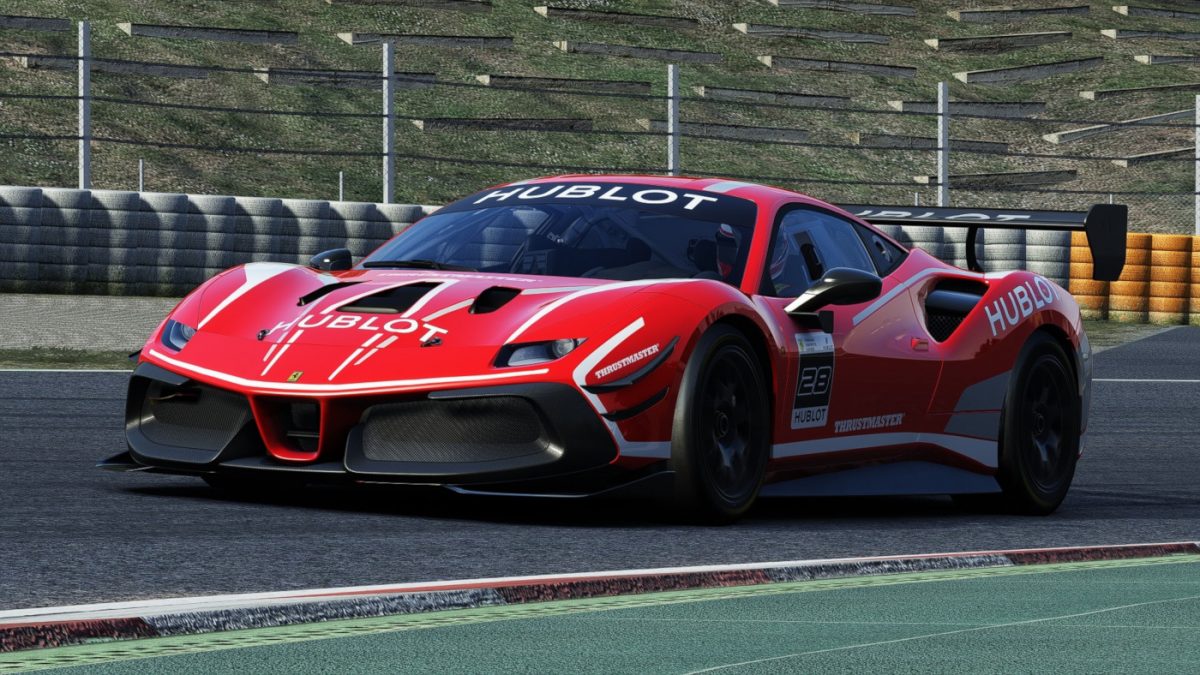 But there's some surprise that the Ferrari Hublot Esports Series hasn't picked the current Kunos Simulazioni title, Assetto Corsa Competizione, which has the Ferrari 488 GT3 as part of its car list. And while Assetto Corsa did include a Ferrari 488 GT3 as part of the Red Pack DLC (and included in the Ultimate Edition), that was released around 4 years ago.
So it seems that entrants might be given a way to download the Ferrari 488 Challenge Evo as exclusive DLC for Assetto Corsa, in the same way the KTM X-Bow GT4 has just been released for free as an official project by the Austrian car firm. Which is interesting, as the series press release doesn't say it's PC only, but that would make it likely.
Besides the car details, we know that pre-entries open on Monday, August 7th 2020 for European citizens aged 18 and over. Registering will enter you into four weekly qualifiers taking place in September. A total of six players from each qualifier will then compete in an Amateur Series throughout October.
Also taking place during October will be a PRO Series, with 24 eSports professionals. And then in November the 12 best AM Series racers will face off against the top 12 from the Pro competition across a three race finale.
And the top prize will be the opportunity to drive for the FDA Hublot Esports team next year. Current team members include David Tonizza, the reigning F1 eSports Drivers' Champion, and Enzo Bonito, who has won the iRacing GT3 championship and eROC amongst other victories.
Ferrari F1 driver and eSports fan Charles Leclerc will be involved as an ambassador for the championship. And he'll also be offering advice based on his experience driving in both Formula One and eSports competition.
Obviously Hublot are involved as the title partner for the series, with Thrustmaster as the technical partners. There's no word yet on any runners-up prizes, but it's worth signing up just to get access to the Ferrari 488 Challenge Evo and see how well you stack up against the other Ferrari Hublot Esports Series competitiors.
You can sign up for the Ferrari Hublot Esports Series on the official website. If you're forgetful, then you can pre-register now to get an email reminder when registrations open.
In the meantime, you can also catch up on the latest Assetto Corsa updates and news. Or check out the Assetto Corsa track list to see which circuits are likely to be used for the competition.
You can buy Assetto Corsa for the PC on Steam. The existing Ferrari 488 is including in the Red Pack DLC or the Assetto Corsa Ultimate Edition. It's also available on the Microsoft Store for Xbox One, and the PlayStation Store for PS4. Or as physical editions from Game or Amazon.
If you want to add more additional content to the game, check out our guide on how to install mods for Assetto Corsa.
And if you need to invest in a wheel and pedal set for the series, why not check out our guide to the best sim racing wheels for beginners.