Reiza Studios are busy making improvements to their racing sim between the large content monthly updates, with Automobilista 2 Hotfix v1.1.1.3 released just a few days after version 1.1.1.1 became available.
The hotfix includes a number of physics changes including how slick and wet tyres work, and some default set-up adjustments which mean you should reset your tuning tweaks on several cars to work on getting the best from them.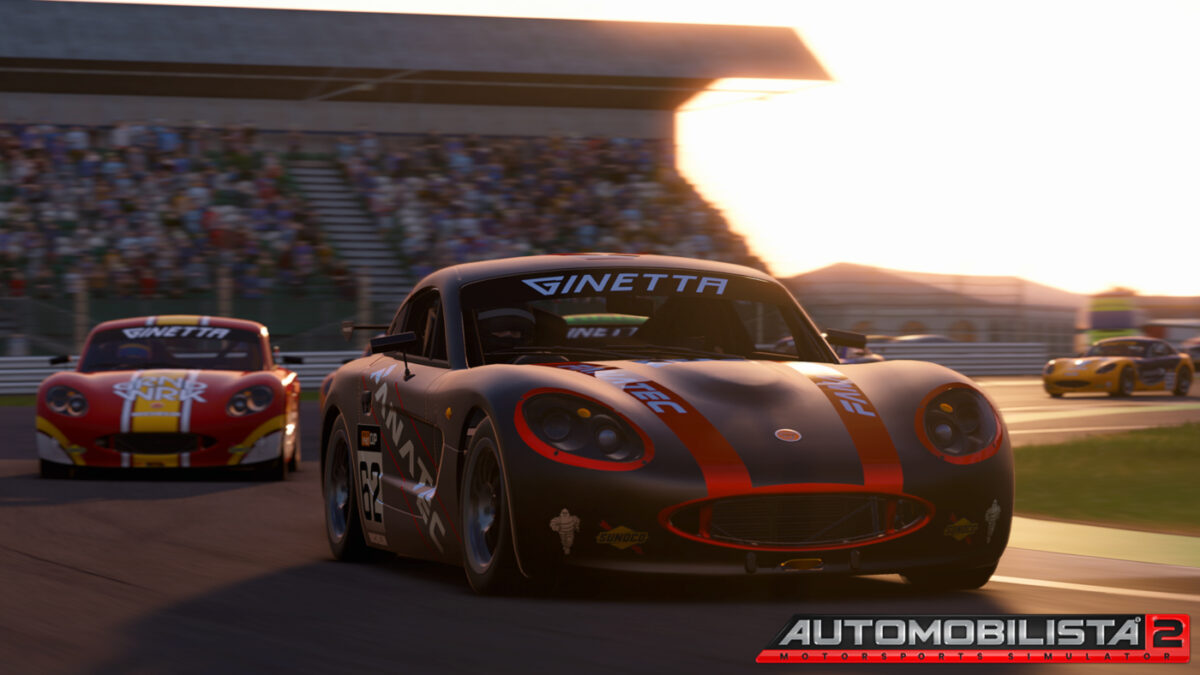 Automobilista 2 Hotfix v1.1.1.3 Changelog:
UI & HUD
Fixed Time Trial info incorrectly hiding current lap time in live sessions
Adjusted element/text size of audio device and controller model selection inputs to better suit long names
Exposing assignments for Gear 7 & 8 and Telemetry HUD mode switching
Added GT1 and G40C to vehicle filter definitions
PHYSICS
Further substantial reduction of slick adhesion on a wet track
Further adjustments to wet tires for various cars
Disabled legacy manifold pressure function (now solely using our own AMS1-based throttle mapping to adjust throttle response for each engine)
Disabled redundant legacy function applying aero torque to the frontend when car was airborne (could cause cars to nosedive after getting airborne)
Further adjusted aero draft effects
Corrected tire tread dimensions for Copa Classic, F-Trainer
Fixed error in Group A / Procar front tire tread
Fixed error in F-Ultimate tires speed effect
Adjusted tire tread optimal temperature range for Caterhams, ARC Camaro, Copa Truck
Minor default setup adjustments for Metalmoro AJR, Sigma P1, Metalmoro MRX, Roco 001, Mclaren 570S, Mclaren 720S GT3, Mercedes AMG GT3, Porsche GT3-R, Porsche Cup & all Copa Classic cars (setup reset recommended)
Metalmoro AJR: Small aero revisions; adjusted engine compression curves for Nissan V6 & Honda Turbo variants; Disabled redundant DRS icon for Nissan V6 & Honda turbo variants
Slightly reduced crankshaft mass for F-Trainers, MCR, ARC Camaro (less engine inertia)
F-Retro: Small aero revisions to all cars
Disabled AJR DRS icon for V6, Honda variants
Reduced F1 pitstop tire change timings
AI
Added car-specific overrides for AI performance on a wet track (on slicks & wet tires) & added new parameter to callibrate AI performance with wet tires on a drying track
Further AI callibration passes
Further slightly reduced AI CoG height scale to minimise chances of AI cars rolling over high curbs
Slightly raised AI lateral movement rate for overtaking & passing boosts (to mitigate getting stuck on straights)
Slightly reduced AI braking point offset
Reduced AI lifting off throttle over puddles to 50%
Slightly increased range of performance from AI drivers
TRACKS
Nurburgring: Minor art pass & fixes
Revised VR trackside cams at Silverstone & Spa-Francorchamps to disable DOF blur (ongoing process to be applied to all tracks)
Further weather probability adjustments (slightly less rain in rainy locations)
VEHICLES
Fixed missing wiper animations on Ginetta G40 Cup & Ginetta G55 GT4
Added Dirt/Scratch map for F-Retros, Lotus 72E, Mclaren M23 & Brabham BT44
Analogue gauges now light up when lights are on
Automobilista 2 is available on Steam for the PC, along with the Ultimate Edition, the Season Pass bundle and the Spa, Silverstone, Nurburgring and Hockenheim DLC track packs.
You can keep up with all the latest Automobilista 2 news, updates and DLC here. Or check out everything available already with our Automobilista 2 car list and Automobilista 2 track list.