The latest development from Reiza Studios has arrived with Automobilista update 1.1.4.5 released. With the previous two patches also bringing the Lotus 79 and Brabham B46B in April, this update focuses on tweaks and improvements to the sim racing game.
The big news is that it adds an option for Logitech G923 wheel users to disable Trueforce if there are any issues. And everyone will benefit from more cautious AI cars when you're battling against them, as sometimes the computer drivers can be a little oblivious to you. The challenge of the AI has also been widened, with better qualifying pace, but also a lower strength range. So you should be able to find the right level of have fun opposition.
Various cars get a few tweaks, and all cars will have reduced brake face when in the optimal temperature range, along with less forcefeedback resistance when your car is stationary.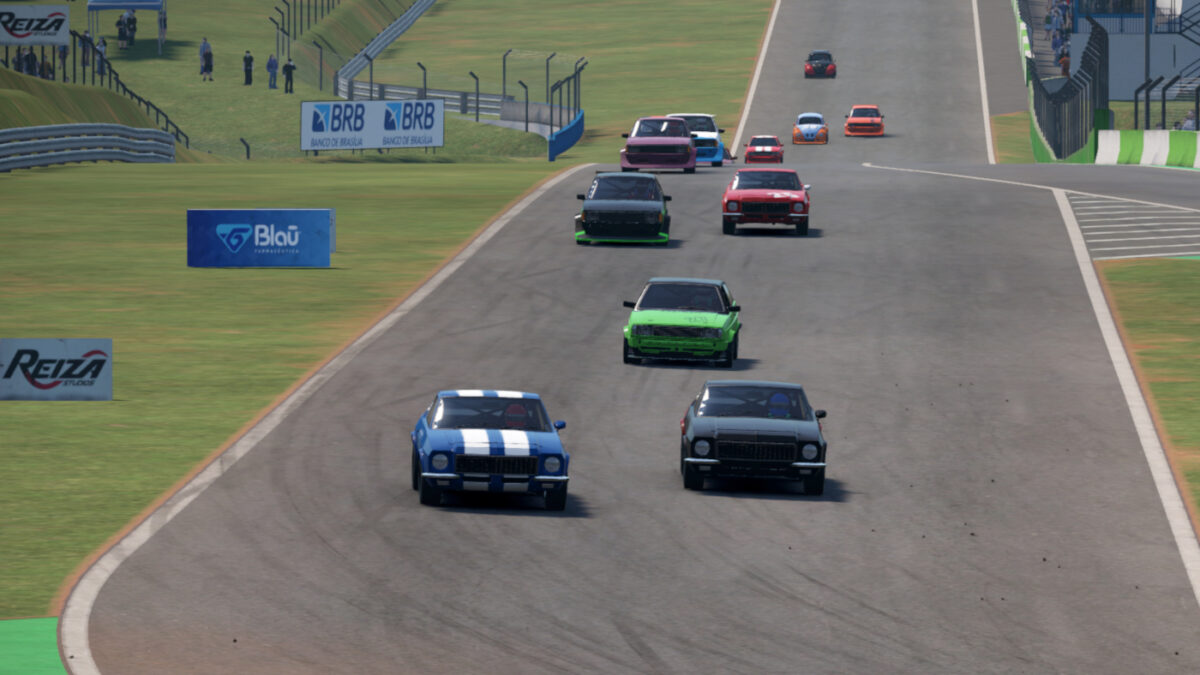 Automobilista Update 1.1.4.5 Changelog:
GENERAL
Fixed custom livery overrides not respecting duplicate livery rules
Adjusted crowd/character visibility in various game modes and session types
Fixed issue where only LODb of some meshes would hide based on session type
Small fix to G923 Initialization
Added Game launch command line switch "disableTF" for users with issues running Logitech G923 TrueForce to fallback to legacy mode
UI & HUD
Fixed onboard roll bars and brake bias both showing brake bias value on vehicle browser
Fixed punctuation on some loading screen tips plus some small German string tweaks
Fixed clipping on HUD warning message
Added extra batch of loading screen tips
Corrected various innacuracies in vehicle information
PHYSICS & FFB
Adjusted rear wing base drag for F1, Prototype & GT cars
Adjusted Mini JCW tire tread
Adjusted CoG height for Group A, Procar, Mini, Porsche Cup
Camaro SS: Adjusted brake torque & CoG height
Roco 001: Adjusted chassis inertia & unsprung mass
Reduced brake fade range when under optimal temp range for all cars
Enabled onboard adjustable brake bias for MCR 2000
Slightly reduced FFB resistance when car is stopped
AI
Increased AI qualifying pace
Increased AI prudence against human players
Callibrated AI rolling resistance for R-Retro Gen1 & Gen2
Reduced minimal AI Strentgh range (results in slightly slower AI in the 70-99% range)
Adjusted AI Grip multipliers in Donington, Bathurst
Silverstone 2020/2001/1991: Adjusted AI performance at Maggots, Becketts, Chapel
Imola: Adjusted AI performance at Tosa, 2nd Acque Minerali leg and Variante Alta
TRACKS
Silverstone: Added outer terrain to all track detail levels; fixed unsafe pit exit error in modern layout
Montreal: Added missing DRS zone2 line; Fixed floating walls; Updated livegrass texture; Performance pass
Hockenheim 1988 Short: Fix missing csm curbs; Remove unwanted fence bit at T3
VEHICLES
Added liveries for driver helmets & suits
Camaro SS: Fixed obstructed rear view looking back from cockpit
F-Ultimate 2019: disabled DRS light until functionality is implemented
If you do want to disable Trueforce and use the legacy Logitech support when driving with the G923 wheel and pedals, then Reiza Studios have created a handy video guide to explain what to do.
Automobilista 2 is available on Steam for the PC, along with the Ultimate Edition, the Season Pass bundle and the Spa, Silverstone, Nurburgring and Hockenheim DLC track packs.
You can keep up with all the latest Automobilista 2 news, updates and DLC here. Or check out everything available already with our Automobilista 2 car list and Automobilista 2 track list.