One of the most enjoyable new motorcycle racing series of recent years has come to the sim racing world, as TrackDayR Update 1.0.81.25 adds a big twin Bagger. And before you scoff at the idea of taking a fully-loaded cruiser around the track, it's worth pointing out there's a real championship for the class, run by MotoAmerica.
Along with the new Baggers Racing League, the racing is pretty simple. Get a large capacity V-twin, keep fairings and saddlebags for luggage, and then add a few modifications before going racing. Considering developers MadCow recently introduced online multiplayer track days, it's the perfect tool to humiliate slow and inexperienced sportsbike riders.
And now you can enjoy the same experience in TrackDayR, along with the first implemention of the Garage elements of the game. Plus the tyre simulation has been completely rebuilt to hopefully be more realistic than ever before, so you might need some practice laps to rediscover how to ride your favourite bikes. It's a good time to try out TrackDayR, as it's currently 30% off until July 8th as part of the Steam Summer Sale. Which means you can buy it for £13.64 instead of £19.49.
You might need to get practising again, as due to the changes, the current leaderboards are being cleared. So you'll need to start recording your faster laps all over again on the new tyre model.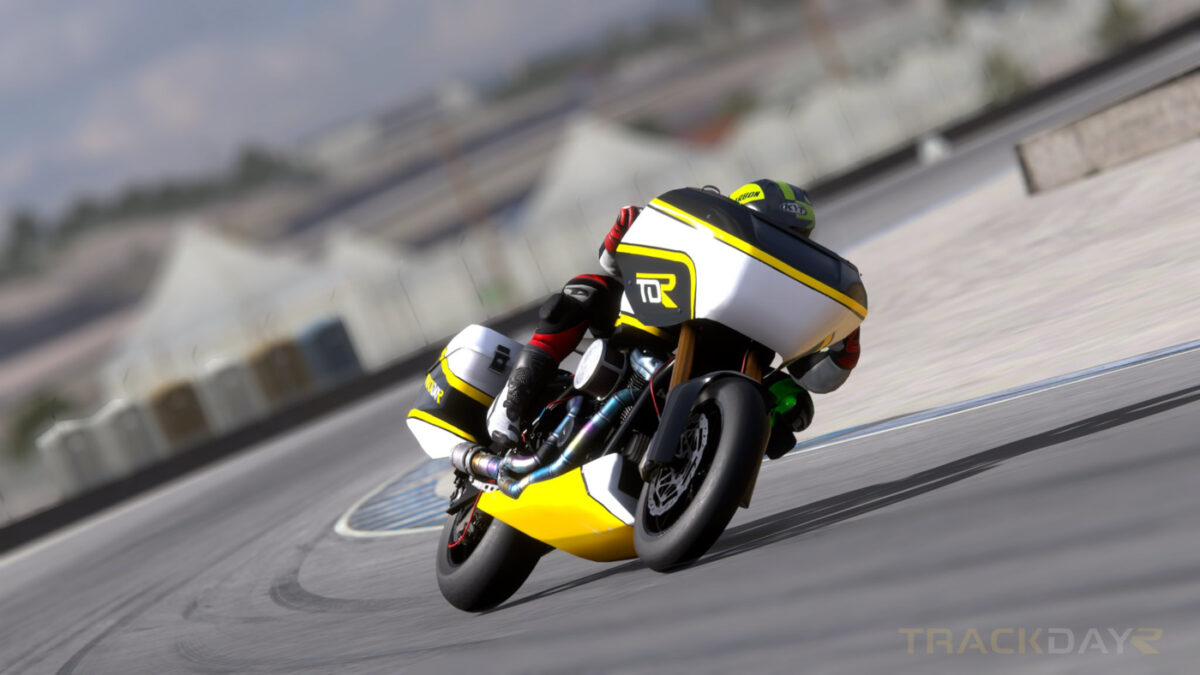 TrackDayR Update 1.0.81.25 Change Notes:
New content:
HotFix
slipping rear tire
Tire fix
frontlink rigidbody creation and update
Bike Mod Tool
new springtype 6 with distance
Physics
new tire models
new bikeset
new tire model compound 3
new tire model
some fix for new C.F. calculation
EXPERIMENTAL new C.F. calculation
add C.L.S. leaning
adjust ground contactpoint
adjust speed treshold of fastbump
add per spring fastbump configuration
new CF suspension transfer
new engine drivetrain inertia
wobble steering balancing
new front tire model for crash reduction
new front tire model for crash
new loose forward wheel
steering tune
New Virtual Rider balance system during braking
New Surface drag
Updated surface-dependent friction management
Pacjeka tool
upgrade wheel code
upgrade tire compound 2 and 3
change bike ini 675,1000,1200 (steering 1.2)
Gameplay
Change ECU map button
Virtualrider changing steering/brake behaviours
Start spring maxlength dynamic regulation
Fix Rebuild wheel raycast center on change swingarm
Major release ALPHA garage
Tyres
TrackDayR is available for the PC via Steam. And you can keep up with all the latest TrackDayR news, updates and release details, here. You can also check out the full TrackDayR bikes list here, and the TrackDayR circuit list, here.