It's an exciting time for the motorcycle simulator from developers MadCow as a massive TrackDayR update adds supermotos and dirt bikes to the options available. The download may only be 1003 MB, but it's huge in term of what it adds to the sim.
Given that the existing circuits in the game are real or fictional kart tracks, adding a 450cc four-stroke supermoto makes a lot of sense. And you get the choice of knee down or foot out riding styles. As someone who has owned and ridden supermoto bikes on road and track, I immediately had to try it out, and it's a lot of fun as expected.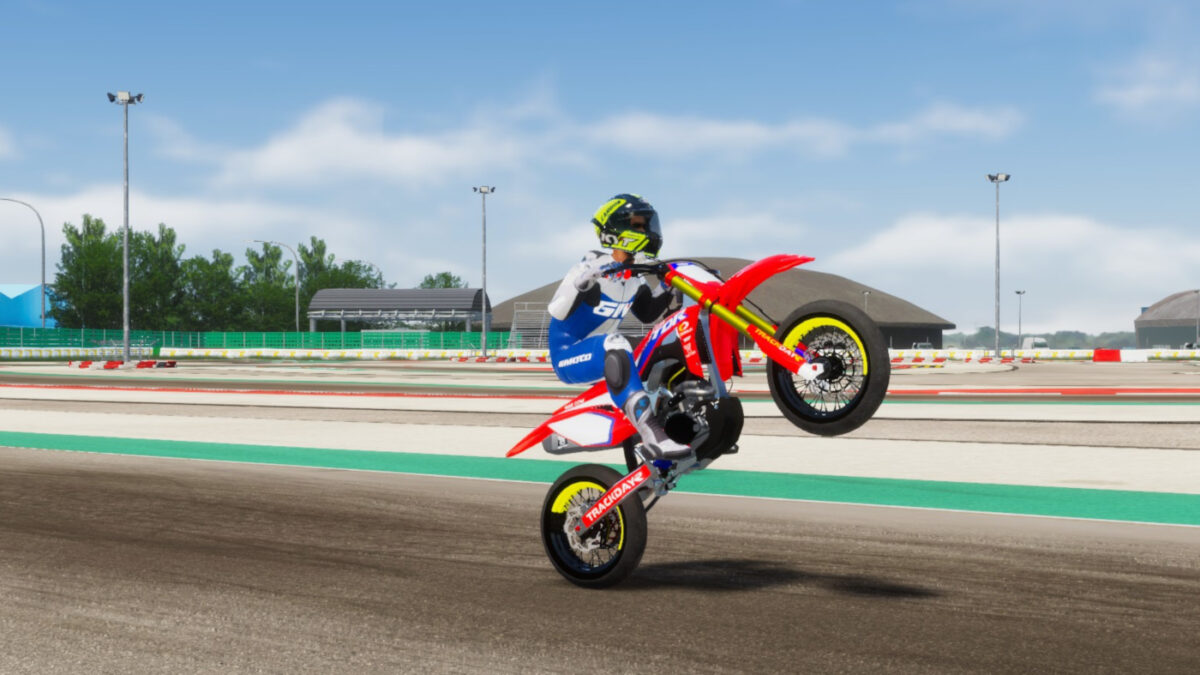 MadCow aren't the biggest team, so there are some glitches with the new bike. One example is that in an AI race, my opponents blew their engines in the first half of a lap on a larger circuit. So expect some tweaks in the near future. But it sounds and handles great, and I've already been experimenting with wheelies, stoppies, and backing the bike into corners.
But there's more, as the update also introduces a 450cc four stroke motocross bike and Supercross track, along with an enduro 300 two-stroke and Super Enduro circuit. I've never been a great off-road rider, but both are a lot of fun, although there are a few slight graphical glitches on the enduro track which messed up some screenshots but didn't impact on the riding style.
Speaking of screen grabs, the update also brings a new replay mode, which has much more intuitive controls for creating videos or taking photos. And all the bikes feel better with new physics updates including suspension, tyres, chain pull and more. They feel a little weightier, which helps to avoid the pendulum effect you can sometimes experience in bike games.
Another change is the ability to map forward and backwards rider leaning, which is important on the road, but even more essential tackling enduro obstacles. Unfortunately my first attempt to map the new functions to my controller failed, but that could well be user error. And there's now early night support with track lighting, and the ability to turn headlights on and off if required.
But overall, it's a great update. The last time I was this excited about the racing sim was when the two-stroke 500cc GP bike was released, but the supermotos have got me particularly keen to spend a bit more time perfecting my skills. It's still far from the most polished motorcycle sim or racing game available, but for the actual riding experience, it continues to be about as close as you can get.
TrackDayR Update 1.0.91.26 Release Notes:
New Animation System that allow to feel the bike weight much more realistic
New Suspension System – addedd air/oil simulation and improved damper and speed calculation
New Tyre Model ( based on the Pacejka industry standard formula)
New Rider Weight manual Forwards and Backwards – this will chance the center of mass of the bike depending on rider seat position (remember to set up keybinding on controls options)
New Chain Pull managment – Bike setup now change a lot during all the ride phases based on swingarm,swingarm pivot and front sprocket
New Engine with better power supply and clutch calculation
New Helmetcam – Much stable and immersive than before
New Physics Model for the dirt bikes
New MX Bike 450cc 4 Stroke
New Enduro Bike 300cc 2 Stroke
New Supermoto 450cc 4 Stroke (Knee down style rider position)
New Supermoto 450cc 4 Stroke (Foot down style rider position)
New Supercross Track
New Super Enduro Track
Helmet modding enabled – now you can use your own helmet (OBJ file with material and textures)
New MX Rider model (available on MX/Enduro Bikes)
New MX Helmet
New Wheeling Managment
New Stoppies Managment
New Damper Algorithm for the Tyre casing
New Steer joint – now the steer joint will be much more stable
Replay Mode ( First deploy of the Replay mode will be available in RaceR and TrackDayR modes)
Added 2022 Liveries on YCF160 and YCF190
Enabled Headlights support – Front, rear and brakelights (if the bike has the lights press F on keyboard)
First Early night support with track lamps (try Super Enduro with "night" time)
Updated AI with new algorithms and new lap guides
Lots of minor fixes
TrackDayR is available for the PC via Steam. And you can keep up with all the latest TrackDayR news, updates and release details, here. You can also check out the full TrackDayR bikes list here, and the TrackDayR circuit list, here.