Developed by Josep Monzonis Hernandez as 2Awesome Studios, isometric arcade racer Formula Bit Racing DX launches on consoles today, July 8th, 2022. It was originally released for the PC in February 2021 as Formula Bit Racing, but now comes to the PS4 and PS5, Xbox One and Xbox Series X|S and the Nintendo Switch under the new name.
It's not the only racing game to take a miniature overhead approach, but one incentive for trying the game is that it's low priced at £4.99 on each platform. Or £3.99 with a 20% discount on the Switch and Xbox versions.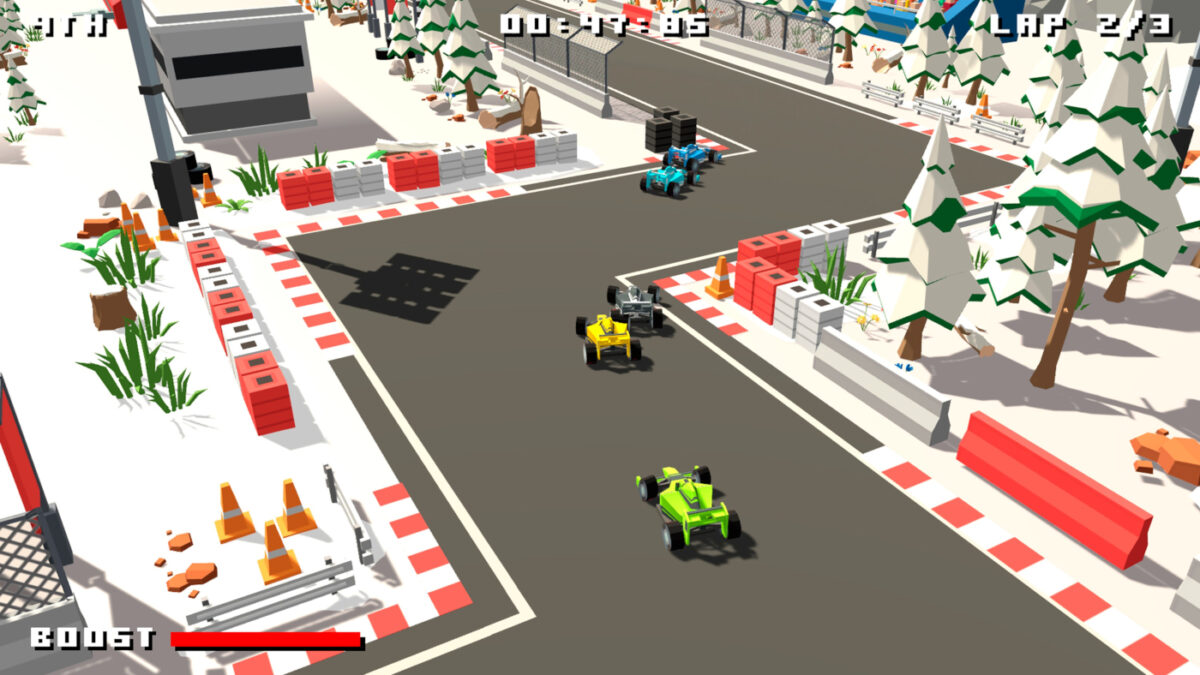 And for the price of an expensive coffee, you get the choice of 10 unique cars in a HD low poly retro style, and 20 circuits to race them on. And that's about your lot, really. It's a single player game, so no chance of competing against friends locally or online. Which is a bit of a shame, as even most of the original 8 bit and 16 bit games inspiring Josep used to let two people crowd around a single keyboard to elbow each other as they raced.
Previous titles developed by Josep include the Micro Pico Racers, which has a Micro-Machines style to it, and Retro Pixel Racers, which is more akin to Super Sprint and earlier overhead racing titles. All have tended to receive mixed reviews since releasing on Steam, so keep that in mind if you're thinking about purchasing Formula Bit Racing DX.
Competition is also tougher than back in the 1980s and 1990s, with a wide range of overhead racing games launched by a variety of indie developers, and those backed by larger publishers, including Art of Rally, Circuit Superstars, Rush Rally Origins, Super Woden GP, and retro titles including Formula Retro Racing, Hotshot Racing, or Race Condition.
Formula Bit Racing is available for the PC via Steam, while you can now find Formula Bit Racing DX on the PlayStation Store for PS4 and PS5, the Microsoft Store for the Xbox One and Xbox Series X|S, and the Nintendo eShop for the Switch.