Racing games hit the cinema screen this summer with the Grand Turismo movie trailer and release date revealed by Sony Pictures. Based on the true story of GT Academy winner Jann Mardenborough, the film will come to movie theatres on August 11th, 2023.
With a cast including David Harbour, Orlando Bloom, Archie Medekwe and Geri Halliwell-Horner, it isn't a documentary-style exact retelling of Mardenborough's career. But it is based around his achievement in becoming the third, and youngest, winner of the GT Academy competition in 2011, going on to drive for Nissan at the Dubai 24 Hours race and driving in the British GT and Blancpain Endurance Series. He's since had a career including Formula 3, Super GT, and being the test driver and simulator driver for the Nissan e.dams team in Formula E.
It's not the first film to feature sim racing, as The Sim Racer arrived on Amazon back in January 2023. But having been revealed at the start of the year, it's the first to be produced by a major film studio, and with a director and cast to rival mainstream films.
The Gran Turismo movie is being directed by Neill Blomkamp, known for previous films including District 9 (which is brilliant), Elysium and Chappie (which I really liked, although it divided opinions). And the cast also includes Djimon Hounsou, Darren Barnet, and Emelia Hartford. Stunt driver Mauro Calo shared images from his involvement, which showed that some of the filming took place at Dubai Autodrome.
One shot clearly shows the track map for Silverstone in the background, along with action scenes clearly taking place at Le Mans, where Mardenborough competed in 2013, 2014 and 2015. He finished on the podium in the LMP2 class at his first attempt, partnered by Michael Krumm and Lucas Ordonez (who won the GT Academy competition in 2008). Filming took place at the Hungaroring and Slovakia Ring, which may have doubled for those historic circuits with some CGI.
The information for the film mentions Darren Barnet playing Matty Davis, a top GT Academy driver threatened by Mardenborough's success, so perhaps the finale will be them teaming for a podium at Le Mans?
Another detail which racing game fans will notice is that the movie uses Gran Turismo 7 for gaming sequences, but Mardenborough qualified by playing Gran Turismo 5.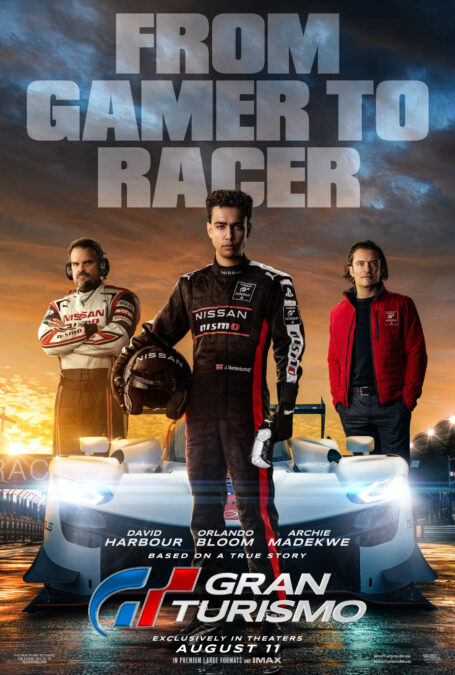 No film based or inspired by a true story will ever be completely accurate, as they have to cram entire lives into a 2 hour running time. And characters will often be embellished or altered to add drama. But if it can capture the fun and excitement of virtual racing alongside real world motorsport, then it may encourage more people to pick up a controller or invest in a sim rig, which is a good thing for everyone.
While you wait for the film to be released, you can keep up with all the latest Gran Turismo 7 news, updates and esports, here. Or see all the content included in the game with our Gran Turismo 7 car list and the Gran Turismo 7 track list.
And if you want to create your own action, you can buy Gran Turismo 7 from the PlayStation Store or pick up physical copies from retailers including Game and Amazon.